Low Carb Sour Cream Beef Bake
You guys, this low carb sour cream beef bake is outta this world amazing!
Subscribe to new posts via email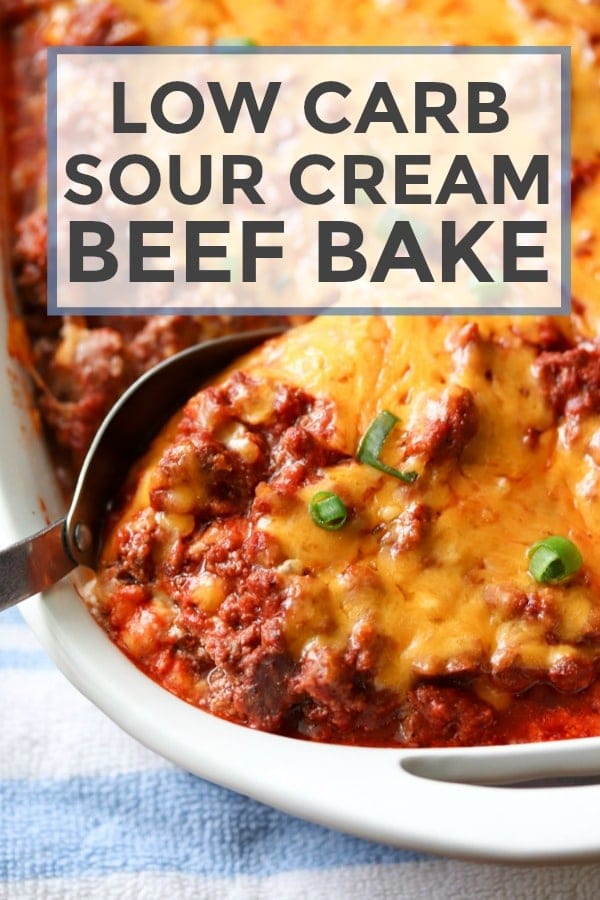 It's the kind of casserole that you can eat boat loads of without feeling super guilty because it's low carb. It's full of amazing flavor, it's easy to make and the ingredients list is minimal. As a result, I want to make it all the time. It's my new favorite low carb casserole recipe!
RECIPE INSPIRATION
The inspiration for this recipe comes from The Pioneer Woman's sour cream beef bake recipe. The Pioneer Woman has some crazy good recipes on her site. For example, her macaroni and cheese is a mound of cheesy comfort-food deliciousness. In addition, her sour cream beef bake is one of the best casserole recipes I've ever had. The first time I had it was courtesy of a friend of Ken's aunt and uncle. Said friend made it for the family as a kind gesture after Ken's dad passed away.
After our neighbor had her baby, I made the casserole for her family. They loved it so much that they made it again a couple days later!
So about my recipe. I wanted to create a low carb version of the sour cream beef bake. After a short brainstorming session, I decided to use cauliflower rice instead of egg noodles. OMGEEE. My version turned out incredibly amazing. Pasta? Who needs pasta when you have cauliflower rice.
I've made this recipe twice, the first time being half the size of the recipe I'm sharing with you today. I doubled the recipe the second time I made it because I wanted leftovers to last for a few days.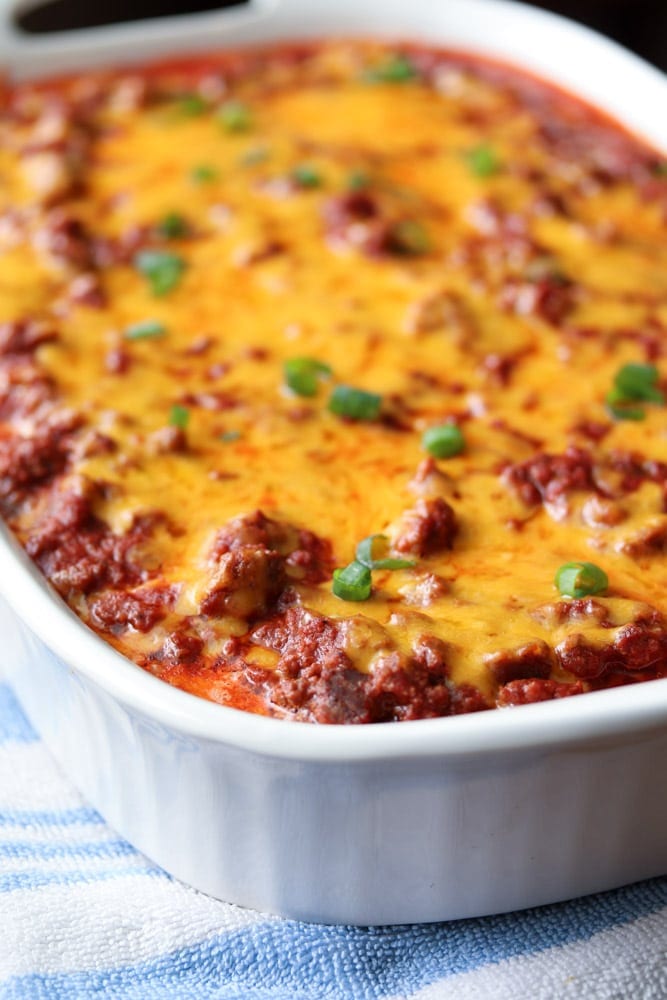 RECIPE NOTES:
You can cut the recipe in half.
It's watery right out of the oven. Let it sit for a while or refrigerate overnight to firm it up. Reheat to serve. (see below photo that was taken after refrigerating overnight. Nice and firm, easy to slice!) UPDATE: I made this a few more times and used cheese cloth to squeeze water out of the cooked cauliflower rice. This method helps make the casserole less watery!
You can use ground beef, ground chicken, ground turkey, ground pork or any combination of those meats in this recipe.
Questions? Feel free to send a message to me or leave a comment below.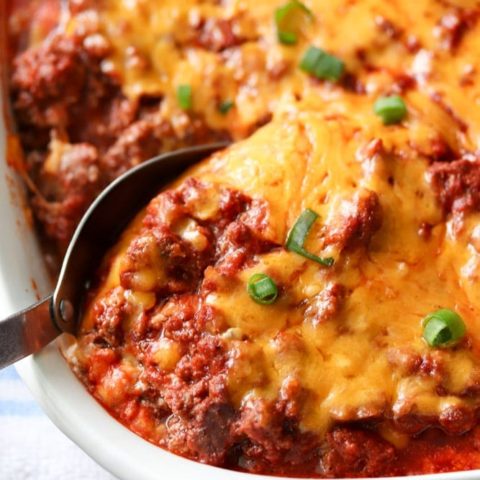 Low Carb Sour Cream Beef Bake
Yield: 8 servings
Cook Time: 15 minutes
Additional Time: 5 minutes
Total Time: 20 minutes
Ingredients
12oz cauliflower rice
1.5lb lean ground beef
15oz can of tomato sauce (I make sure no sugar is added)
1/2 C sour cream (I use full fat)
1 1/4 C cottage cheese (I use full fat)
2 C shredded cheddar cheese (I shred my own)
1/2 C sliced green onions
1 tsp salt
1 tsp ground black pepper
Instructions
Preheat oven to 350.
Place the cauliflower rice in a 2.5 quart baking dish. Microwave 4-5 minutes or until tender but not mushy. After cooking, set aside (leave in the casserole dish). **See notes below or in post for removing excess water from the cauliflower rice.
In a large skillet or pot, cook the ground beef over medium high heat until browned, 7-10 minutes. Drain and stir in the tomato sauce, salt and pepper.
In a mixing bowl, stir together the cottage cheese and sour cream. Mix in the sliced green onions.
Pour the sour cream mixture into the cauliflower rice (that's in the casserole dish) and mix well.
Pour half of the beef mixture over the cauliflower rice mixture. Spread with the back of a spoon to even. Top with 1 C of the cheddar cheese.
Repeat with the remaining beef mixture and cheese, ending with the cheese.
Bake at 350 for 20 minutes.
Notes
If you prefer browned cheese, after baking broil on high until cheese is bubbly and browned. Serving size is approximate. The casserole makes 8 portions of the casserole - divide the casserole into 8 equal portions.
Use cheese cloth to squeeze the water out of the cooked cauliflower rice.
Nutrition Information:
Yield: 8
Serving Size: 1
Amount Per Serving:
Calories: 296
Total Fat: 15g
Carbohydrates: 9g
Net Carbohydrates: 7g
Fiber: 2g
Protein: 32g
PRODUCTS FEATURED IN THIS RECIPE
contains affiliate links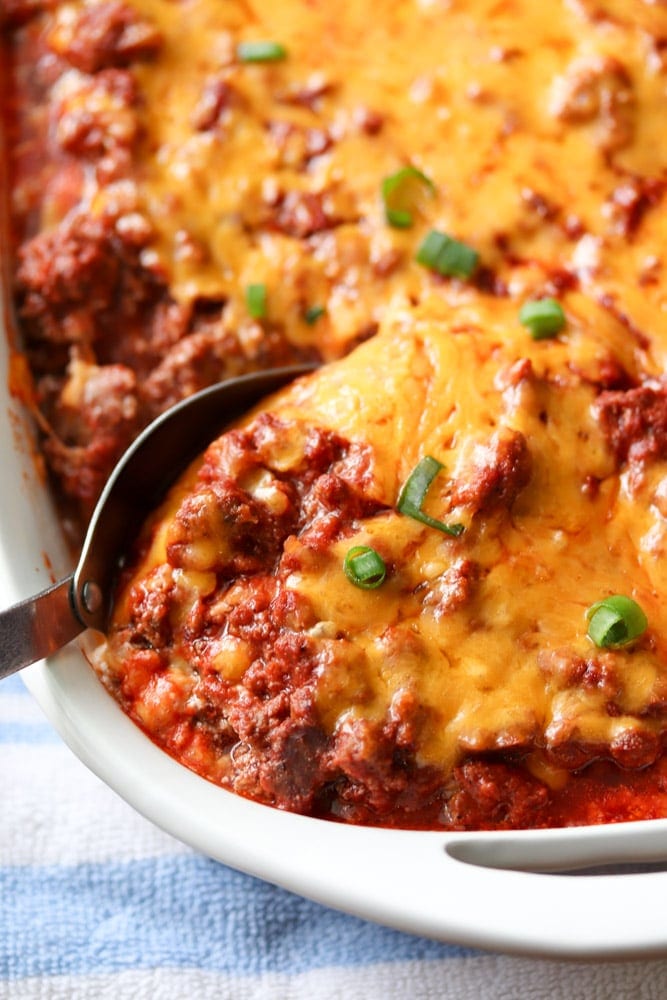 Did you make this recipe? I'd love for you to leave a comment and a rating below!
Follow me on Instagram.