Jalapeno Cheddar Burgers
On your next grill night, serve up some of these zesty Jalapeno Cheddar Burgers! The cheddar and jalapenos are mixed into the patties rather than used as garnish!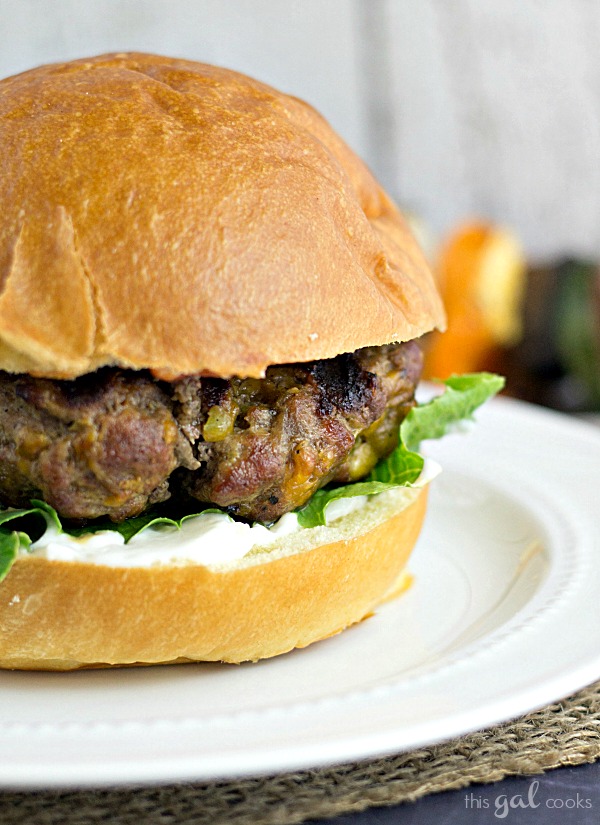 I don't always eat red meat but when I do, I love to enjoy a good ole juicy burger. These Jalapeno Cheddar Burgers are no exception. It was a Saturday afternoon. We hadn't grilled in a while. I was browsing Fresh Market, looking for some great looking scallops to use for that night's dinner but I couldn't find any that looked decent. Ding! Yes, a bell really went off in my head. Well, that's how I imagined it, anyways. Burgers are easy. And good. So I picked up a pound and a half of ground chuck from the meat counter, some mild cheddar, a jalapeno and some fresh brioche hamburger buns and I was on my way. But not before filling up my cart with some other goodies. Boy do I love Fresh Market.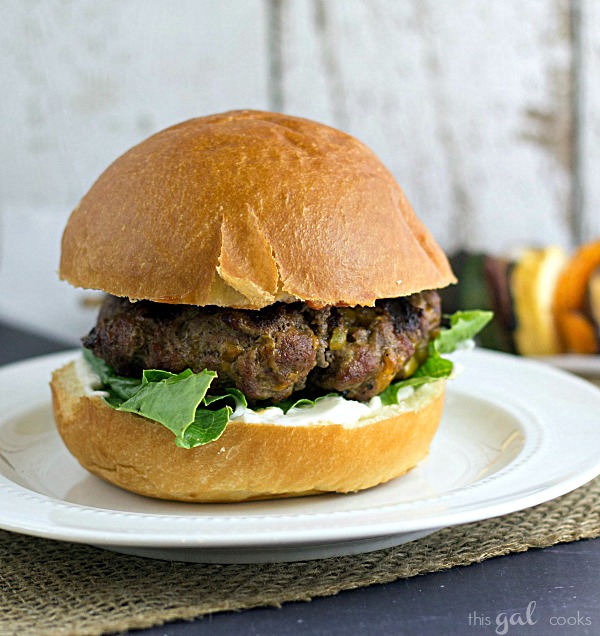 So basically, these burgers happened this past Saturday night. They were super simple to make. All I did was chop up a jalapeno and the cheddar cheese in my food processor, add it to the ground beef along with some Montreal Steak Seasoning, form four patties and then Ken did the rest. Because he's the grill-man, you know? I served these burgers with some grilled veggies so it was a pretty simple meal but delicious indeed.
Oh, by the way, I snapped these photos using the new photography lights that I purchased last week. I was a little hesitant to purchase artificial lighting because I've "been there, done that" and they didn't work out very well. But I was just using plain ole lights that I picked up at Home Depot. They were not at all ideal for food photography. But these lights, these lights work pretty well. And it's a good thing since it's starting to get darker earlier and earlier. If you want to check out the light set I purchased, you can see it here. But before you do that, enjoy the recipe!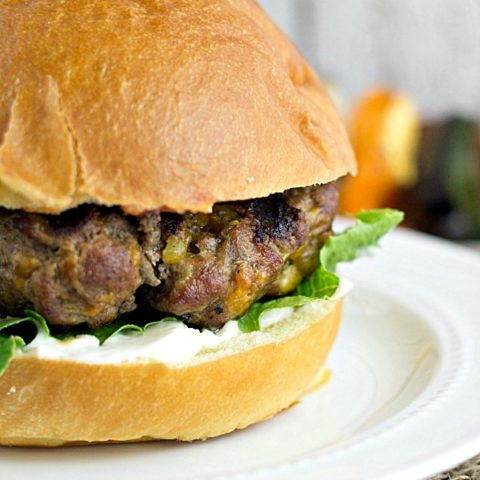 Jalapeno Cheddar Burgers
Yield: 4 servings

Prep Time: 10 minutes

Cook Time: 15 minutes

Total Time: 25 minutes
Ingredients
1 1/2lb ground chuck
1/2 - 1/2lb mild cheddar cheese (get a block of it)
1 large jalapeno, seeded
1-2 tsp Montreal Steak Seasoning
Hamburger buns. I used brioche hamburger buns that I found at Fresh Market.
Mayo, mustard, BBQ sauce, lettuce, tomato and anything else you desire for garnish. I just used mayo, lettuce and ketchup!
Instructions
Cut the cheddar cheese into chunks and cut the jalapeno into 1 inch pieces.
Add the cheddar and jalapeno to your food processor and chop.
In a mixing bowl, combine the cheddar, jalapeno, Montreal Steak Seasoning and ground beef. Mix well and then form into patties.
Grill for about 10-15 minutes over direct heat. Ken did the grilling so I am not sure what temp he grilled the burgers on. I forgot to ask him but I think he usually does it on high and cooks them until they are medium well. So the time I mentioned above may vary.
After the grilling is done, slap one of those babies on a garnished bun and enjoy!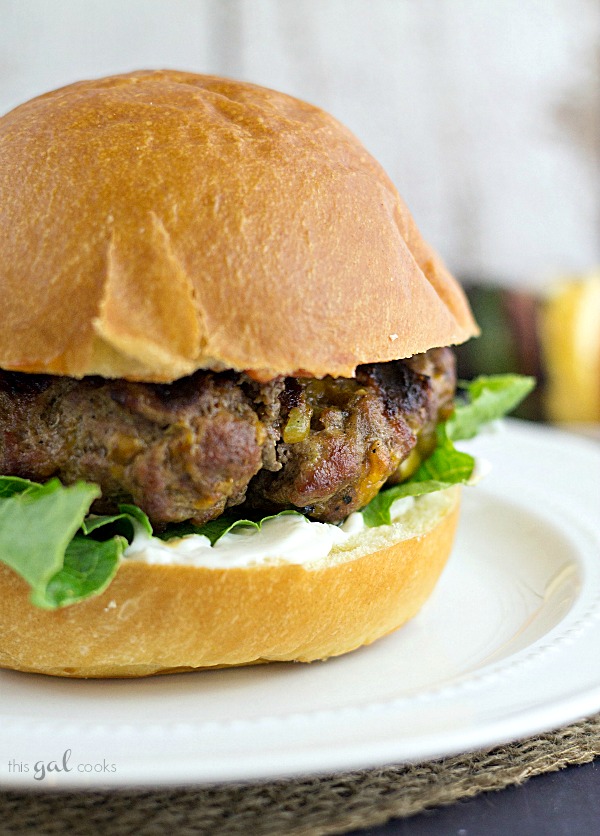 So what's your favorite type of burger?
More from This Gal Cooks