Homemade Creamy Coleslaw
Homemade Creamy Coleslaw goes perfect with pulled pork and other BBQ and grilling dishes. For an extra kick to your pork sandwich, top it with this coleslaw.
Homemade Creamy Coleslaw
Have you ever made homemade coleslaw? If not, you're totally missing out on a wonderful side dish. I found a delicious homemade creamy coleslaw recipe a few years ago and I've been making it ever since.  It's very simple to make and it's a hit with guests or gatherings that I bring it to. Love coleslaw on your hot dogs? This coleslaw's for you. Love coleslaw on your BBQ pulled pork sandwich? This coleslaw pairs wonderfully with a pulled pork sandwich, either on top or on the side. I hope you will enjoy my recipe!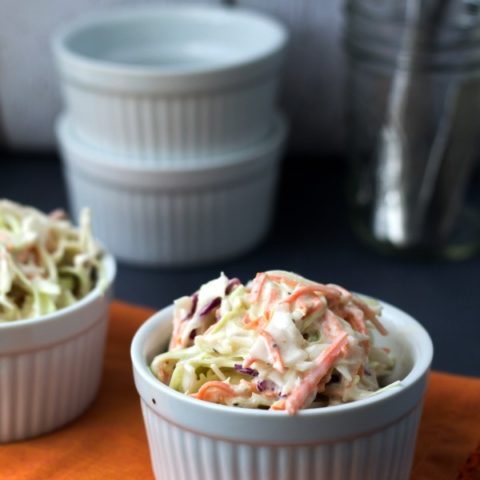 Homemade Creamy Coleslaw
Yield: 8

Prep Time: 10 minutes

Total Time: 10 minutes
Ingredients
1 16oz package of shredded coleslaw mix
1 C mayonnaise
2 1/2 tbsp red wine vinegar
1/2 tsp onion powder
1/2 tsp garlic powder
1/2 tsp celery seed
1/2 tsp pepper
1/2 tsp salt
2 tbsp sugar
Instructions
In a mixing bowl, whisk together all ingredients minus the coleslaw mix.
Add the coleslaw mix and combine with the dressing to coat.