Heavenly Treats Link Party – I'm a Co-Host!
Happy Saturday! I'm so excited to be co-hosting Heavenly Treats Sunday with Pamela! I love her blog and her party so it's great to be her first co-host of this wonderful party! Now, I'll turn it over to Pamela!
---

Welcome to 


Wow can't believe that it is already Link Party #24, I have changed the link party back to 

"DESSERTS ONLY" 

Thanks to all of you that make this Link Party successful, each week I meet new people, so many wonderful comments!  Thank you again!


You can view Heavenly Treats Features from Link Party #23 here!
I am so excited to have a Co-Host this week at Heavenly Treats Sunday Link Party!  I am so happy to have one of my lovely friends Julie from This Gal Cooks ~ She has a wonderful, yummy recipe for White Chocolate Pumpkin Spice Cookies!  Make sure you go and check out her awesome blog, where she shares all different kinds of recipes!
______________________________
 I hope you enjoy this delightful recipe. Just a side note, I got the recipe for the cookie batter from the Better Homes and Gardens "New Cook Book" published in 1996. The super creative "white chocolate pumpkin spice" was all my doing!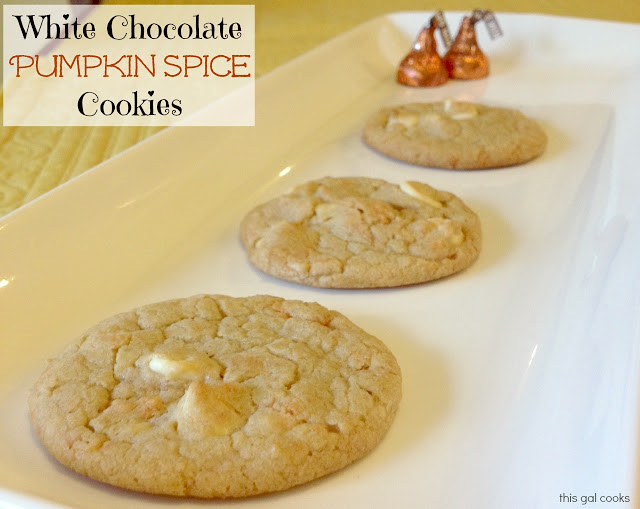 Ingredients
makes 3 dozen cookies
1/4 C Shortening
1/4 cup butter, softened
1/4 C white sugar
1/2 C packed brown sugar
1/4 tsp baking soda
1 egg, room temp
1/2 tsp vanilla
1 1/4 C all purpose flour
1/2 C white chocolate chips
1/2 C chopped Pumpkin Spice Hershey Kisses

To get the pumpkin spice kisses chopped into small pieces, refrigerate the kisses over night so they get rock hard. Then, remove them from the fridge right before opening them and placing them into a food processor. Chop them until they are in small pieces.
Directions
In a large mixing bowl, beat the butter and shortening with a mixer on medium high for about 30 seconds. 
Add the white sugar, brown sugar and baking soda and mix until combined.
Beat in the eggs and vanilla.
Gradually beat in the flour and mix until well blended.
Fold in the white chocolate chips and the pumpkin spice Hershey kisses pieces.
Drop dough into round teaspoons 2 inches apart (tip: I dropped the pieces onto the baking pan and then rolled each one into a ball. This made pretty perfect round cookies)
Bake at 375 for 8 minutes (tip: remove the cookies from the oven before they are completely done baking. This will result in chewy cookies. 8 minutes was perfect for this) Allow cookies to cool before serving.
Enjoy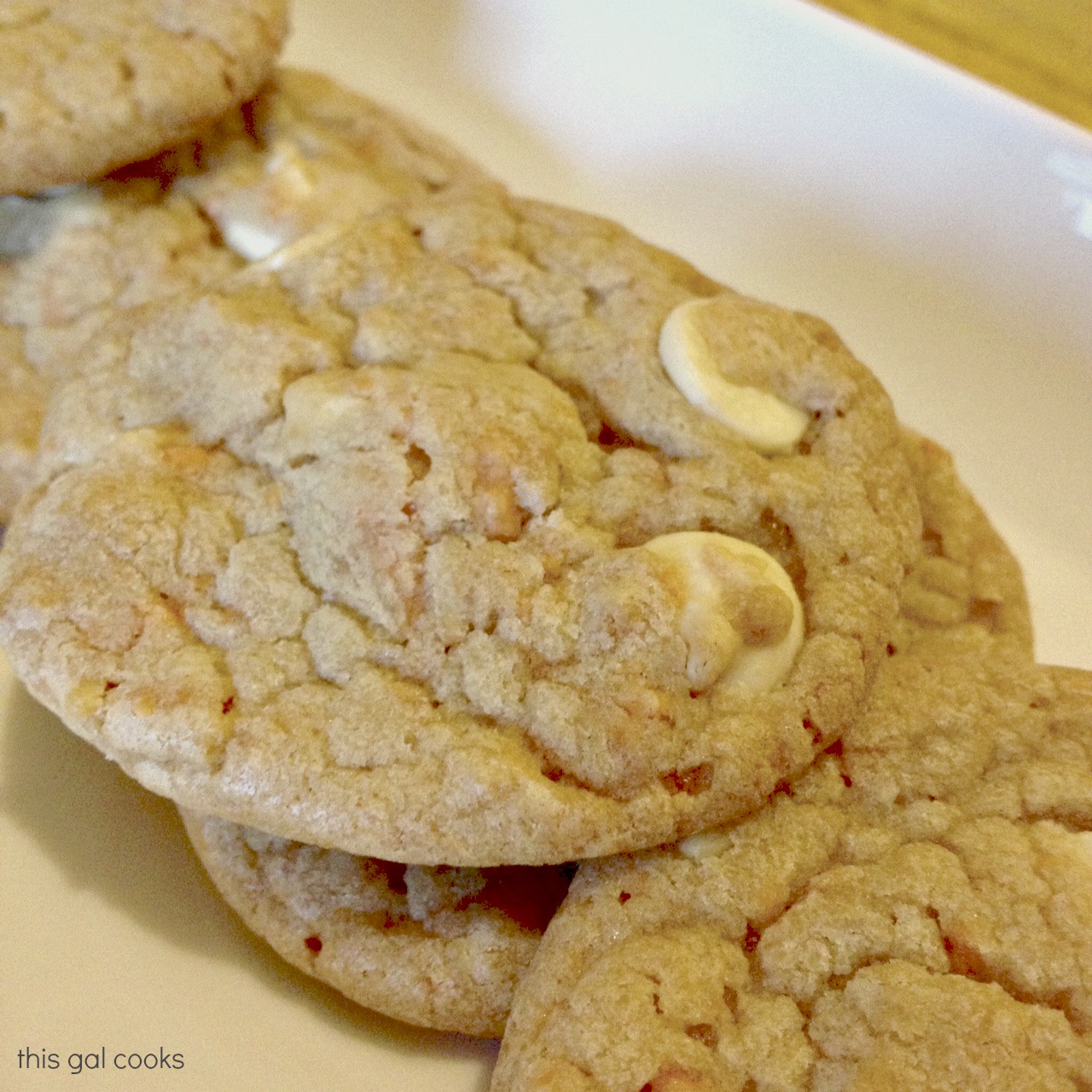 I'd love to hear what you think about this recipe. Please leave a comment and let me know! If you're new to my blog, leave your blog web address as well so I can check out your awesome spot in the blogosphere. :)
_________________________________________________
~Just a few rules~

Link directly to your post
No giveaways or shops


Please grab party button or link back to my blog

~Please make sure you visit and comment on other posts~
I would love it if you would become a follower of Pamela's Heavenly Treats and my Co-Host This Gal Cooks
Please check back next week to see who is featured!
document.write(");