Fall Beers: Spiked Recipe Challenge
Are you ready for the latest edition of the Spiked Recipe Challenge? This month we bring you…FALL BEERS!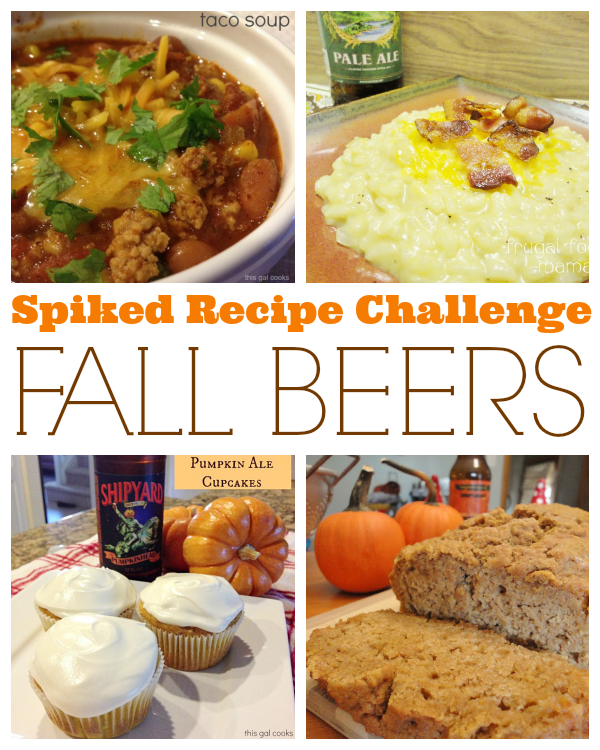 It is no big secret that myself and my good foodie blogger friend, Carrie from Frugal Foodie Mama  love to cook and bake with alcohol.  Here are a few of our favorite booze infused recipes!
Carrie & I have teamed up to bring you all a recipe challenge with a twist – your recipe must feature the alcoholic beverage being spotlighted that month! Every two months there will be a new Spiked! Recipe Challenge with a new featured boozy beverage. Carrie and I are not shy about the fact that we are both beer snobs and we love the fall season for all the harvest ales and pumpkin beers that start popping up on the shelves.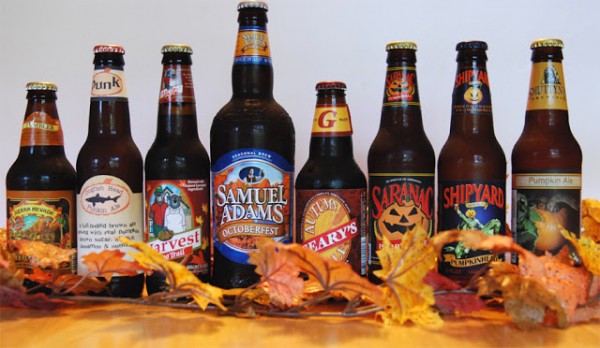 The Rules of The Challenge
Carrie and I would like for you to follow us via one of our many social media outlets.  Your choice-Bloglovin, RSS feed, Twitter, Facebook, Pinterest, Google+… you get the idea.  Plus, following us both will keep you in the loop about upcoming dates for the challenges, announcements of winners, and so on.
Follow This Gal Cooks
Facebook  RSS  Pinterest  Twitter  Google Plus
Sign Up by adding a link to your blog's home page in the linky at the bottom of this post. Be sure to include your email address when adding your link so we can keep you up to date with important info and dates regarding the challenge.
Place a Spiked! button somewhere in your post. This is a MUST in order to be qualified to win the challenge.
The Recipe MUST be your own. You can be inspired by another recipe – just don't copy it word for word. And of course, link back to your source!
ONE Recipe submission per participant.
The recipe MUST feature the beverage of choice and cannot be a drink recipe. This month's ingredient is Fall beers. Your beer must be a Fall, harvest or Oktoberfest beer in order for your submission to be qualified. 
The linky will go live on September 20th. You must link up your recipe while the linky is live. It will remain open for two days only.
All recipes will be judged by Carrie from Frugal Foodie Mama and I. The winner will be announced one week after the linky has closed and will be emailed as well as announced on each of our blogs.
The winner of the challenge will receive the following prizes:
A Measuring Cup social media promotion package from Frugal Foodie Mama for 30 days (starting October 1st) as well as a blogger spotlight on Frugal Foodie Mamas blog.
A $10 Starbucks Gift Card from This Gal Cooks
Important Dates to Remember
9/6 – sign ups start
9/13 – sign ups end
9/20 – linky opens to submit your recipe entries
9/21 – linky submissions end
9/27 – Spiked! Recipe Challenge winner announced
Spread the word about the challenge! We'd appreciate a Tweet, Facebook Share, Pin, Google Plus share or an Instagram Share about the Spiked Challenge! You can easily share this post by using the Pin It button at the top of this page or the social sharing buttons at the bottom of this post!
One last thing…Here's the winning recipe from the last Spiked! Recipe Challenge!