Easy Ravioli Soup Recipe
Serve a fabulous soup in under 30 minutes with this Easy Ravioli Soup. Cheese stuffed mini ravioli, spinach, ground turkey and spicy red pepper tomatoes are just a few of the goodies in this savory soup!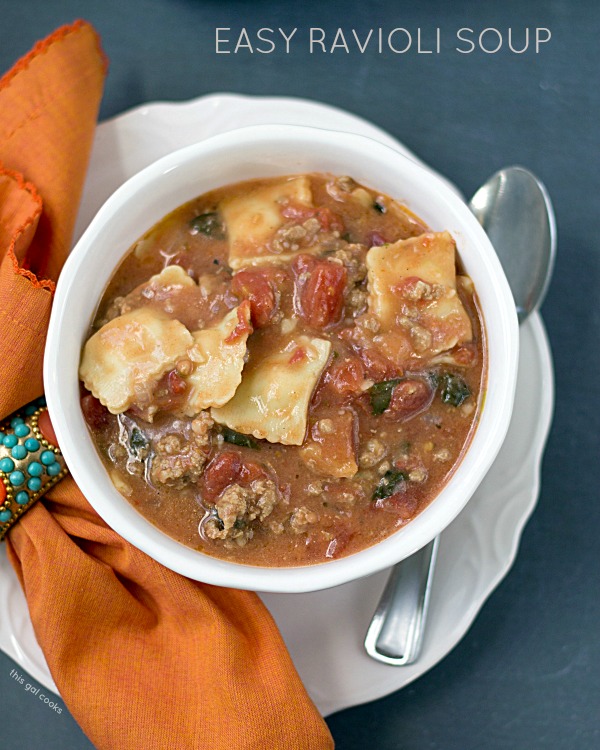 I'm such a slacker. I made this recipe sometime last year. I think it was in August or September and I'm just now getting around to posting it. Well, maybe I'm not a slacker. Maybe I just posted other recipes as I made them and then forgot about this one. Whatever the case may be, I'm finally posting this! I just happened to stumble upon the photos while browsing through my files earlier today. I'm glad I did because you are going to love this soup. Its got a little spice to it, it's easy to make and it's ready in 30 short minutes.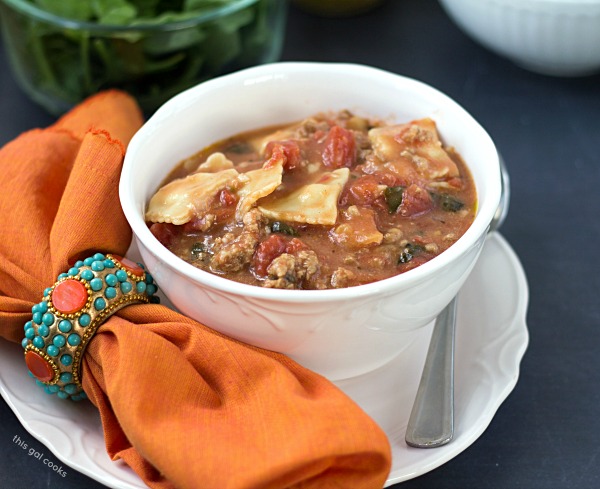 Easy Ravioli Soup
This recipe was a "let's use up pantry items" recipe. Those are always great because your creativity always shines when throwing a bunch of random stuff together. Plus, you save money because you don't have to run to the store to get items for a specific recipe. Everything is right there in front of you…or hidden in your pantry. Of course, if you don't have the items on hand to make this recipe, you can always use what you have on hand. Or you could pick up the items the next time you're grocery shopping.
I usually have diced tomatoes, onions, garlic, tomato sauce and beef bullion on hand. I just happened to have ground turkey, fresh spinach and mini ravioli on hand because they were on sale the day I filled my cart with them while grocery shopping. This was something I made after work one day. You know me. I don't like to spend loads of time in the kitchen after a long day at work. So you know this was easy to make!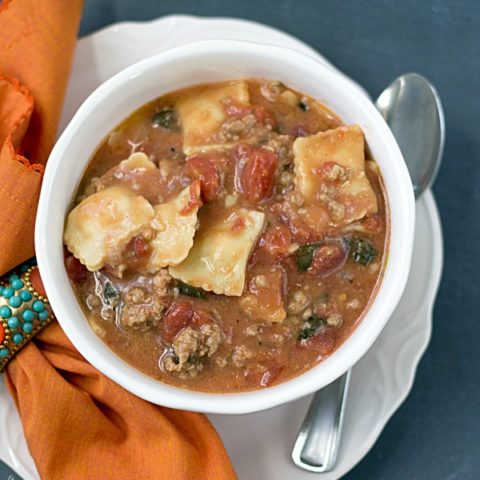 Easy Ravioli Soup Recipe
Yield: 6 servings

Prep Time: 15 minutes

Cook Time: 15 minutes

Total Time: 30 minutes
Ingredients
1 9oz package of mini cheese filled ravioli
1 1/3 lb ground turkey
6 oz baby spinach, stems removed and broken up (you can just break it up while adding it to the pot)
1 cube beef bouillon
1 14oz can chicken broth
2 cans diced spicy red pepper tomatoes
1 8oz can tomato sauce
1/2 small sweet onion, chopped
2 cloves garlic, minced
1 tbsp olive oil
2 tbsp sherry
1/4 C all purpose flour
1/2 C milk
1/2 tbsp brown sugar
1 bay leaf
2 tbsp chopped fresh basil
1 tsp dried oregano
salt to taste
Instructions
Cook the ravioli according to package directions. Set aside.
In a large pot, brown the meat, remove from pan and set aside.
In the same pot, heat the olive oil over medium heat. Add the spinach, basil, onion and garlic. Cook until the onion is tender.
Add the sherry to the pot and deglaze. Return the meat to the pan and add the broth, bouillon, tomatoes, tomato sauce, sugar and oregano.
Whisk together the milk and flour and add to the pot. Mix well. Stir in the pasta and bay leaf. Simmer 15 minutes and then remove the bay leaf.
Add salt to taste.
Notes
If you want a little extra heat in the soup, add some crushed red pepper flakes before you let it simmer.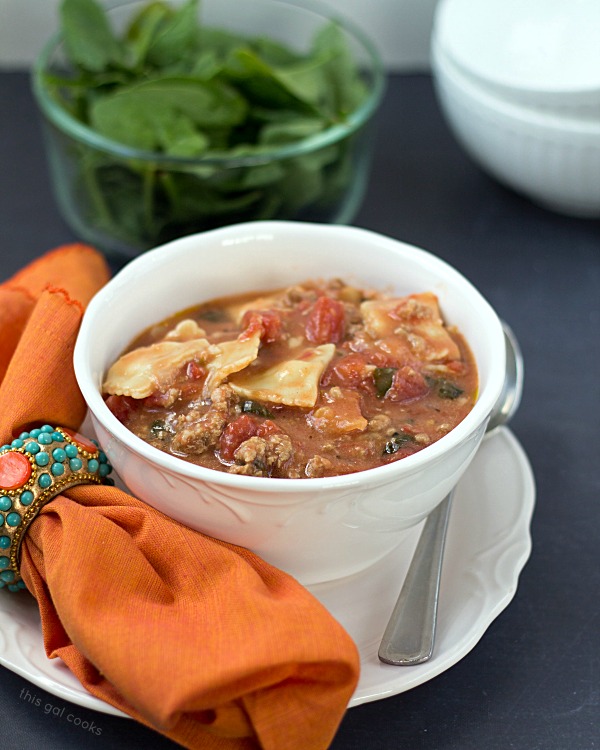 More Tasty Recipes from This Gal Cooks