25 Easy Crock Pot Chicken Recipes
Trying to figure out what to make for dinner? If you're busy like me, you don't always have a lot of time to spend in the kitchen. Here are 25 Easy Crock Pot Chicken Recipes that will help make dinner easy!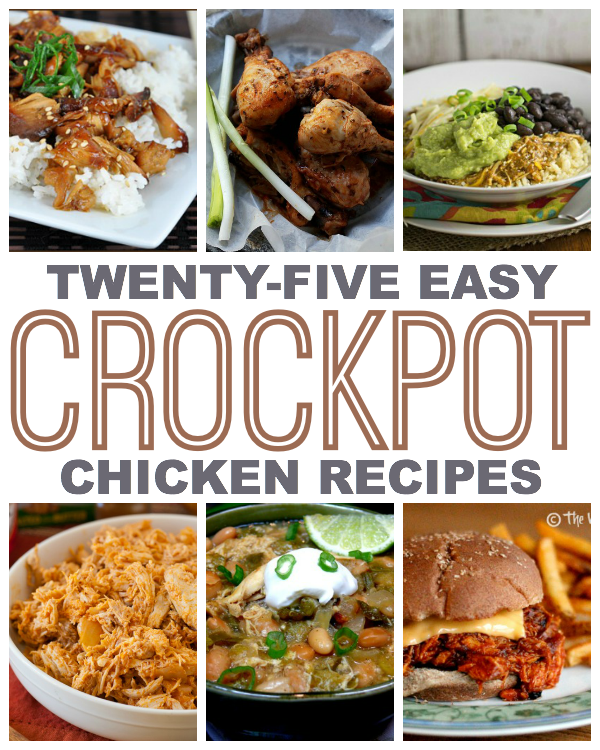 Ah, it's Friday. Which means it's time to relax. Well, I am hoping to relax. But with school, work and the blog, I stay pretty darn busy! During the weekends, we typically grill. I also make fancy meals that I normally wouldn't make during the week.
Using my crock pot to make tasty meals never gets old. My favorite recipes to make in my crock pot are soups or chicken recipes.  You can't go wrong with a good hearty soup. Or a good chicken recipe. Or a recipe that's easy to prepare.
A while back I shared a collection of 10 Super Simple Crock Pot Chicken Recipes with all of you. I found out that people LOVE crock pot recipes, especially when they are made with chicken! So being the helpful gal I am, I decided to create another collection of fabulous  recipes for all of you. This time I'm sharing twenty-five recipes! Thanks to some fabulous bloggers, I was able to put this collection together.
Please be sure to stop by and check out the recipes you love. Pin, comment, share or like the your favs!
25 Easy Crock Pot Chicken Recipes
{click images to view recipes}