Coffee Creamer French Toast
Get creative with your next french toast recipe and make this Coffee Creamer French Toast. With all of the varieties of coffee creamer flavors, you won't get bored with french toast!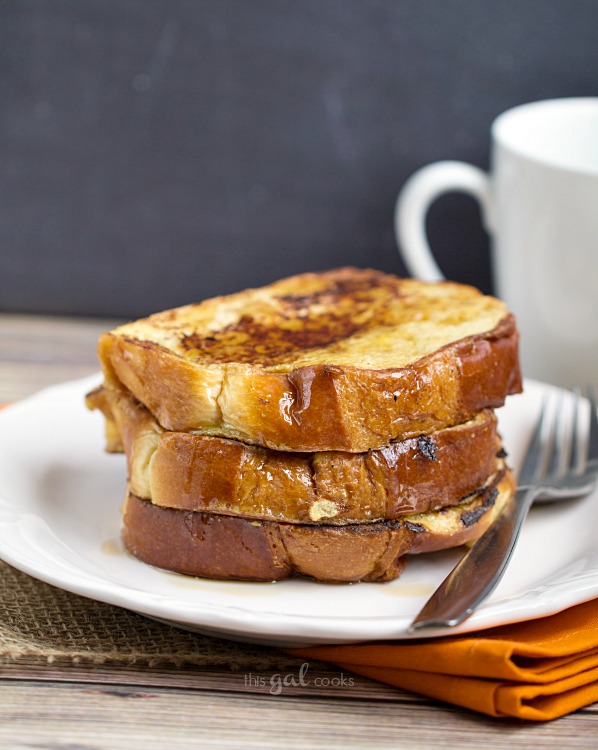 Oh hello french toast. We haven't met in quite a while. Well, with the exception of two weeks ago, our meetings are quite scarce. You see, while I love you so, Ken is less than thrilled with you. You're just too soggy for him. Me, on the other hand, will take you soggy or firm. In fact, I happen to prefer you soggy.
And back to reality now. I'll end my conversation with french toast now. But it's true. Ken has never been thrilled with the way I make french toast. It's either been too soggy or cinnamony. Cinnamony. Is that a word? My spell check tells me it is not but I feel like making up words today so there ya go.
Cinnamony. Adjective. Describing an object, specifically food, with intense cinnamon flavor.
Coffee Creamer French Toast
A gal I work with found out about how much I adore pumpkin spice coffee creamer. She told me about this top secret coffee creamer recipe but told me not to tell anyone. Oops. Too late! Nah, just kidding. About the secret. She really did tell me about an awesome little way to utilize coffee creamer. Make french toast with it. So I've wanted to make coffee creamer french toast for some time now but I just couldn't bring myself to do it due to Ken's lack of love for it. But alas, there's always a solution to a problem so I finally figured out how to make french toast Ken would like. Use thick bread. Ding Ding Ding. We have a winner. I bought a loaf of unsliced bread and sliced thick slices so it wouldn't become soggy from the egg/coffee creamer concoction.
Worked like a charm. Ken actually enjoyed this. And I did too! I made my french toast with pumpkin spice coffee creamer. But you can use your favorite flavor to make your french toast.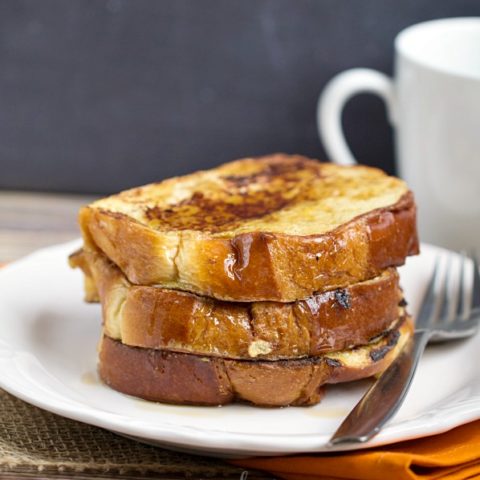 Coffee Creamer French Toast
Yield: 2

Prep Time: 5 minutes

Cook Time: 15 minutes

Total Time: 20 minutes
Ingredients
6 thick slices of bread
3 eggs, beaten and placed in a large bowl or baking dish
1/2 C pumpkin spice coffee creamer, or your favorite flavor
2 tbsp brown sugar
Instructions
Heat a large skillet over medium heat. Spray with cooking spray.
Pour the coffee creamer and brown sugar into the eggs and whisk together.
Dunk each slice of bread into the egg/coffee creamer mixture and then place on the skillet (1-2 at a time). Cook each side for 1-2 minutes or until slightly browned.
Place on plates and serve with maple syrup. Enjoy