Classic Pecan Pie Tart Recipe
This Classic Pecan Pie Tart is the perfect dessert for friends and family that enjoy traditional holiday desserts. Loaded with pecans and the classic corn syrup and sugar filling, I spiced this pie up with a dash of cinnamon and spiced rum to bring the flavor up a notch.
Classic Pecan Pie Tart
When I was a kid, we had neighbors who had two or three large pecan trees in their yard. They were nice enough to let us pick some of the pecans. We would fly up to the tops of the trees and pick the nuts right from the tree. Ok, that's not how it really went. There were pecans all over the ground so we'd just pick those right on up. We'd go home with a huge grocery bag full of them. I loved cracking open the shells and eating the delicious surprise inside. Pecans have always been one of my favorite nuts. However, I wasn't always a fan of pecan pie.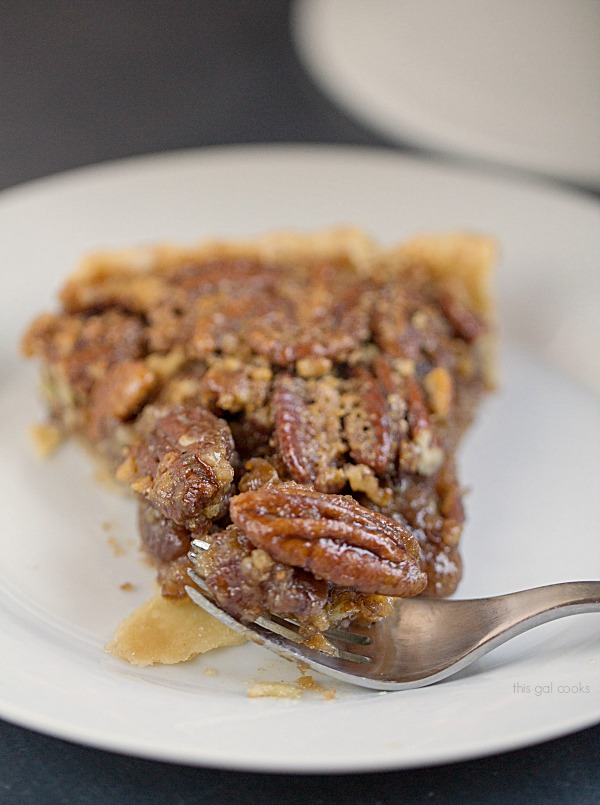 I now I've mentioned it before but I wasn't always a fan of having nuts in my food. I've always loved them by themselves but put them in a cookie, a cake, a pie or a brownie and they became my enemy. Seriously. Remember those Little Debbie brownies with the nuts on top? I loved those things, sans the nuts. So I picked each and every nut off of the top of them so I could enjoy them in peace. Ha, I'll never forget how ecstatic I was when I first saw the Little Debbie Cosmic Brownies. My favorite brownies without the nuts.
Happiest. Girl. Ever.
My utter disdain for nuts contaminating baked into my food is starting to wear off. I can tolerate them in small amounts, such as on top of a cake or muffins. But mix them in and I still won't touch whatever sweet treat it is. Unless it's pecan pie.
Pecan pie is different. Simply put, it isn't a pillowy, soft baked good filled with nuts.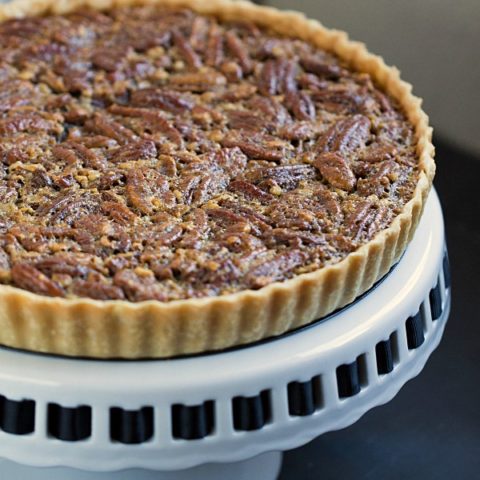 Classic Pecan Pie Tart
Yield: 8

Prep Time: 10 minutes

Cook Time: 55 minutes

Total Time: 1 hour 5 minutes
Ingredients
1 9 inch pie crust
3/4 C granulated sugar
3/4 C light corn syrup
1/3 C butter, melted
3 eggs, beaten
2 tbsp spiced rum
1 tsp vanilla extract
1/4 tsp salt
1/4 tsp cinnamon
2 C pecan halves
1/3 C chopped pecans
Instructions
Press the pie crust into a 9 inch tart pan. Place in the freezer until ready to use.
Combine the pecans, sugar, corn syrup, melted butter, eggs, spiced rum. vanilla extract, cinnamon and salt. Mix well.
Pour into the the pie crust.
Bake at 325 for 50-55 minutes or unto the crust is golden.
Cool on a wire rack before serving.
Notes
Adapted from Williams Sonoma

UPDATE: I made this again (two more times, to be exact) but instead of using whole pecan halves, I used a total of 2 3/4 C of chopped pecans. It came out much better - easy to slice and the sugary filling didn't spread out. It actually got pretty rave reviews from work and the family at Christmas!