Candy Corn White Chocolate Halloween Bark
I figured it was time to make some Halloween treats.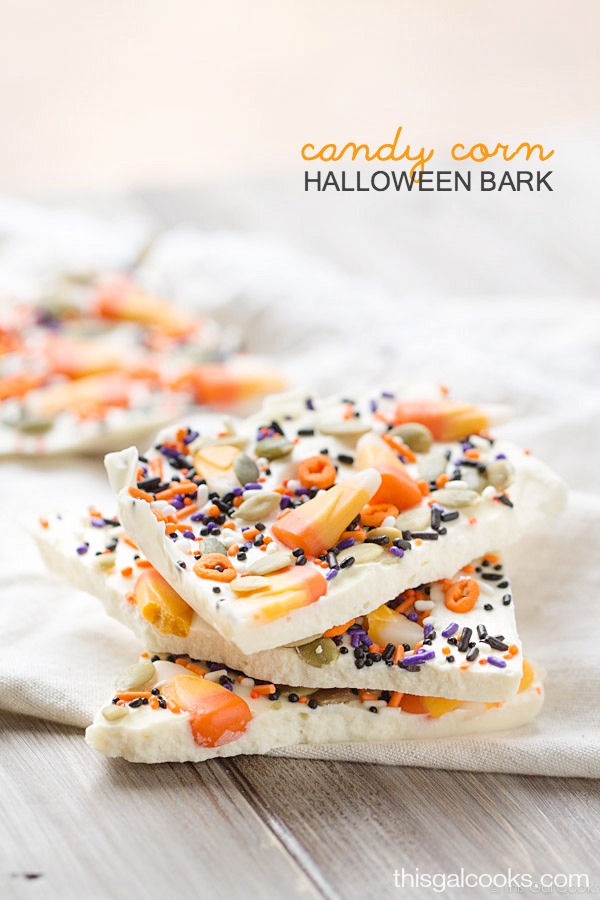 Last year I made these Halloween Brownie Truffles and this Halloween Cake Batter Fudge. This year, I decided to kick off the Halloween season with this Candy Corn White Chocolate Halloween Bark.
It's ridiculously easy to make. Melt white chocolate chips. Pour into a baking pan. Top with candy corn, pepitas and SPRINKLES! Then put it in your fridge for 20-30 minutes to allow it to harden. Boom. You have your own homemade Halloween candy treat.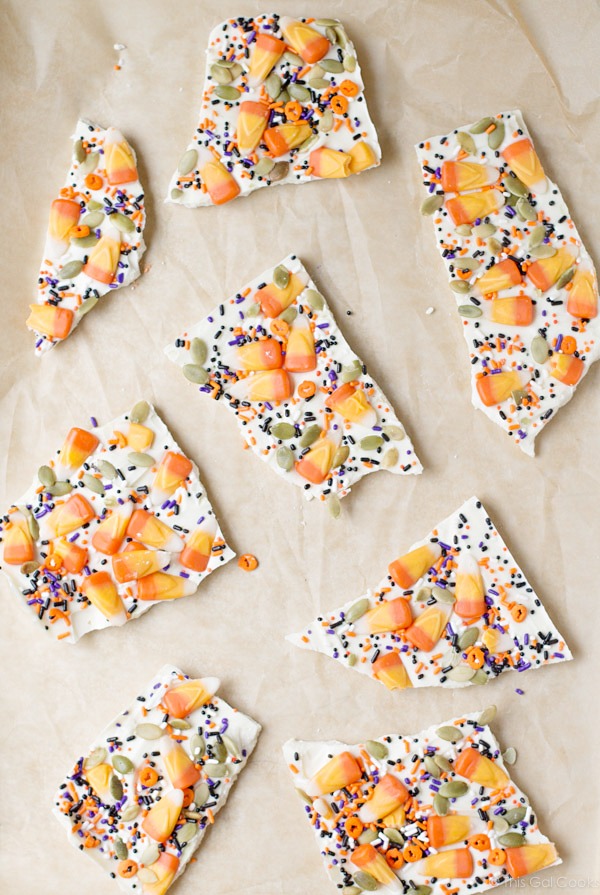 Raise your hand if Halloween is your favorite holiday. Not your fav? Is it near the top of your favorites list? It's my favorite holiday! I love decorating my front porch with my spooky pumpkin, pumpkin lights and gravestones. When I was a kid, I loved to go trick-or-treating. Now I love handing out candy to the trick-or-treaters in my neighborhood! Ken and I (and the dog, too!) sit outside with a big ole bowl of candy and hand out the candy as the trick-or-treaters come by. We sip on some of our favorite fall beers, too. ♥︎
I'm so excited that Halloween is on a Friday this year. After we finish handing out candy, we can stay up late and watch scary movies.
What are your plans for Halloween?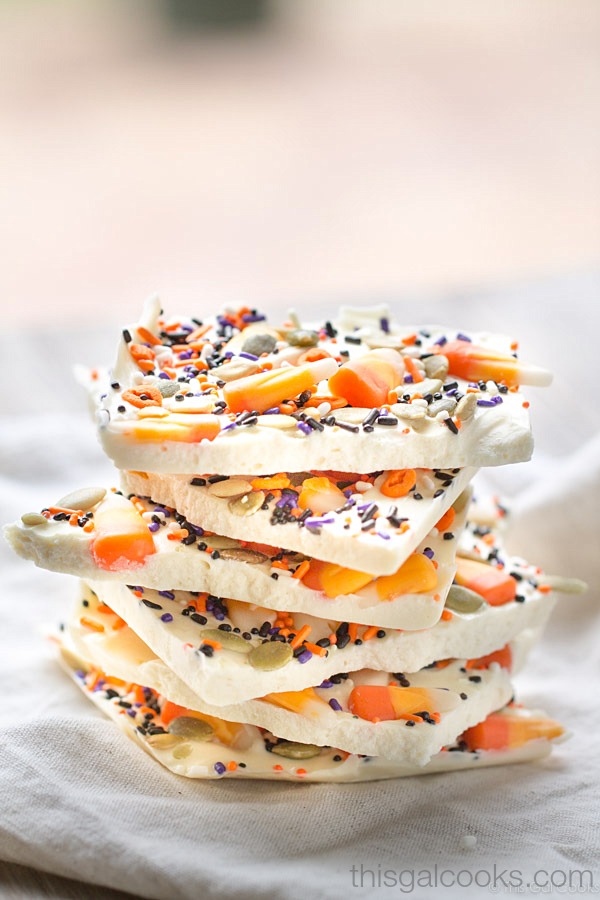 I think this Candy Corn White Chocolate Halloween Bark would be perfect to munch on while handing out candy. Don't you? Ready to make the recipe? Just set aside about 15 minutes of your time. That's all the time you'll need to make this delicious recipe!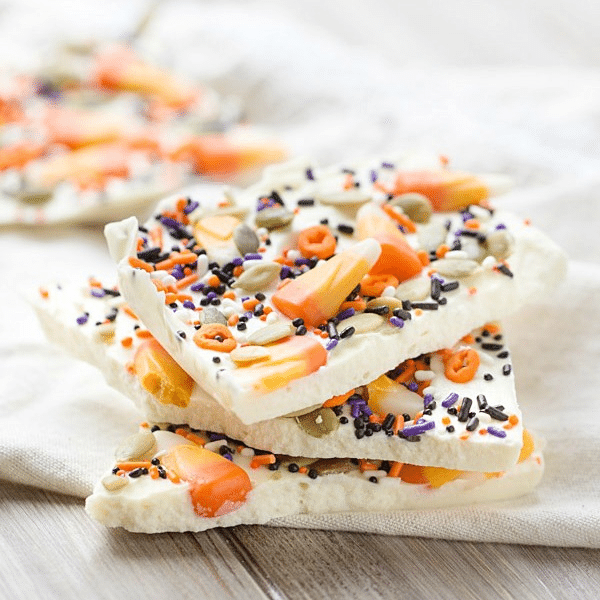 Candy Corn White Chocolate Halloween Bark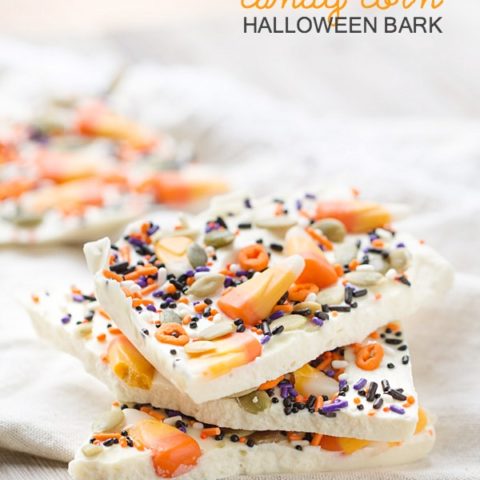 Candy Corn White Chocolate Halloween Bark
Yield: about 30 oz

Prep Time: 15 minutes

Total Time: 15 minutes
Ingredients
2 11oz packages of white chocolate baking chips. I used Ghirardelli
1 1/2 tbsp Halloween themed sprinkles. You can find Wilton brand on Amazon or at Michael's
3/4 C pumpkin spice candy corn (or regular, if you prefer regular)
1/4 C roasted, lightly salted pepitas
Instructions
Line a 13x9 baking sheet with aluminum foil. Lightly spray with cooking spray. Wipe away any excess with a paper towel.
Place the white chocolate chips in a large microwave safe bowl. I recommend a glass bowl. Heat in your microwave for 1 minute. Stir. Heat for 1 more minute. Stir. If the chips are completely melted now, you are finished. If they are not, microwave for about 20 more seconds. I microwaved for a total of 2 minutes 30 seconds.
Pour the melted white chocolate chips into the baking pan. Smooth with the back side of a spoon. Top with the candy corn, the pepitas and then the sprinkles.
Cover and refrigerate for 30 minutes or until firm. Once firm, break apart into pieces.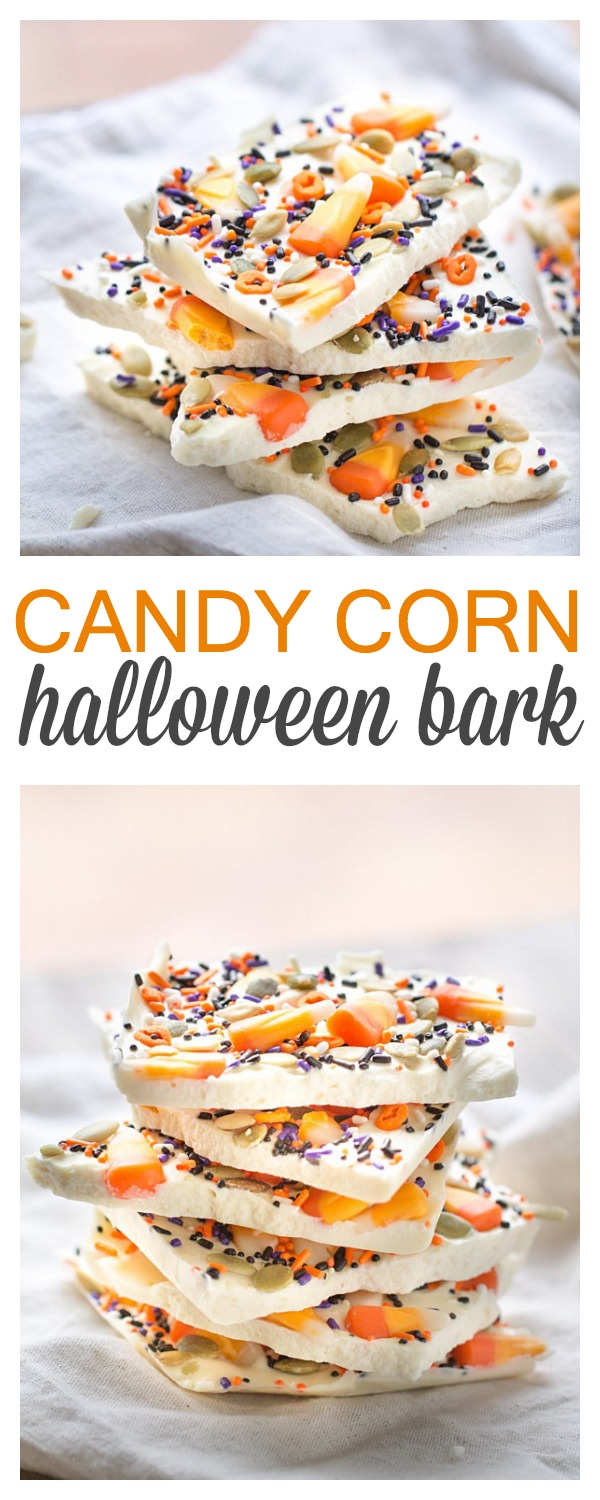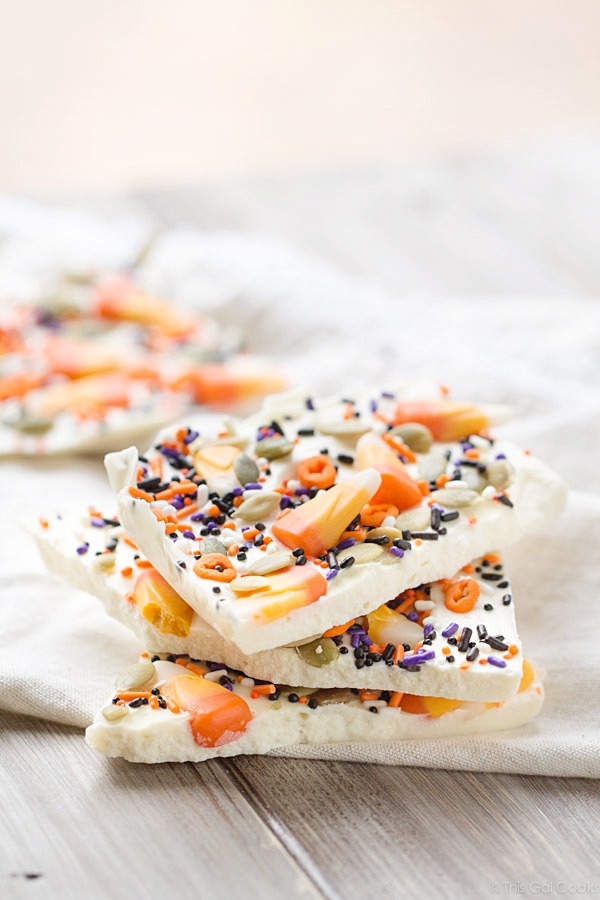 HUNGRY FOR MORE?
Try these Halloween recipes from some of my favorite bloggers.
Halloween Fudge from Crazy For Crust.
Brownie Brittle Peanut Butter Cookie Ghost Cups from Food Faith Fitness.
Chocolate Peanut Butter Spider Cookies from A Spicy Perspective.