Breakfast for Dinner – Fried Egg Sandwich
I love a fried egg sandwich. I can eat one during anytime of the day. Last week I had one for dinner. It was delicious. Now when I make my fried egg sandwiches, they aren't your typical fried egg sandwich. I HAVE to have mayo and ketchup on mine. That may sound gross to some of you but trust me, it's the bomb. You should really try it sometime!

BTW, I am over on The Life of a Not So Ordinary Wife's blog today. I'm giving away a $25 Panera Bread gift card. Head over and enter to win!

When I made this sandwich I got a little fancy with it. I made it with 2 slices of cheese and I used a fresh hamburger roll from Publix. If you don't have a Publix near you I feel sorry for you. They have THE BEST fresh breads of any grocery store I've ever been to. They also have a lot of other awesome stuff but that can be discussed at another time. Let's move onto my sandwich.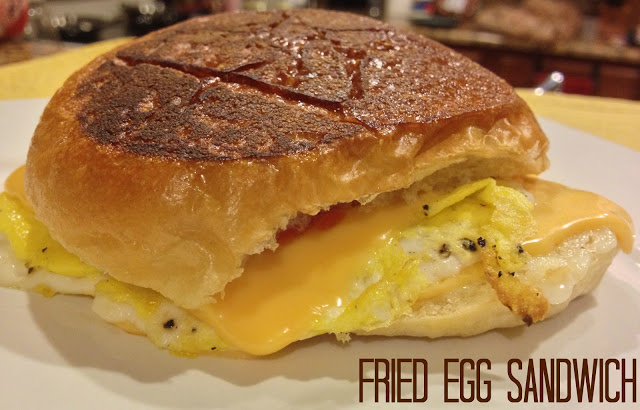 Ingredients
1 egg
1 tbsp mayo
1/2 tbsp ketchup
2 slices of American Cheese
Pepper
1 tsp butter or spread (I used Country Crock spread)
1 fresh hamburger bun
Cooking spray
2 skillets (one small, one medium)
Directions
Spray the small skillet with cooking spray and heat to medium heat. Fry the egg on the skillet. Sprinkle with the pepper. I like my fried eggs well done, yolks popped but you can make yours however you like. Set aside once cooked.
Heat the medium skillet over medium heat. Spray with cooking spray. 
Spread the butter or spread on the outsides of the hamburger bun. Spread the mayo on the bottom inside part of the bun and the ketchup on the top inside part of the bun (yes, I am picky like this and always have to put my mayo on the bottom part of a hamburger bun. And the cheese always has to go over the mayo.)
Place the bottom bun on the medium skillet, butter/spread side down. Place one slice of cheese on top of the bun, then the egg, then the other slice of cheese, then the remaining bun. Cook for about a minute and then flip and cook for another minute or until lightly toasted.
Enjoy
What did you think of this simple recipe? I'd love to know. Please leave a comment letting me know. :)
Have you linked up to the Grow Your Blog Hop? If not, head over now to link up. You can get to the hop here.