Blueberry Peach Coconut Crisp
Blueberry Peach Coconut Crisp. Fresh blueberries and peaches are tossed with cinnamon and honey, topped with an oat, coconut, quinoa and almond flour topping and baked to sweet perfection.
Blueberry Peach Coconut Crisp
Sweet, sweet perfection. I'm gonna give you some sweet, sweet perfection. I'm gonna give you a slice of this Blueberry Peach Coconut Crisp. And then maybe you're gonna top it with some dairy free coconut whip. Or eat it plain. Or eat it with a scoop of this Dairy Free Vanilla Peach Ice Cream. Or eat it with a scoop of plain ole vanilla ice cream, if you don't mind the dairy.
I should be minding the dairy. But sometimes it's so hard to. I love cheese. I love ice cream. I love whipped cream. But it does not love me. I won't go into any details but I will say that I should be purchasing stock in Lactaid pills. Or better yet, I should just stop eating dairy all together. Maybe one day. At least for now, I've cut out milk in the coffee. Soy milk all the way, baby. And I'll admit, the powdered Coffeemate, too. It's ok, you can groan/gasp/tell me it isn't good for me, insert phrase or grunting expression here. It's all good.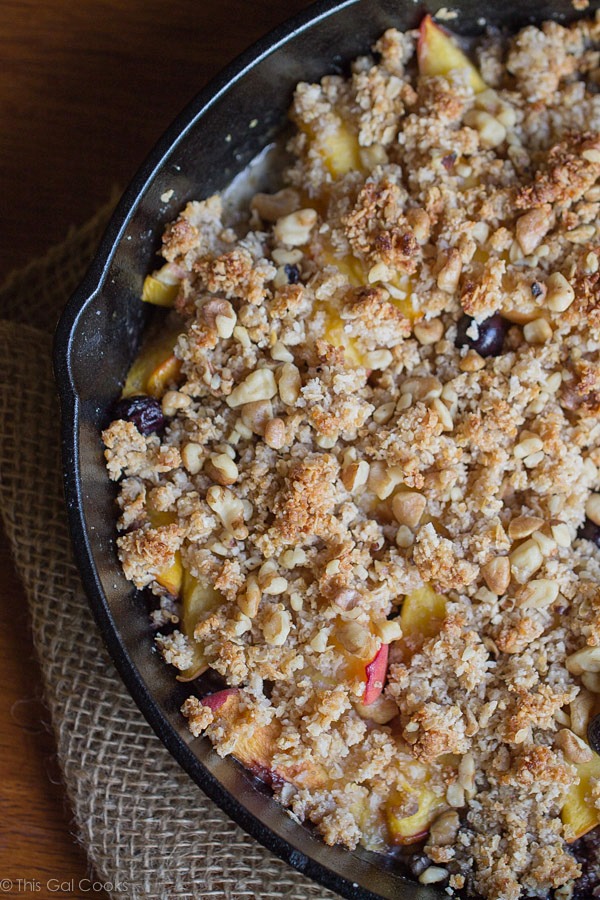 It's all good like that dessert in that pic right up there. Doesn't that look mouthwatering? My mouth is watering just thinking about it! I love baked fruits. Wanna know a secret? There aren't many fruits that I enjoy eating raw. Bananas, strawberries, pineapple and grapes are my raw friends. The rest, well the rest have to be cooked for me to really enjoy them.
This dish was easy to make. I sliced up some peaches and threw 'em in a bowl with some lemon juice. Then I added blueberries, vanilla extract and honey. I put the mixture in my cast iron skillet and topped it with a mixture of quiona, oats, shredded coconut, coconut oil, almond flour and agave nectar. I baked at 325 for about 40-45 minutes. Then I enjoyed with a dollop of coconut whipped cream. Yum.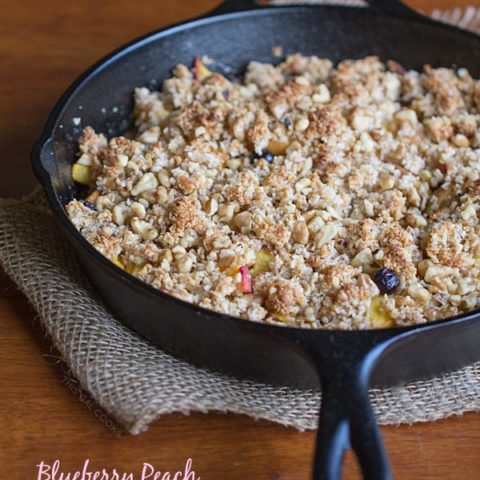 Blueberry Peach Coconut Crisp
Yield: 8

Prep Time: 15 minutes

Cook Time: 45 minutes

Total Time: 1 hour
Ingredients
For the topping
1/2 C cooked quinoa
1/2 C quick cooking oats
1/2 C almond flour
1/4 tsp cinnamon
2 tbsp coconut oil
1/4 C unsweetened shredded coconut
2 tbsp agave nectar
1/4 C chopped walnuts
For the filling
4 medium peaches, cored and sliced
6 oz blueberries
2 tbsp lemon juice
1/2 tsp vanilla extract
1/4 C honey
Instructions
Whisk together the quinoa, oats, almond flour, shredded coconut and cinnamon. Cut in the coconut oil and agave nectar.
Toss the sliced peaces with the lemon juice. Add the blueberries and cinnamon and mix well. Mix in the honey and vanilla extract. Pour into a greased (I just used a little coconut oil but if your pan is well seasoned, you may not have to grease it at all. The one I used is still fairly new so I added a layer of coconut oil to it.) 10 inch cast iron skillet or a baking dish. Top with the topping and then sprinkle with the chopped walnuts.
Bake at 325 for 40-45 minute or until the fruit is bubbly and the topping is slightly browned.
Serve with coconut whipped cream, if desired.
Nutrition Information:

Amount Per Serving: Calories: 200 Total Fat: 10g Carbohydrates: 24g Sugar: 15g Protein: 3g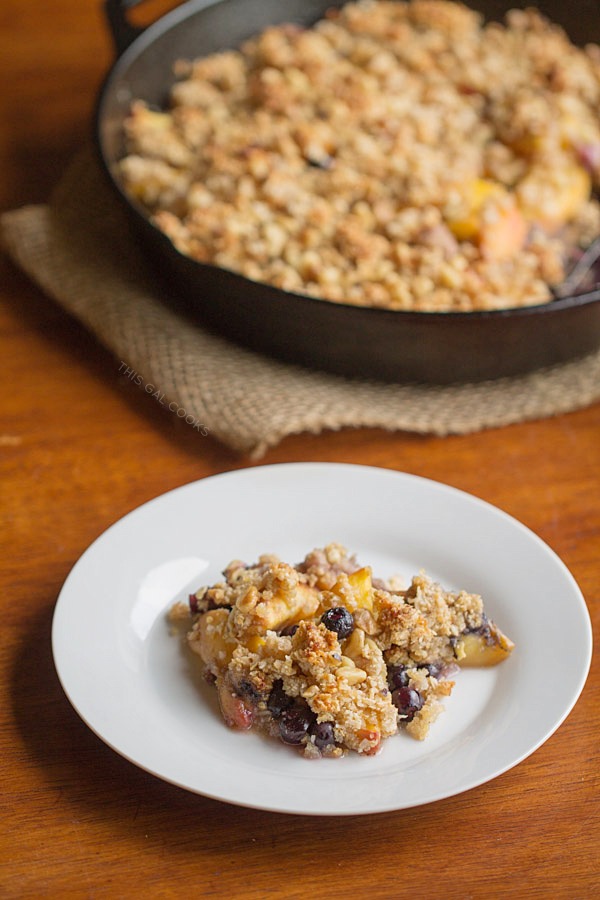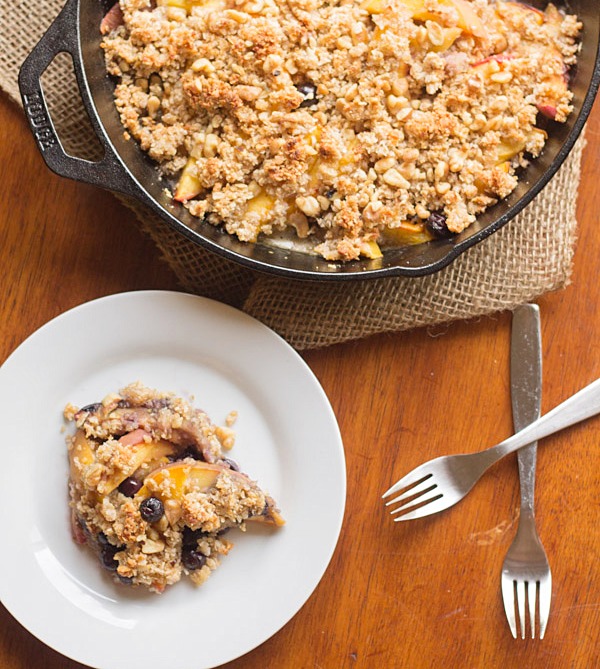 OH, one more thing before I let you go make this recipe. I'm getting a new blog design next month! Ha, I know I have changed mine many times but I have a vision and I cannot figure out what to do to make my blog how I want it to be so I finally decided to hire someone to do it. I'm SO excited and cannot wait to roll out the new design and FINALLY get the brand and image I've always wanted for the blog.
Why Blueberry Peach Coconut Crisp?
The Blueberry Peach Coconut Crisp is a mouthwatering dessert that beautifully blends the sweet and tangy flavors of blueberries and peaches, enhanced by the exotic texture and taste of coconut. This delightful concoction, with its crumbly top and juicy filling, is a delightful way to celebrate the bounty of the summer fruit harvest. Often served warm, it can be complemented by a scoop of vanilla ice cream or a dollop of whipped cream for an extra treat.
The combination of blueberries and peaches offers a unique mix of flavors – the tartness of blueberries is balanced by the natural sweetness of ripe peaches. The crisp coconut topping not only adds a wonderful texture contrast, but it also brings a tropical note to the dish, making it refreshingly different from the traditional fruit crisp. The golden-brown coconut crust, once baked, forms a delectable crispy shell that encloses the juicy, bubbly fruit beneath.
Each ingredient brings its own set of nutrients and health benefits to the dish. Blueberries are known for being high in antioxidants, fiber, and vitamin C, making them a great addition to any diet. Peaches, another summer fruit favorite, are also packed with vitamins and fiber, and are known for their hydrating properties due to their high water content. Coconut, on the other hand, is highly nutritious and rich in fiber, vitamins C, E, B1, B3, B5 and B6 and minerals including iron, selenium, sodium, calcium, magnesium and phosphorous. Not to mention, the natural sweetness of coconut helps in reducing the amount of added sugars. Moreover, the combination of these ingredients creates a flavorful synergy that makes this dish not just delicious, but also quite healthful.
Additional Instructions
Blueberry Peach Coconut Crisp is best served warm. The heat brings out the natural juices in the fruit and allows the flavors to meld together, enhancing the overall taste of the dish. Additionally, the warmth of the crisp is a delightful contrast to any cool accompaniments.
This fruit crisp can be enjoyed on its own or with various toppings. A scoop of vanilla ice cream or a dollop of whipped cream are both classic pairings that add a creamy element, complementing the texture of the crisp and the fruit. For those preferring a lighter touch, a dusting of powdered sugar can also enhance the dessert's presentation and add a hint of extra sweetness.
If you have any leftover Blueberry Peach Coconut Crisp, it should be stored in an airtight container to maintain its freshness. While it can be left out at room temperature for a day, for longer storage, it is best to keep it in the refrigerator. This will extend its shelf life to about a week.
To reheat the crisp, you can use an oven or a toaster oven. Preheat the oven to 350 degrees F and heat the crisp for about 15-20 minutes or until warmed through. This method helps to keep the topping crispy while reheating the fruit filling.
The beauty of this crisp recipe is its versatility. You can experiment with various fruits according to season or personal preference. Apples, pears, cherries, raspberries, or blackberries could all be excellent substitutes or additions to the recipe.
To make this recipe gluten-free, you can use gluten-free oats and a gluten-free flour blend for the topping. For a vegan version, substitute the butter with coconut oil and ensure your sugar is vegan-friendly. These substitutions will allow you to maintain the texture and flavor of the dish while catering to dietary restrictions or preferences.
More tasty recipes from This Gal Cooks