Beefy Nachos
I don't know about you but I love a dish of loaded nachos. Sometimes Ken and I order them as our meal when we go out. They always provide more than enough food for both of us. Sometimes I make them at home. I've made them at home many times, each time using slightly different ingredients. It's fun to change things up and add variety. I usually use shredded cheese when I make my nachos but this time I wanted creamy cheese. I know it's better to make homemade cheese sauce, I make my own when I make my delicious baked macaroni and cheese, but since I was going to be making these nachos after a busy day at work, I went the simple route so I made the cheese sauce using a can of cheese sauce. I was actually able to find a regular 15oz sized can in the ethnic food section of the grocery store. It was a nice change to the ginormous sized cans that I usually see in the store. Anyways, these nachos were scrumptious and super simple to make. They are also gluten free (just make sure the chips you purchase are in fact gluten free) Enjoy the recipe.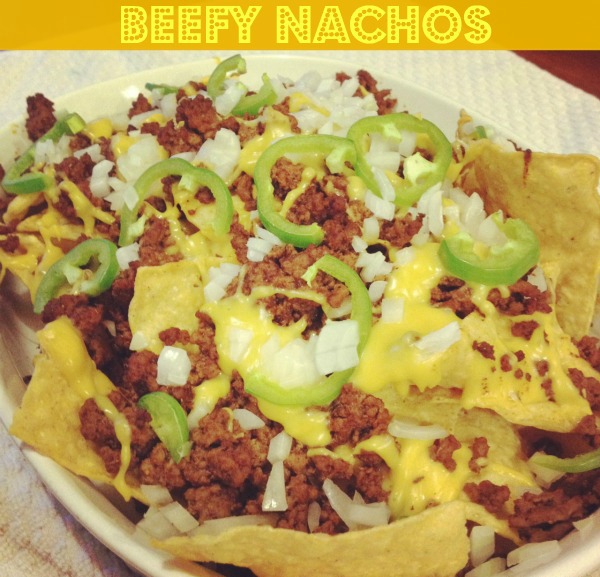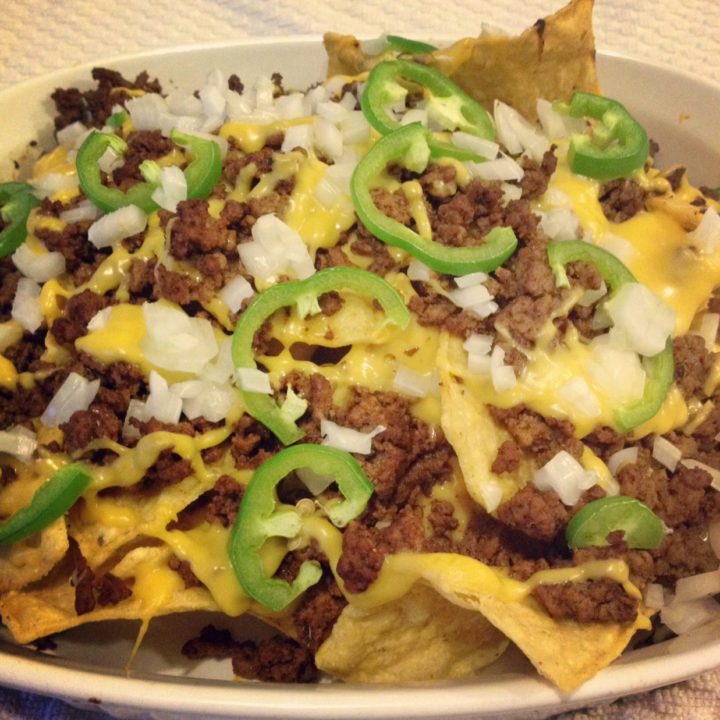 Beefy Nachos
Yield: 4
Prep Time: 10 minutes
Cook Time: 10 minutes
Total Time: 20 minutes
Ingredients
1.25lb of ground beef or ground turkey
2 tbsp of taco seasoning
1 tbsp of water
1 15oz can of cheddar cheese sauce
1 small jalapeno, sliced
1/2 small onion, chopped
Corn Tortilla chips (quantity depends on your preference)
Homemade guacamole
Sour cream
Salsa
Your choice of hot sauces
An oven preheated to 350
Instructions
1. In a large pot or sauce pan, brown the meat until cooked. Drain, add 1 tbsp of water and then mix in the taco seasoning. Set aside.
2. Heat the cheese according to the directions on the can. Add about 1 cup of shredded cheese to the cheese sauce and mix well.
3. Layer a baking dish or a pan with some of the nacho chips. Top with some of the cheese sauce and onions. Then add more chips and cover with the remaining onions, jalapenos, meat and cheese sauce.
4. Bake at 350 for 5-10 minutes