Apple Pie Oatmeal Recipe
This healthy Apple Pie Oatmeal is a delicious way to begin your day. You won't find any dairy or refined sugars in this easy to make tasty recipe!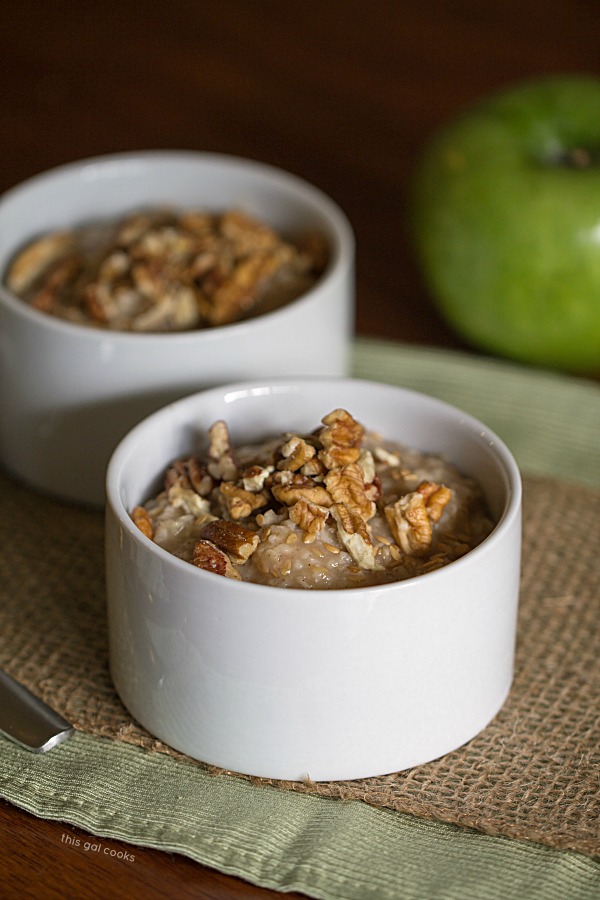 Baby it's cold outside.
I'm sure those of you who live outside of Florida are laughing at this South Florida gal who's claiming it's cold outside. It's currently 50 degrees outside and my house is a cool 67. No windows open. No heat on. Isn't it weird how 67 degrees outside feels great but 67 degrees in a building makes you feel like you're going to freeze to death? I know it's being in closed quarters vs open spaces that causes this phenomena but it's still a little weird to me.
Want to hear something funny? I don't really own any warm clothes. I had to buy a jacket to wear on our NC trip next month. So I got a great deal on a lighter puffer jacket. $30 for a $150 jacket. You see, stores in Florida puts winter coats on clearance in December. Come February, you can't find a winter coat in any store. Ok, maybe you can but I had a hard time finding one last year. Anyways, yesterday morning it's about 45 outside with a wind chill in the 30s. I take my dog for a walk wearing a shirt, a sweater, the puffer jacket, flannel PJ pants and, wait for it…flip flops! I had to be the laughing stock of anyone who saw me yesterday morning. Us Floridian's and our flip flops. I guess we are too lazy to put on shoes!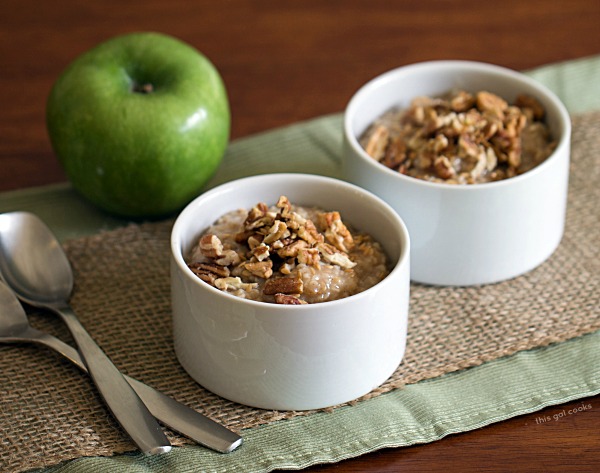 Apple Pie Oatmeal
About this Apple Pie Oatmeal. I got the idea for it from this Pumpkin Pie Oatmeal with Pumpkin Cream recipe from Kathy's Blog. Since I didn't have all of the needed ingredients on hand, I tried a variation of her recipe. It was good! You should try it out. But you should also try this Apple Pie Oatmeal. It's easy to make. It's dairy free. It's refined sugar free. And it's pretty tasty.
All you have to do is cook some quick cooking oats and then mix in simple ingredients including almond milk, coconut oil, flax seed, maple syrup, organic unsweetened apple sauce, apple pie spice and pecans. The coconut oil makes this oatmeal suitable for leftover use. It prevents the oatmeal from clumping up and sticking together. Just reheat the oatmeal in microwave safe dish. Easy peasy, right?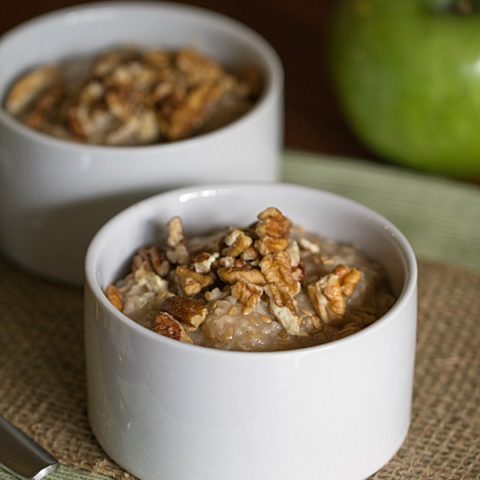 Apple Pie Oatmeal Recipe
Yield: 3 1 C servings or 6 1/2 C mini servings

Cook Time: 15 minutes

Total Time: 15 minutes
Ingredients
1 C quick cooking oats
1 3/4 C water
1/4 tsp salt
1 C unsweetened organic apple sauce
1 tsp apple pie spice
2 tbsp unsweetened vanilla almond milk
1 1/2 tbsp maple syrup, plus more, if needed
1/2 tbsp coconut oil
1 tbsp flax seed, plus more for garnish
Chopped pecans for garnish
Instructions
Bring water and salt to a boil. Add oats and cook 1 minutes. remove from heat.
Stir in apple sauce, apple pie spice, almond milk, flax seed, maple syrup coconut oil. Taste and add more maple syrup, if desired. Place in serving dishes and garnish with pecans and flax seeds.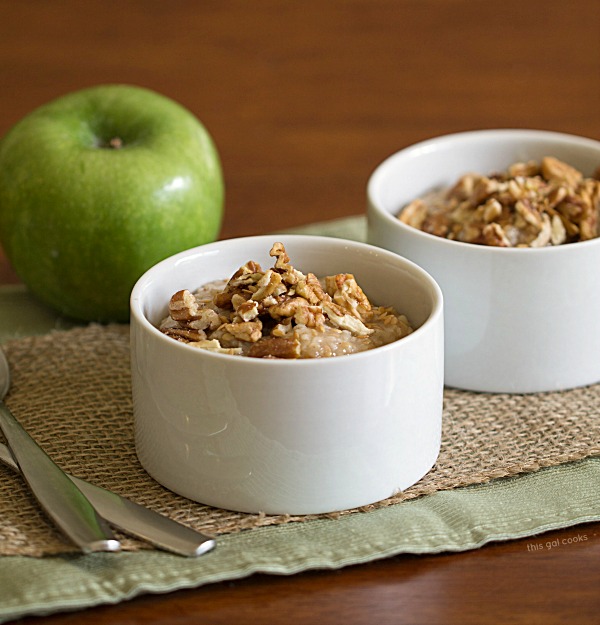 More from This Gal Cooks