These spiced up Cranberry Oatmeal Cookies are made with dried cranberries, quick cooking oats and are filled with decadent white chocolate chips! Cinnamon, cloves and nutmeg give these cookies a flavor that will remind you of the holiday season.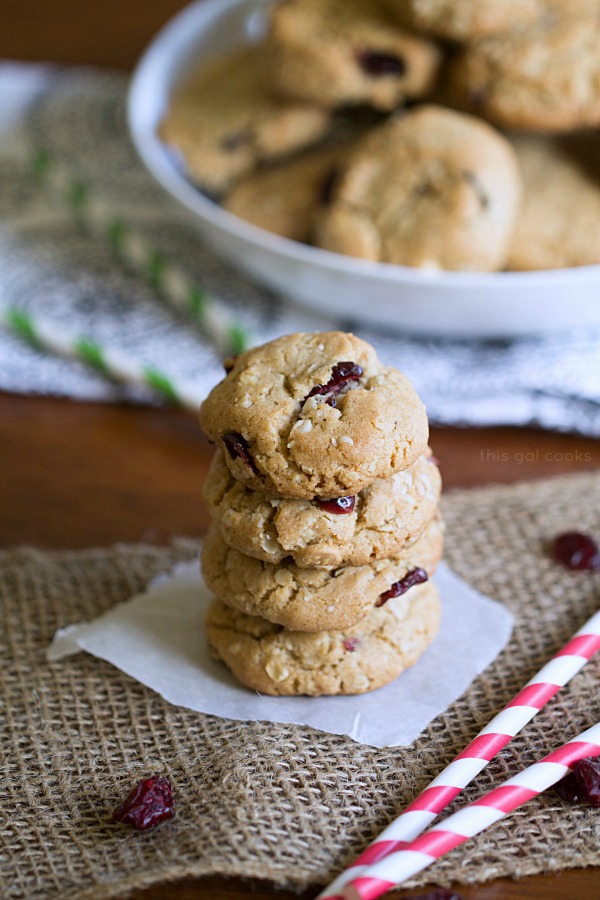 It's that time of year again. The time for cliche phrases like it's that time of year again. But it really is that time of year again when it comes to Christmas Cookies. And Christmas Cookie Swaps. And in this day in age, virtual Christmas cookie swaps. This year marks the second year that I've participated in only the most rad cookie swap ever.  Julie from White Light's on Wednesday's super rad virtual cookie swap. I made these sweet little Cranberry Oatmeal Cookies.
Cranberry Oatmeal Cookies
Cookies. That is all…that it takes to get me lined up to participate in something. Oh ok, you might be able to sway me with a good bottle of craft beer. Or how about a good bottle of craft beer and some cookies? Ah, a girl can have fantasies. Not that cookies and craft beer is a hard fantasy to make a reality. In fact, I am enjoying a good ole craft beer right now. Clown Shoes Galactica, to be exact. Trouble is, I don't have any cookies left. Bah!
Cookies and craft beer. That sounds like a perfect name for a food blog. Darn. Why didn't I think of that sooner?
For the cookie swap, I just so happened to be teamed up with my good friend Deb from Cooking on the Front Burner. She shared a delicious Oatmeal Cookies with Dried Cherries Recipe with me. And I was cool with that. I happen to like oatmeal cookies.
I swapped the cherries out for dried cranberries. After all, this is a Christmas cookie swap. I made a few other minor changes as well. I used quick cooking oats since I didn't have steel cut oats and I cut back on the amount of cinnamon used. I also used half brown sugar and half granulated white sugar.
These cookies were da bomb, yo. Think shortbread meets oatmeal meets cranberries. That's a darn good combination if you ask me!

Cranberry Oatmeal Cookies
Ingredients
1 C quick cooking oats
2½ C all purpose flour
1 C dried cranberries
¾ C butter, room temp
1 C granulated white sugar
½ C packed brown sugar
1 egg
1 tsp vanilla extract
1 tsp baking soda
1 tsp baking powder
1 tsp salt
½ tsp cinnamon
¼ tsp nutmeg
¼ tsp ground cloves
½ C white chocolate chips
Instructions
In the bowl of a stand mixer (or if you don't have a stand mixer, just use a large mixing bowl and a hand mixer) beat together the butter and sugars until smooth. Add the egg and vanilla extract and beat until smooth.
In a mixing bowl, combine the dry ingredients, minus the oats, cranberries and white chocolate chips, and gradually add to the butter mixture. Fold in the oats, cranberries and white chocolate chips.
Place the dough in your refrigerator and cool for one hour.
Line baking pans with parchment paper. Scoop about 2-3 tsp of dough and then form into a ball. Place on the baking sheets, about 1-2 inches apart. Bake at 375 for 13-15 minutes or until the edges just start to turn golden.
Cool on a wire rack before serving.
Notes
These cookies will stay pretty thick and do not spread very much. While they were baking, I pressed mine down a little with a wooden spoon to flatten them a little.

They taste similar to shortbread cookies, which is fantastic!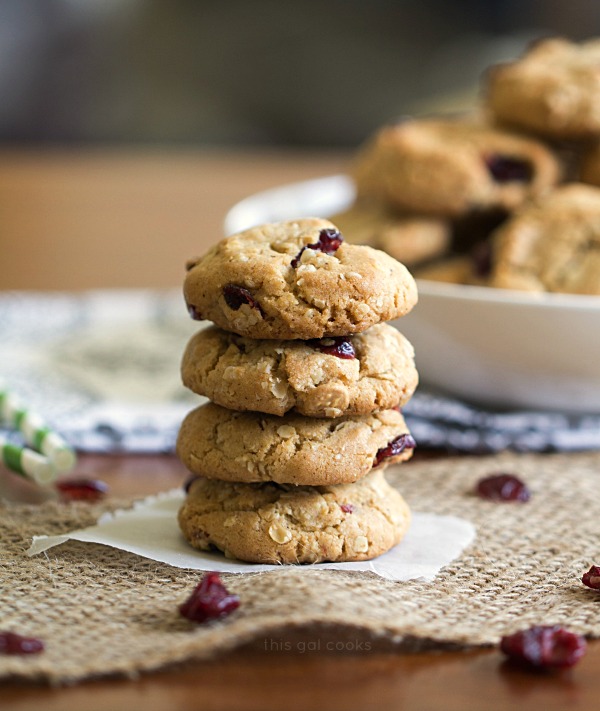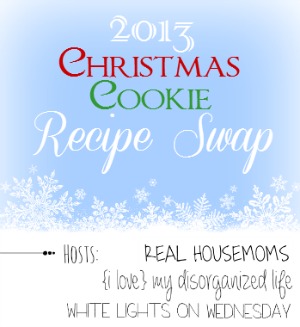 Check out the other fantastic cookie swap recipes below!