Cutting back on carbs doesn't mean you have to cut back on your favorite foods. This Paleo Chili is low carb, packed with protein and is made with fresh tomatoes. No canned tomatoes here!
Paleo Chili
You may be asking yourself, what is "paleo" chili? I asked myself the same thing when I first heard the term paleo last year. What is paleo? I did a little research and found that paleo is similar to low carb. But paleo diets are diets that stick to food as it was naturally indented to be eaten. Caveman diet. What our ancestors ate. Paleo diets consist of foods that are as close to nature as they can be. And they don't include any refined sugars or processed foods. So say goodbye to your grains, potatoes, dairy products and processed oils.
Or don't.
I haven't said goodbye to any of those foods but I do like to incorporate healthier, unprocessed foods into my diet. While not totally sticking to a paleo type diet, I've incorporated some of the foods into my diet for the past couple of weeks. And I feel tons better now. And I've even lost about 5 pounds. All while eating foods like meats, cheeses, veggies and even the occasional beer. Definitely not a paleo diet but much healthier than what I was eating on a daily basis.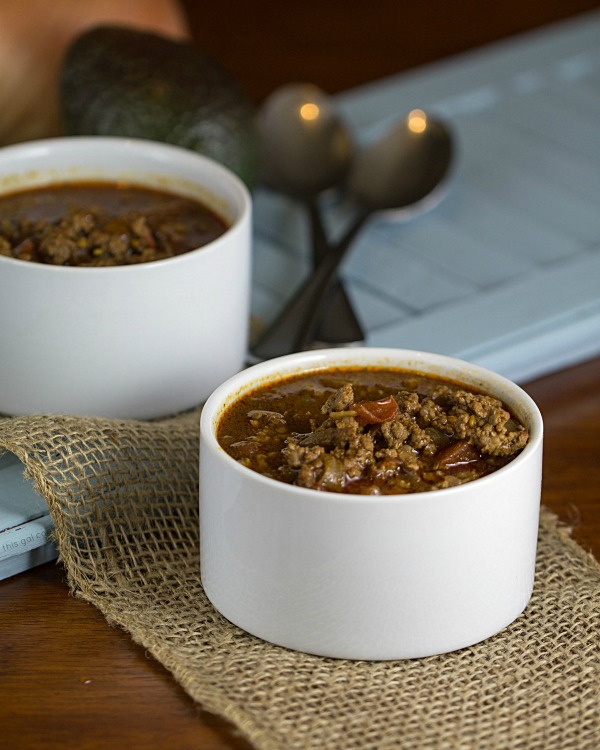 You won't find any added refined sugar in this chili. Nor will you find any gluten, canned tomatoes or carb filled ingredients such as beans. This chili is bean free and it's made with fresh tomatoes. OH. WAIT. And there is a "secret" ingredient in this chili. Cocoa powder. Yep. Get your chocolate fix here. Well, actually, you can't really taste the chocolate but the cocoa powder does add a nice flavor to this chili.
This chili is definitely something your palate will have to adjust to. It does taste different than your typical chili. I recommend making it a day ahead of time to let the flavors blend together. It's still good, though. You won't feel guilty after eating this chili!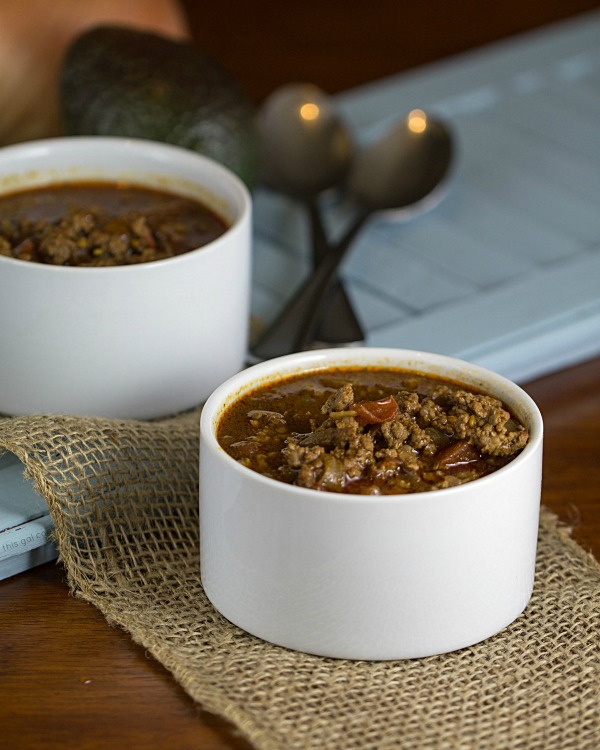 Ingredients
3 slices of uncooked bacon, diced
1 1/2lb lean ground beef
1 onion, chopped
4 cloves garlic, minced
1 tbsp combination of red chili peppers and jalapeños, diced
3 medium tomatoes, diced. Be sure to reserve the juices. You'll add them to the chili.
2 tbsp chili powder
1 tsp dried oregano
1 tsp paprika
2 C beef broth
1 tbsp cider vinegar
1 tbsp unsweetened cocoa powder
1 tsp ground chipotle pepper
1/2 tsp cornstarch to thicken
salt to taste
Instructions
In a large pot over medium heat, cook the bacon.
Add the onion and peppers and sauté until tender. Add the garlic and cook until tender.
Add the ground beef and cook until browned.
Add the spices, broth and tomatoes and simmer for 20 minutes.
Add the cocoa powder and cider vinegar. Simmer for 20-30 more minutes.
Stir in the cornstarch. Simmer for another 10 minutes or until slightly thickened.
Serve with cheese, sour cream and/or green onions.
Notes
Adapted from the Primal Blueprint Cookbook by Mark Sisson and Jennifer Meier.
Cornstarch isn't considered paleo but I added a little to my recipe to thicken it up a little. The amount I added is so small that it doesn't really affect the carb count in this recipe. You could also add some tomato paste (I suggest organic, low sodium, no sugar added) to thicken it. Unfortunately, I did not have any tomato paste.
http://www.thisgalcooks.com/2013/12/27/paleo-chili/