Dried cranberries, pecans, chopped chicken and a light, creamy sauce come together to create this fabulous Cranberry Pecan Chicken Salad.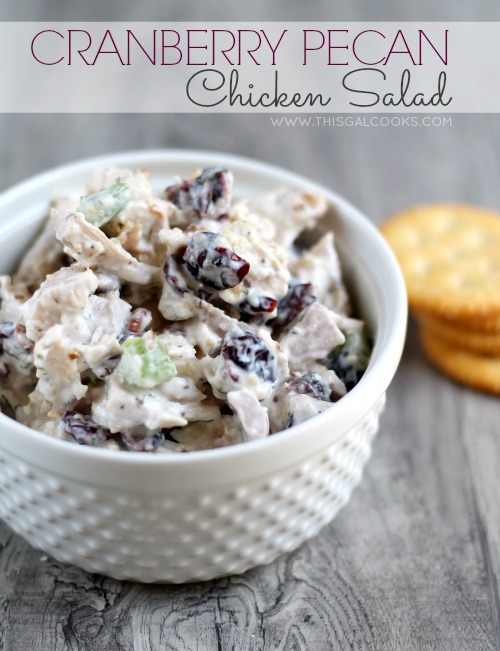 I love parties. They always make it easy to get together with a good group of people and socialize while having a great time. You know what else parties are good for? Trying out great food! Well, unless you go to a party that has bad food. Or no food at all. But that's no fun, right?
Birthday parties are fun. They come once a year and everyone has a birthday (I bet you didn't know that, did you?

) and since everyone has a birthday, there's always time for celebrating. What a great excuse to eat some delicious cakes and savory appetizers!
Why all of this talk about birthdays? My good friend Meghan from The Tasty Fork is celebrating her birthday today! And we are having a virtual birthday party for her. I'm bringing this delicious Cranberry Pecan Chicken Salad to the party. It goes great on crackers, savory bread, wraps or along. It's the perfect appetizer for a great party. And if you have leftovers, then you have lunch set for the next day. I hope you enjoy this recipe! And after you check out my recipe, be sure to head over to Meghan's blog by clicking the image below. There will be more fantastic appetizers and sweet treats over there!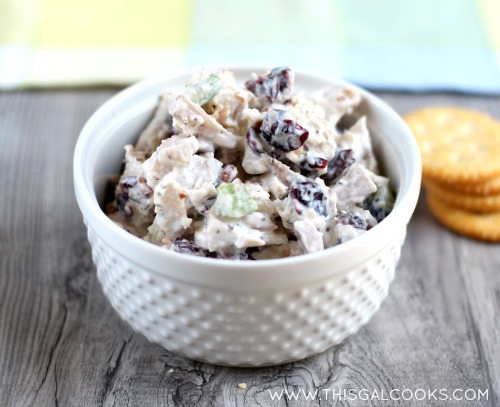 Cranberry Pecan Chicken Salad
Ingredients
2 C cubed or chopped chicken
1/3 C celery, chopped
1/3 C sour cream
1/3 C mayo
1/4 C chopped pecans
1/3 C dried cranberries
1 tbsp sugar
1 tbsp cider vinegar
1/5 tsp ground pepper
1/8 tsp salt
1/8 tsp celery seed
1/4 tsp dried dill weed
1/4 tsp garlic powder
Instructions
In a mixing bowl, combine the chicken, pecans, celery and dried cranberries.
In another bowl, whisk together the mayo, sour cream, cider vinegar, celery seed, ground pepper, salt and sugar. Pour your desired amount over the chicken mixture. Mix well.
http://www.thisgalcooks.com/2013/06/14/cranberry-pecan-chicken-salad/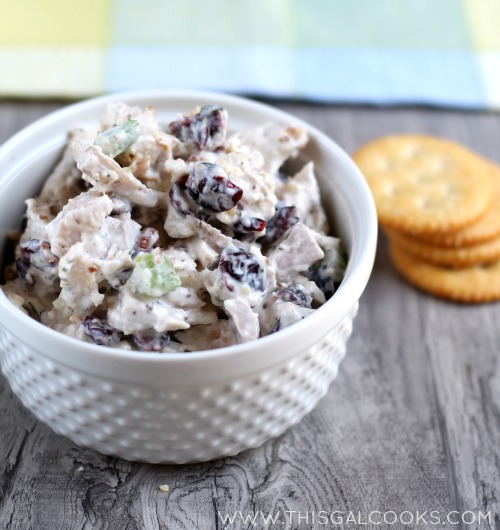 A few more salads from This Gal Cooks: