Good Friday morning, folks. Boy am I glad the weekend is almost here. It's been a BUSY week. I started a blogging schedule to make things a little smoother in my life. Monday, Wednesdays and Saturdays (and sometimes Fridays, if time permits) are designated blogging days. Emails, posts and parties will be addressed on those days. School work and other things (such as DIY projects – yep, I am getting back into that!) will be worked on during other days and when I am done with blogging activities on blogging days. I've designated a house cleaning chore for specific days of the week so I don't have to do all of the cleaning on one day. Working out at the gym is A MUST 5 days out of the week. I've already made it there three times this week so I am doing pretty darn good with that!  Oh and there's that thing called my full-time job that keeps me busy for 8 hours a day, Monday – Friday.
What kind of schedule do you keep for your daily/weekly activities?
When you think about potatoes, which potato dishes come to mind? Baked potatoes. Grilled Potatoes. Mashed Potatoes. Potato soup. There are many different ways to prepare potatoes. One of my favorite ways to prepare potatoes is either grilling them, mashing them or baking them. If you're a fan of mashing or baking potatoes, then you may want to try the recipe I am going to share with you today: Twice Baked Potatoes.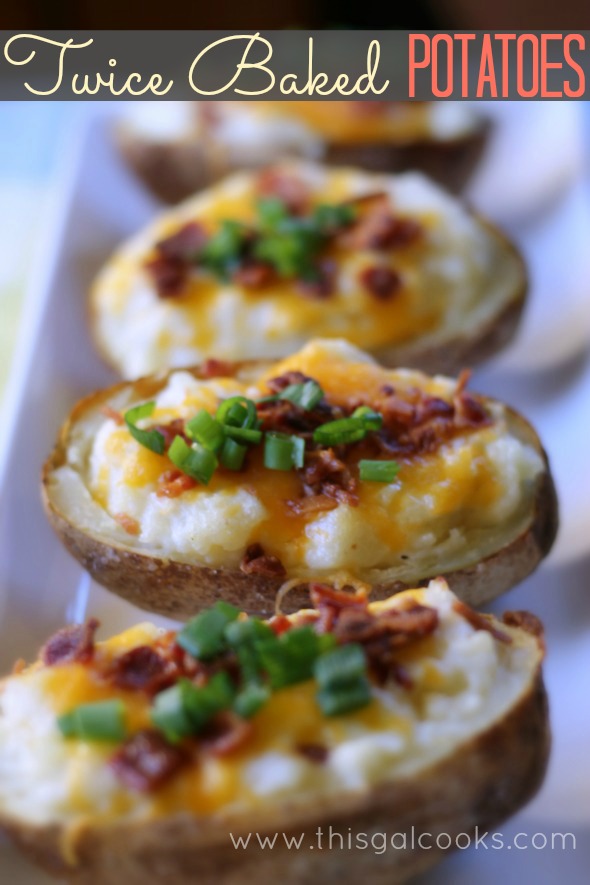 My twice baked potatoes are a little different from the typical twice baked potato. My potato stuffing is pretty simple – plain ole mashed potatoes. I put the cheese, bacon and green onions on top rather than mixing them into the potato stuffing.  This method ensures your bacon stays crisp and that you can actually taste the cheese. I hope you enjoy this recipe!
Twice Baked Potatoes
Recipe: Twice Baked Potatoes
Recipe Type
:
Side dish, vegetables
Author:
Prep time:
Cook time:
Total time:
Ingredients
2 baking potatoes
1/3 C whipping cream
1/4 C sour cream
2 tbsp butter
1/4 tsp salt
1/4 tsp ground pepper
4 slices of bacon, cooked until crisp and crumbled
Shredded cheese
Sea salt
Fresh sliced green onion
Instructions
Wash and dry potatoes. Spray with cooking spray and sprinkle with sea salt and ground pepper. Place on the rack of your oven or on a roasting rack and bake at 400 for 30 minutes. Remove from the oven, poke holes in the potatoes with a fork and then bake for another 30 minutes.
Remove from the oven and let cool for about 15-20 minutes.
Slice the potatoes in half lengthwise and scoop out the insides with a fork. Be sure to leave some of the potato in the skins so the skins do not collapse.
Combine the scooped out potato with butter, sour cream, whipping cream salt and pepper on low-speed with a hand mixer.
Spoon the mixture into the potato skins and top with shredded cheese and bacon.
Place the potatoes on a baking pan and bake at 400 for 10-15 minutes.
Remove from the oven and topped with fresh sliced green onion.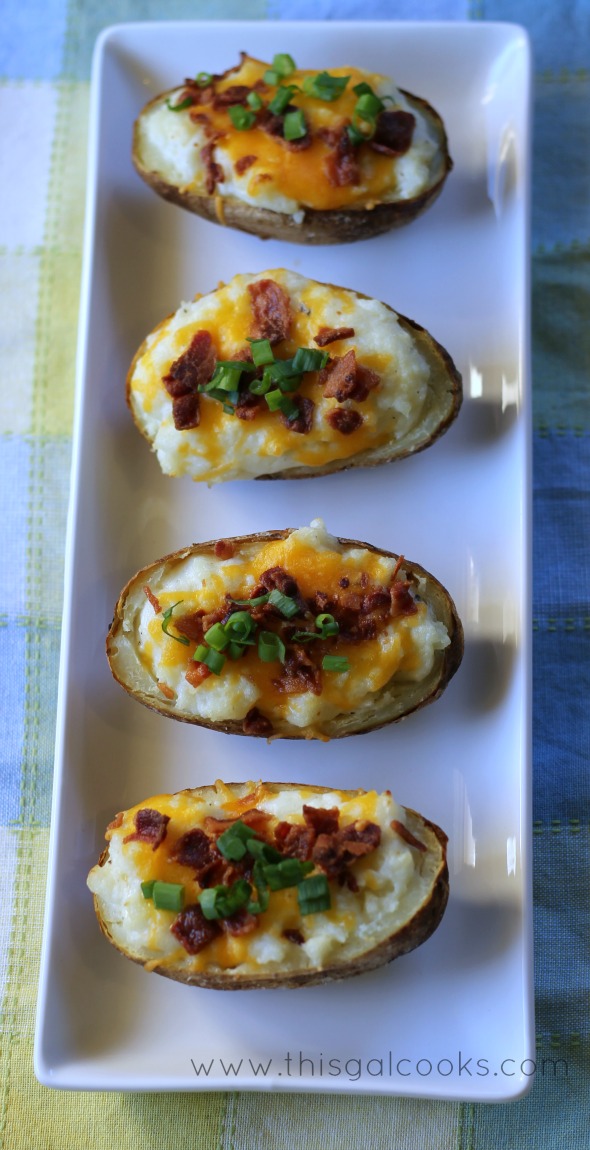 Love grilled potatoes? Then you'll love these grilled potatoes!