Take the hassle out of making dinner with these Ten Super Simple Crockpot Chicken Recipes!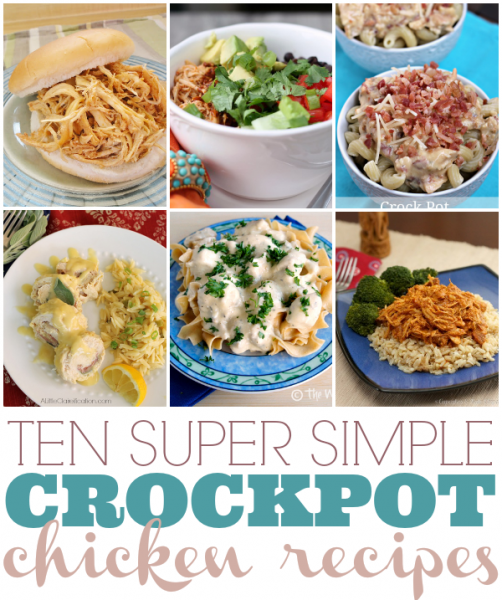 I love my crockpot. Don't you love yours? Oh you don't have a crockpot? Well after you're done checking out these rad recipes, head on over to my Summer Crockpot Recipes Post and get yourself entered to win a 6 quart programmable crockpot!
We all love super simple recipes, am I right? After a long day at the job or lugging the kiddos around, who wants to spend a ton of time in the kitchen? Well, I'll admit, sometimes I do. But there are days that I do not want to spend a ton of time in the kitchen. Sometimes I like to be lazy. That's where my handy dandy crockpot comes in. I just throw some ingredients into it, turn it on and go on my merry way. At times there is some minor prep work but it still beats tons of pots, pans and mixing bowls and a lengthy meal preparation process. I can guarantee that!
I like to eat healthy and I know a lot of you do as well. So I contacted some of my favorite fellow bloggers and they shared some of their crockpot chicken recipes with me so I could share them with you. Wasn't that nice of them? Be sure to stop by and thank them and pin their recipes. You can also pin this collection for quick reference. Enjoy!
Ten Super Simple Crockpot Chicken Recipes
{Click images to view recipes}