Strawberry Banana Oatmeal Protein Smoothie
Thank you Blue Diamond Almond Breeze Almondmilk for sponsoring this post.
This Strawberry Banana Oatmeal Protein is super thick, creamy and will keep you full until lunchtime. Use gluten free oats to keep it gluten free!
It's a smoothie-licious kind of day.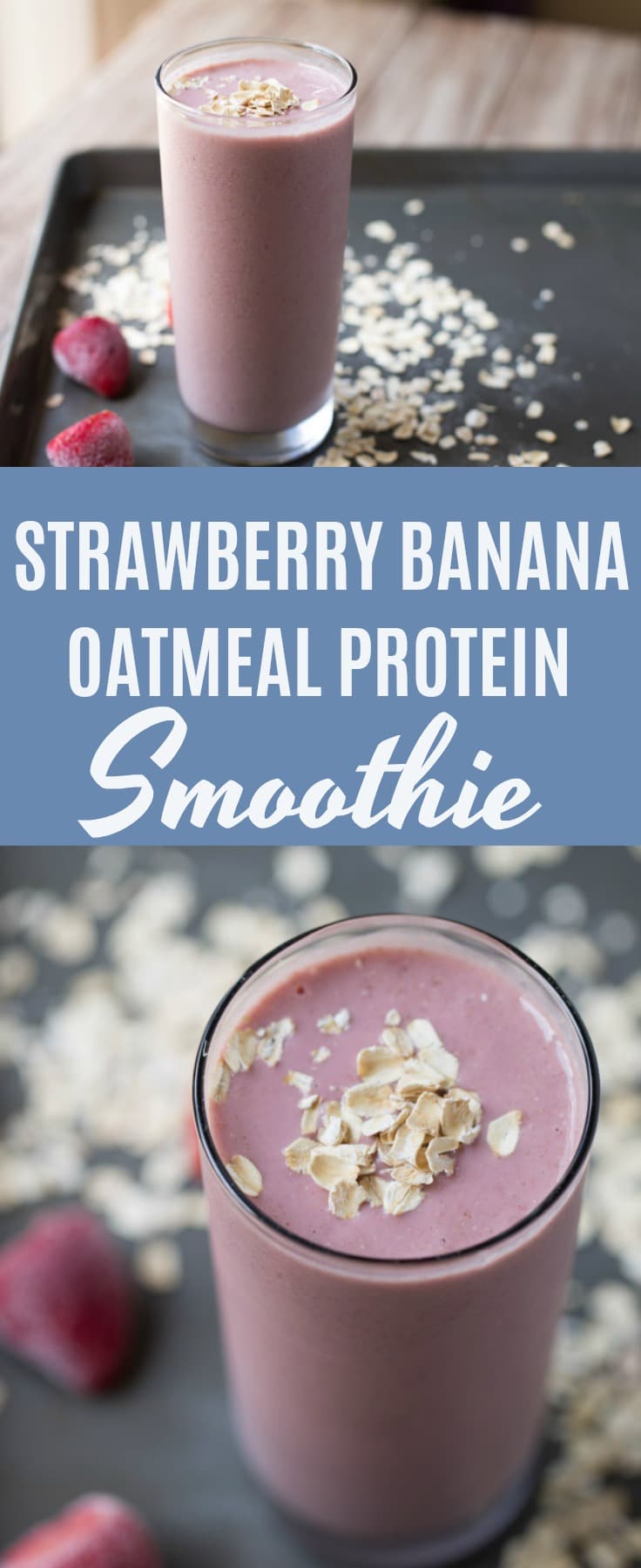 Because smoothies are all the rage in my house right now. What's for breakfast? SMOOTHIES.  What kind of smoothies? Strawberry Banana Oatmeal Protein Smoothie. That's a mouthful of words, isn't it?
The smoothies that I bring into this world rarely contain dairy. First, milk is my stomach's arch nemesis. My stomach and milk have duked it out many times. As a result, milk often wins the battle and I end up with a stomach ache. However, if I utilize the Lactaid super power, I'm usually okay with milk. Lactaid helps me destroy milk's evil, destructive digestive destroyer lactose. BUT, I don't really like taking lactaid.
And I don't like nasty battles, so I play it safe and make non-dairy smoothies.
If milk is your arch nemesis too, then this smoothie is your new best friend. I made this Strawberry Banana Oatmeal Protein Smoothie with Blue Diamond Almond Breeze Vanilla Almond Milk with a hint of honey. No lactose. Nada. None. Zilch.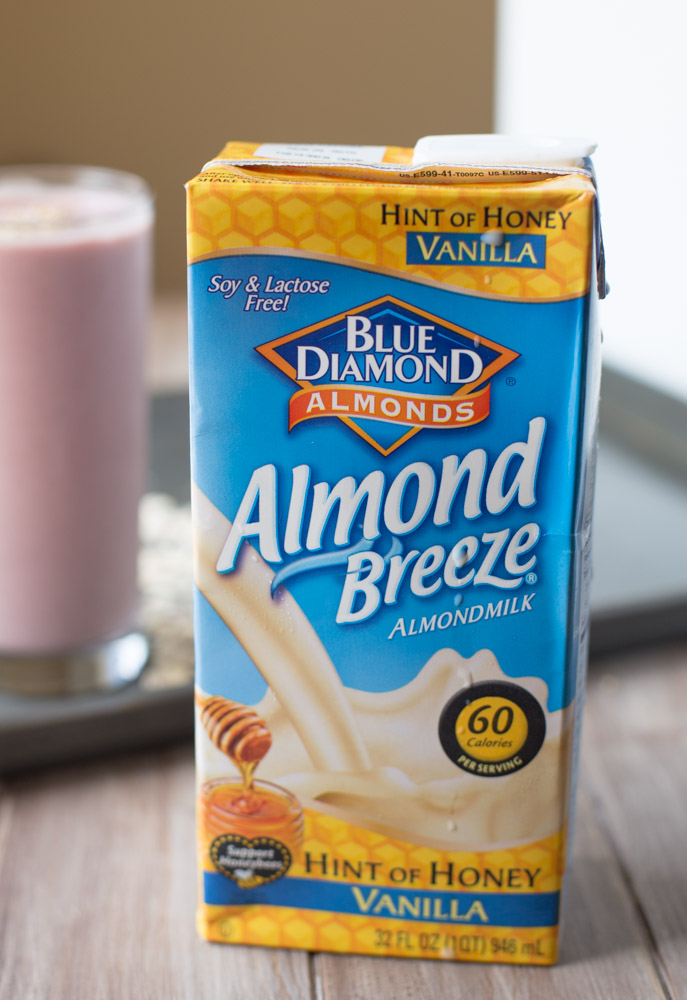 Things to know about this strawberry banana oatmeal protein smoothie.
It's made with frozen strawberries and bananas.
Plant based protein powder gives it a boost of protein.
Old fashioned oats make is thick and creamy.
It can be enjoyed for breakfast, lunch or snack.
You can use an un-frozen banana to make a thinner smoothie.
It's lactose free.
It isn't vegan. Honey is not vegan.
Make it vegan by using regular Blue Diamond Almond Milk.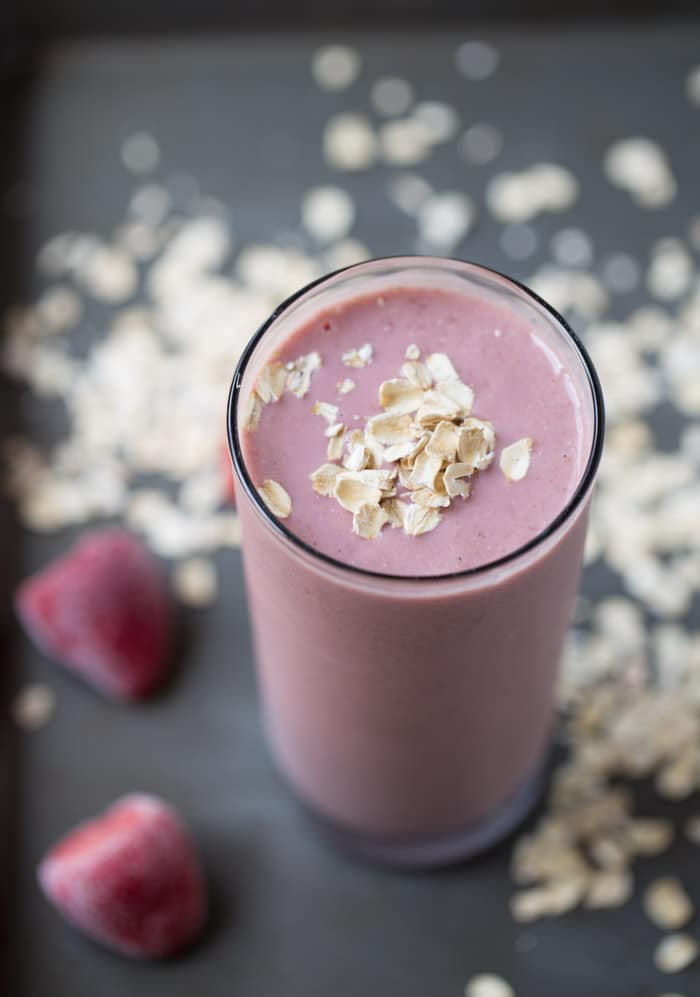 Ingredients
1 C of Almond Breeze Vanilla Almond Milk with a hint of honey
1/2 C old fashioned oats
1 1/2 C frozen strawberries
1 banana*
1 scoop plant based vanilla protein powder. Vega brand is my fav.
Instructions
Place all ingredients into your blender in the order listed. Pulsate a couple of time and then blend on medium high speed until smooth.
Notes
NUTRITION: Calories: 240; Fat: 3g; Carb: 45g; Fiber: 7g; Net Carb: 38g; Protein: 12gNutrition information calculated using My Fitness Pal and is an estimate. These calculations include the broccoli. Here is a link to the recipe in My Fitness Pal for your reference. Strawberry Banana Oatmeal Protein Smoothie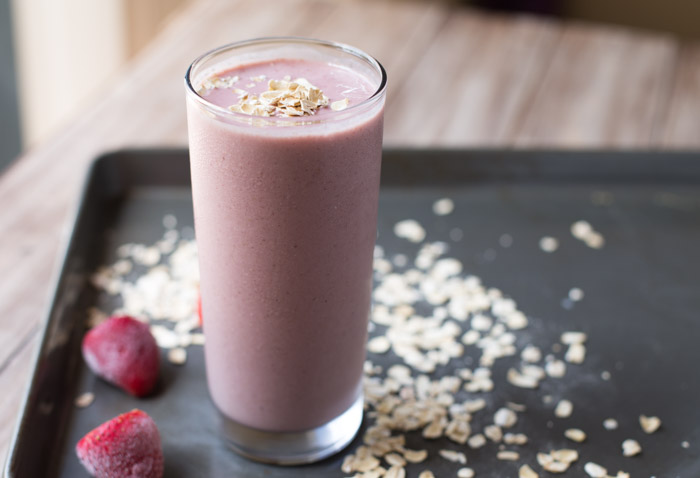 This post was sponsored and compensated for by Blue Diamond Almonds. All opinions, photos and recipe are my own.