Sheet Pan Salmon with Broccoli (paleo + low carb + Whole30)
This post may contain affiliate links. Please read my disclosure policy.
Lemon Dijon Sheet Pan Salmon with Broccoli is an easy cleanup, healthy low carb dinner recipe! If you're watching your carbs and/or eating clean then this recipe is for you!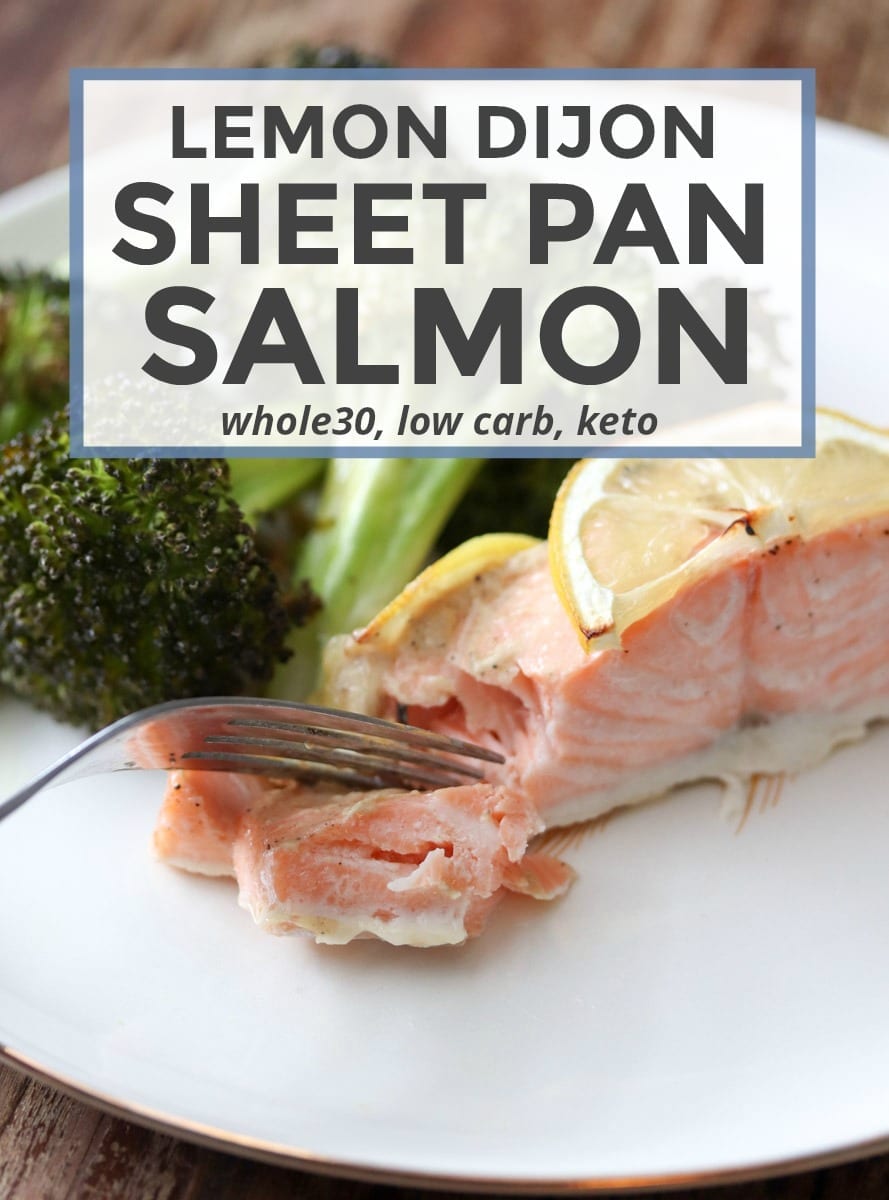 NUTRIENT DENSE
Happy Monday friends! Are you ready to talk about this delicious lemon dijon sheet pan salmon? Let me take a moment to tell you about it. First, it's incredibly healthy because it's full of healthy fats and nutrients. Hello Omega 3 fatty acids, B vitamins and protein! Not only is this sheet pan salmon healthy, it's gluten free, low carb, paleo, keto and Whole30 compliant so there's no guilt in eating this meal. Additionally you get a heaping serving of broccoli with this meal which provides you with fiber, potassium and vitamins K and C, to name a few. I've made this meal so many times and can tell you it tastes incredible! Go ahead and start planning to make it this week. :)
MEAL PREP
Not only is this sheet pan salmon a great meal for the work week it's great for meal prep too. I've doubled the recipe and prepared workweek lunches for myself. As a result all I have to do is pull a container out of the fridge in the morning and bring it to work with me. Hopefully my co-workers don't mind the smell of salmon. Teehee.
WHERE TO BUY SALMON AND OTHER SEAFOOD
I buy salmon and other seafood from sizzlefish.com. They offer a great variety of sustainably sourced seafood. I have a monthly subscription and am able to choose the items for my box. Typically I get salmon, haddock and scallops. However, sometimes I like to change it up and get other fish. One time I got rainbow trout. We smoked it on our smoker. It was SO good! Please note, this post is NOT sponsored. I just love Sizzlefish and enjoy helping you by sharing sources of good quality food.
Now onto the recipe!
Lemon Dijon Sheet Pan Salmon
Ingredients
1 head of broccoli cut into florets (about 3 cups)
1 tbsp extra virgin olive oil
kosher salt and pepper to taste
2 4oz salmon filets
1 tbsp avocado oil, ghee, coconut oil or extra virgin olive oil divided. I used this Avocado Oil
Kosher salt and pepper to taste
2 tsp dijon mustard
1 lemon sliced. Halve 3 slices, quarter the remaining slices
Instructions
Preheat oven to 400 degrees. Prep a large baking sheet - cover with parchment paper or aluminum foil.
Place the broccoli florets on the prepared baking sheet. Drizzle with 1 tbsp of extra virgin olive oil. Sprinkle with desired amount of kosher salt and pepper. Mix together to coat and arrange the broccoli to cover 3/4 of the pan to leave room for the salmon. Place the lemon slice quarters over the broccoli.
Place the salmon skin down on the baking sheet. Drizzle each piece with 1/2 tbsp of avocado oil (or oil of choice). Sprinkle with desired amount of kosher salt and pepper. Spread 1 tsp dijon mustard on top of each salmon piece. Place 3 lemon slice halves on each piece of salmon.
Bake in the oven for 20 minutes.
Notes
NUTRITION: Calories: 337; Fat: 23g; Carb: 10g; Fiber: 5g; Net Carb: 5g; Protein: 34g Nutrition information calculated using My Fitness Pal and is an estimate. These calculations include the broccoli. Here is a link to the recipe in My Fitness Pal for your reference. Sheet Pan Salmon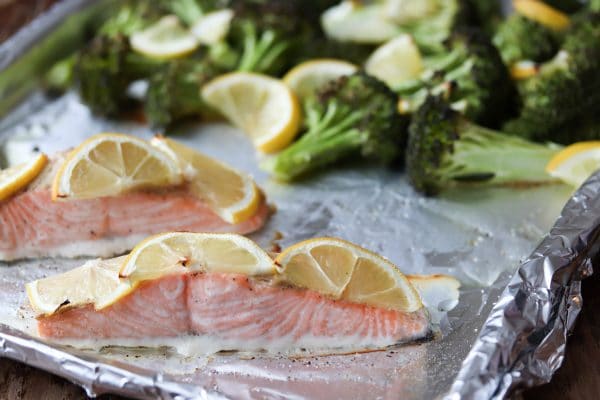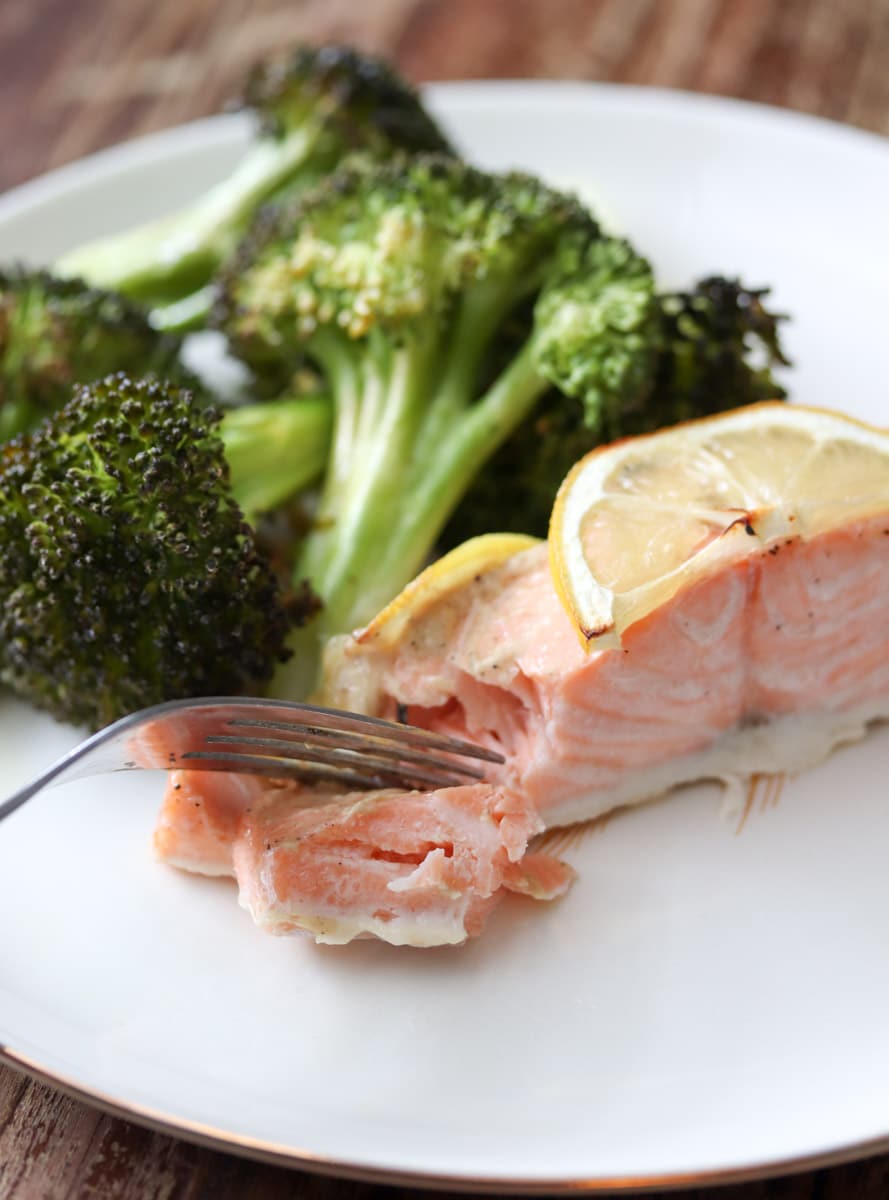 Did you make this recipe? I'd love for you to leave a comment and a rating below!
Follow me on Instagram.