Low Carb Breakfast Casserole with Bacon + Zucchini
This low carb breakfast casserole is made with bacon, zucchini, onions and cheese! It's easy to make and makes for easy breakfasts during the week. Just reheat and eat. Top with homemade ranch dressing and roasted tomatoes for an extra burst of flavor!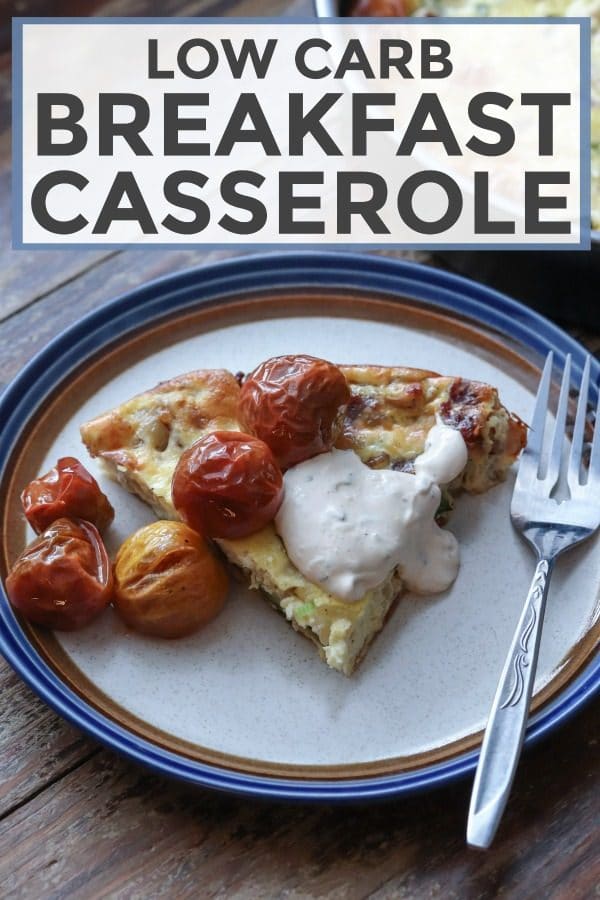 STUFF
How was your weekend? I hope it was great! Mine was. First, it was a three day weekend for me because I had Memorial Day off. Since Ken had it off too we went to our place in Lakeland on Friday and came back on Monday. In addition to enjoying three days off from work, we enjoyed time with family during a family dinner Sunday evening. I made brownies and street corn salad for the family dinner. The street corn salad was incredibly good so I might share the recipe on my blog one day. Our guests brought over fried chicken, deviled eggs, salad and cheesecake! I don't eat fried chicken or cheesecake often so both were definitely a delicious treat!
RECIPE INSPIRATION AND INFO
Inspiration for this low carb breakfast casserole comes from my love for quiches. Quiches are quite fantastic but lately I am shying away from flour crusts and I am limiting my carb intake. In fact, I haven't had a "regular" quiche in quite some time!
Frittatas are a great low carb option that that are easy to make. This low carb breakfast casserole is similar to a frittata in taste and texture; however, the cooking method differs. For example, a frittata is typically cooked in a skillet on the stovetop over low heat. My low carb breakfast quiche is baked in a round baking pan at 375 degrees for 30 minutes. The baking method eliminates the need to be a frittata watchdog AKA standing over the stove watching it cook.
I used pastured bacon and veggies from the farmers market in this low carb casserole. It's packed with zucchini, onions and green onions. In addition, cottage cheese and full fat sour cream give the casserole a fluffy texture and creamy taste.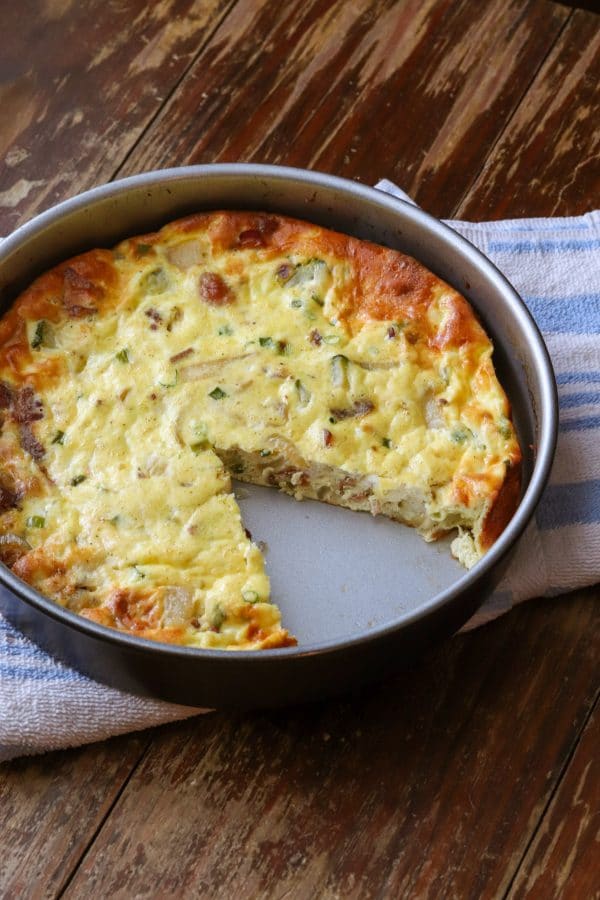 I topped my slices of low carb breakfast casserole with roasted tomatoes and homemade ranch dressing. Yum factor increased x 1000. ♥︎
LOW CARB BREAKFAST CASSEROLE
Ingredients
2 slices uncooked bacon (I always use uncured)
2 C diced zucchini
1 small sweet onion, sliced thin
2 tbsp chopped green onion
6 large eggs (my favs are farm fresh or Vital Farms eggs)
1/2 C full fat cottage cheese
1/2 C full fat sour cream
Sea salt or kosher salt and pepper to taste
Instructions
Preheat oven to 375 degrees.
Cook the bacon in a skillet over medium high heat. After the bacon is done cooking remove it from the skillet and place on a paper towel lined plate. Reserve the bacon fat.
Place the sweet onion, green onion and zucchini into the skillet with the bacon fat. Cook for 5-7 minutes or until tender. Do not overcook - you don't want mushy zucchini!
Meanwhile, chop the bacon.
After the veggies are done cooking turn off the heat and remove the skillet from the heat. Mix the chopped bacon into the zucchini/onion mixture and pour into a 9 inch non-stick baking pan. If your pan isn't non-stick, grease it with butter or olive oil.
Whisk together the egg, cottage cheese, sour cream and salt and pepper to taste. Pour the mixture into the baking pan over the zucchini/onion mixture. Mix together to incorporate and evenly distribute the zucchini/onion mixture.
Bake at 375 degrees for 30 minutes.
Cool for 10 minutes and then slice into 6 equal slices.
Notes
NUTRITION: Calories: 173; Fat: 10g; Carb: 9g; Dietary Fiber: 2g; Net Carb: 7g; Protein: 11g Nutrition information calculated using My Fitness Pal and is an estimate. These calculations include the broccoli. Here is a link to the recipe in My Fitness Pal for your reference. Low Barb Breakfast Casserole.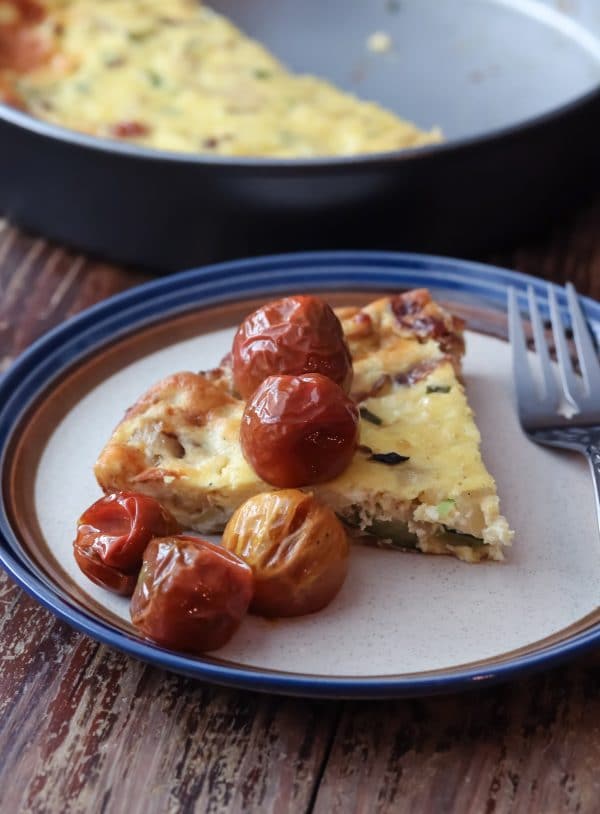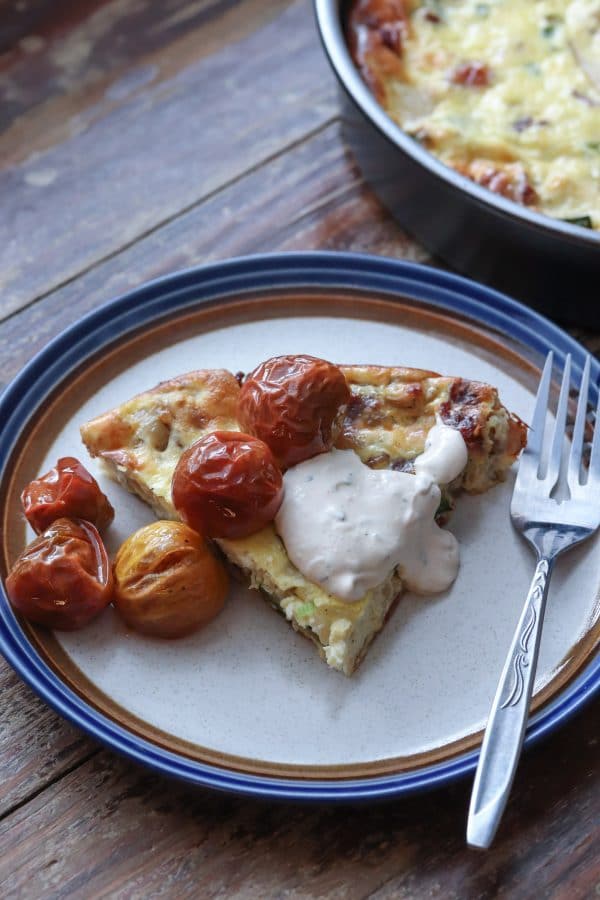 Did you make this recipe? I'd love for you to leave a comment and a rating below!
Follow me on Instagram.