If you love peanut butter but can't get enough peanut butter recipes, check out this collection of Twenty Tasty Peanut Butter Desserts. With Cookies, Candies, Pies and Bars, you'll have enough to keep you satisfied!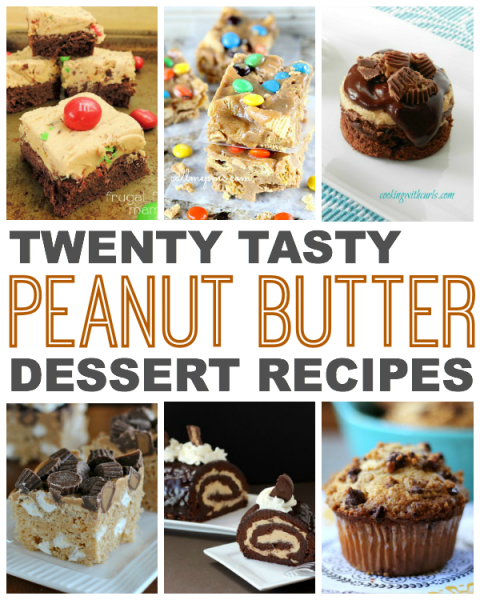 I'm a peanut butter lovin' gal. I eat peanut butter on sandwiches, in soups, in pasta dishes and even straight from the jar. Hold on while I go get a spoonful.
Ok, I'm back. That was good.
One of my favorite ways to enjoy peanut butter is in a tasty dessert or candy. Reese's Cups are a favorite candy of mine. And give me a peanut butter cookie and I'm one content, happy gal. Not that I'm not happy any other time but peanut butter cookies just make me happier.
What are some of your favorite ways to enjoy peanut butter?
Today I'm happy to be sharing Twenty Tasty Peanut Butter Desserts with you. Some of my favorite bloggers shared their tasty peanut butter recipes with me so I could put this collection together for you. Be sure to stop by and check out all of the great recipes. And while your there, pin a few. Or all of them. And for a convenient one stop list, be sure to pin this tasty recipe collection!
Twenty Tasty Peanut Butter Desserts
{Click Images to View Recipes}