I know all of you love crock pot recipes. I know I sure do! I've teamed up with three other fabulous bloggers to bring you a collection of Summer Crock Pot Recipes & A Giveaway!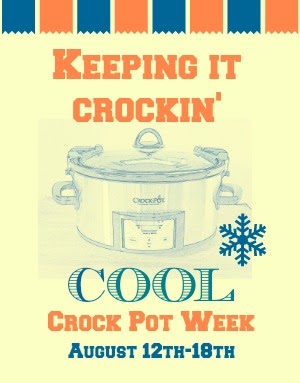 My crock pot is one of my go-to cooking appliances no matter what time of the year it is.  It is perfect in the summer for making Chicken Enchilada Rice Bowls while you and the family are spending the day hanging out pool side (and it keeps the kitchen cool- no oven required!).  It is fabulous in the cooler months for making Creamy Chicken & Wild Rice Soup while busy at work or while taking the kids to school and running errands. It's always awesome to have a hearty dinner waiting for everyone later once they get home from work or school!
I've teamed up with three  of my favorite bloggy friends to bring you a collection of fabulous crock pot recipes as well as a giveaway. We've designated August 12-18th as crock pot week! We will be sharing crock pot recipes and/or round-ups throughout the week so be sure to stay tuned to our blogs so you don't miss a recipe! Also, I suggest bookmarking and/or pinning this page so you can easily find new crock pot recipes added to the linky throughout the week. Do you have a crock pot recipes that you'd like to share? Link it up via the linky below!
Your Hosts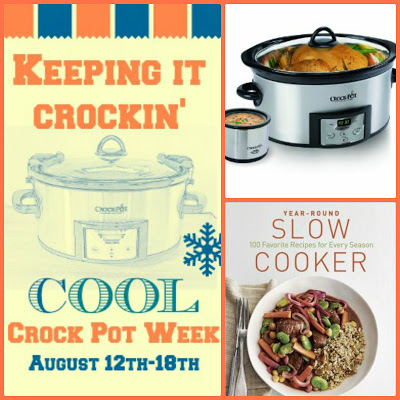 It wouldn't be a true celebration of all things Crock Pot if we weren't going to also give away a Crock Pot to one of you all…
If you happen to be a blogger, we also have a linky going on below all week where you can link up your favorite slow cooker recipe posts!  :)  All four of us bloggers will be sharing the recipes you link up throughout the week on our Facebook pages and on our Pinterest boards.  Be sure to link up (it can get you an extra entry in the giveaway!), but keep it to just slow cooker recipes, folks!  We will be monitoring the links every day and deleting those that are not for the Crock Pot. ;) 
Ready to get entered in the giveaway??  Be sure you read ALL the terms & conditions below before entering.  I am a stickler for them, and your entries will be disqualified if you violate them.  So please follow the rules, have fun, and GOOD LUCK!!
Link up your favorite slow cooker recipes below! Please only link up Crock Pot recipes. Any other recipes linked up will be removed. Be sure to hop around and discover some new slow cooker recipes that you can try out after you win your new Crock Pot. ;)