Shrimp Soba Noodles: Made with whole grain buckwheat soba noodles. A fun option for a weekend or weeknight dinner meal. Ready in under 30 minutes and oh so good!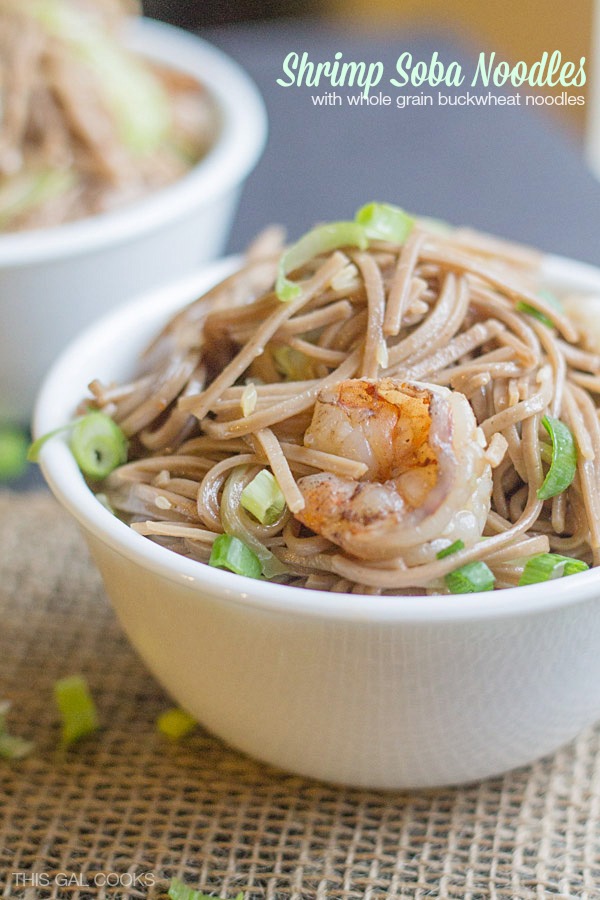 Seafood is a lovely thing, isn't it? Well, I suppose if you don't like seafood then you'd feel quite the contrary to that statement. But this gal – this gal L-O-V-E-S seafood. You could totally win me over with a big ole bowl of sautéed scallops and shrimp, paired with a huge, meaty crab cake. Mmm. I'm drooling just thinking about that combination.
But my heart also has a place for Asian inspired dishes. In fact, I've kinda been craving them lately. A couple weeks ago, Ken and I went down to PBG (AKA Palm Beach Gardens) and went to this knock your socks off Japanese/Chinese Buffet for an early dinner. Seriously, why had we never gone to this place before? SUSHI, tons of sushi. And some of my favorite dishes like vegetable lo mein, crab rangoon, steamed dumplings and chicken with broccoli. So anyways,  I've been craving Asian inspired food ever since that trip.
Shrimp Soba Noodles
Which brings me to this recipe. This tasty, knock your socks off, eat it warm or cold Shrimp Soba Noodles recipe. I was browsing one of my favorite blogs, Damn Delicious, when I found this Tofu Soba Noodles recipe. And I was like day-um, I gotta make that. But I gotta make it with shrimp. And whole grain buckwheat noodles. And honey instead of brown sugar. So I did and then I was an oh so happy girl.

Shrimp Soba Noodles
Recipe type:
dinner, asian inspired, noodles
Ingredients
1 12.8 package of whole grain buckwheat soba noodles
¾ lb large shrimp, peeled and deveined
½ tsp Chinese Five Spice
¼ C rice vinegar
2 tbsp soy sauce
1 tbsp sesame oil
2 tsp honey
1 tbsp coconut oil
2 C shredded cabbage
1 clove of garlic, minced
1 tsp fresh grated ginger
2 green onions, sliced
¼ tsp sriracha
Instructions
Cook the noodles according to package directions. After cooking, cool by running under cold water.
Season the shrimp with the Chinese Five Spice.
Heat the coconut oil in a cast iron skillet (or whatever type of skillet you have) over medium heat. Add the shrimp and cook each side until opaque. Remove from the skillet and set aside.
Add the cabbage, garlic and ginger to the skillet and cook until tender, stirring frequently.
Whisk together the rice vinegar, sriracha, soy sauce, sesame oil, honey and sesame seeds.
Combine the shrimp, cabbage mixture and noodles together in a large bowl. Serve in bowls and top with the green onions.
Notes
Adapted from
Damn Delicious
To keep the soba noodles from sticking together after I cooked them, I tossed them with a tiny amount of grapeseed oil. Grapeseed oil is pretty bland in flavor so it didn't alter the flavor like canola oil or olive oil would.
Nutrition Information
Serving size:
1 C
Calories:
300
Fat:
4g
Carbohydrates:
45g
Sugar:
4g
Sodium:
450mg
Protein:
19g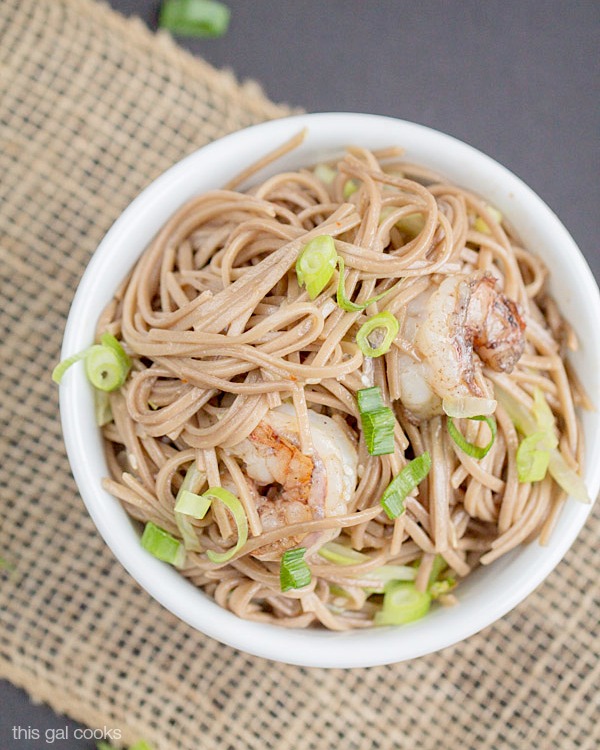 More from This Gal Cooks