Since I didn't get the Kitchenaid Standup Mixer that I wanted for Christimas, Sunday I decided to purchase one. Kohls had them on sale plus I had a 20% off coupon. Great deals FTW! Want to see what she looks like?
Yep, I got the red one. Red is one of my favorite colors. Plus, it looks pretty rad with the colors in my kitchen.
So what was the first thing I made with this awesome little machine? Bread. And not just any bread. My first ever yeast bread. And it came out spectacular! Why did it take me so long to make a yeast bread? Well, quite frankly, I am not a fan of kneading dough. I've kneaded pizza dough before. Nope. Not for me. But my lovely Kitchenaid Mixer does the kneading for me while I work on other things. I hope you enjoy this delicious bread recipe. By the way, the recipe came from the recipe book that was included with the mixer.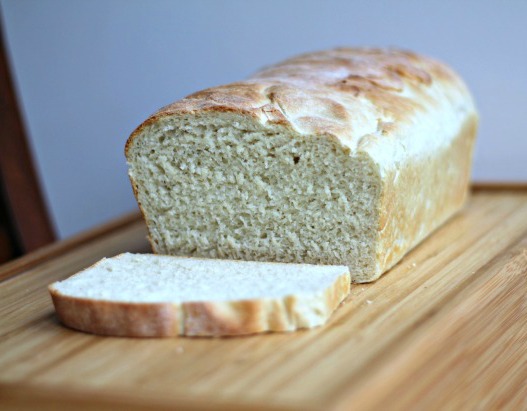 Ingredients
1/4 C milk

1 1/5 tbsp white sugar
1 tsp salt
1 1/5 tbsp butter
1/4 C milk
1 package of dry active yeast
3/4 C warm water
3 C bread flour
Directions
In a small saucepan, heat the milk, sugar and butter until the butter melts and the sugar dissolves.

Dissolve the yeast in warm water in the mixer bowl (if you're not using a standup mixer, complete this step in a large mixing bowl that you will be using to mix your dough)
Add  the milk mixture to the mixing bowl along with 1 1/2 C flour and mix for about 1 minute (on the Kitchenaid mixer you would use speed 2)
Add the remaining flour 1/2 C at a time and mix until the dough clings to the sides of the bowl, about 2 minutes.
Knead fro another 2 minutes.
Place the dough ball in a well oiled bowl, turning to oil all sides. Cover and let rise for 1 hour (tip: I turned on my oven to preheat and then turned it off after about 30 seconds. I then placed a pan of warm water on the rack below the rack that holds the bowl with the dough)
After the dough has risen, punch down and shape into a loaf. Place in a greased loaf pan (I used 9x5x3) and let rise for 1 hour (I used the oven method once again)
After the dough has risen, bake at 400 for about 25-30 minutes or until the top is golden.
Remove the bread from the pan and allow to cool on a wire rack.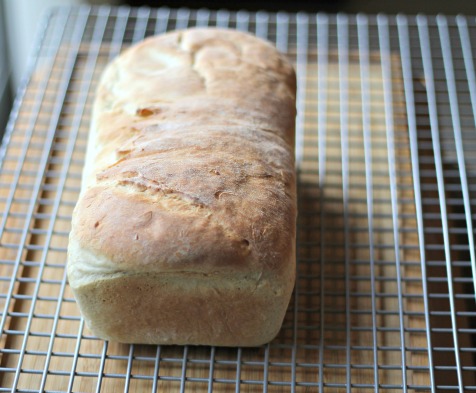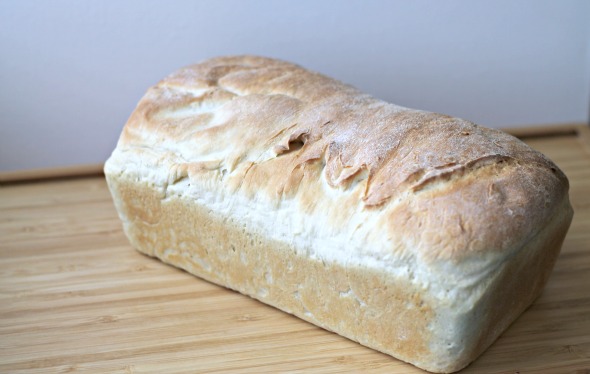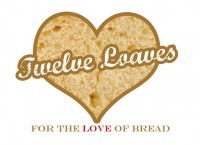 Linking up to Twelve Loaves at A Bakers House