Today was a soup kind of day. Actually, just about any day is a soup kind of day for me. If I'm not eating one of my homemade soups, I often visit Panera Bread to indulge in one of their tasty soups. In fact, I had their broccoli cheddar soup for lunch today. I paired it with the chopped chicken cobb salad and the crusty baguette that they always serve with their soups.
If you read my Soup Collection post from yesterday, then you got an idea of how much I like love soups. I mentioned that I was going to make a copycat Wendy's chili recipe tonight but I instead decided to make a Creamy Wild Rice Mushroom Soup since I had all of the ingredients on hand to make it. So this morning I woke up my handy crockpot and started putting together my soup. After work all I had to do was make the cream base!  I snapped the pics with my new DSLR camera. Perfect? By no means but the images are a little better quality than the images that my iPhone produces. I still have much practice and unfortunately  I didn't have any natural light at the time I snapped the pics as it was dark outside. I snapped a few pics this morning in better lighting.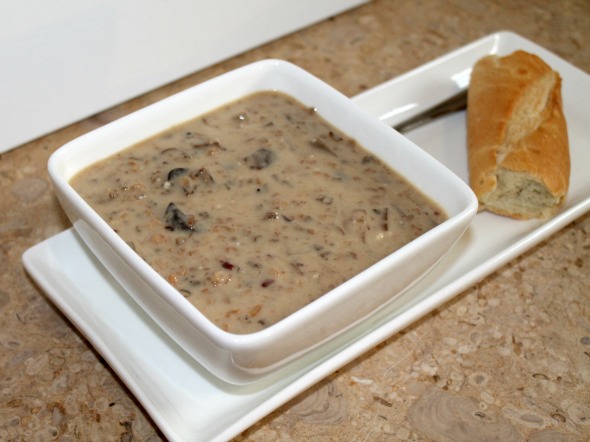 Creamy Wild Rice Mushroom Soup
Ingredients
8 oz package sliced baby bella mushrooms, rinsed
3.5 oz shittake mushrooms, sliced and rinsed
32 oz beef broth
1 C wild rice mix
1 medium onion, chopped
1 bayleaf
1 tbsp chopped fresh oregano
1 1/2 C water
1 cube beef bullion
1 C milk
1/2 C heavy cream
2 tbsp butter
2 tbsp cornstarch
Salt & Pepper to taste
Directions
Add the first 9 ingredients to the crockpot. Cook on low for 8-10 hours.
Once the items in the crockpot are done cooking, reduce heat to low. The soup should be fairly thick by this time.
In a sauce pan, melt the butter.
Whisk in the cornstarch.
Gradually whisk in the milk and cream.
Add the cream base into the crockpot soup mixture and mix well.
Add salt and pepper to taste.
Enjoy with a baguette or a side salad.