It didn't take long for me to get creative with macaroni and cheese again. It's only been about 3 week's since my last creative macaroni & cheese endeavor. If you missed that recipe, Lobster Macaroni & Cheese, you can see the recipe here.
A couple nights ago we grilled hot dogs. We had 5 leftover. I wanted to do something creative with them rather than just reheating and plopping them into a hot dog bun. I remembered a hot dog macaroni and cheese recipe that I saw in one of my Food Network Magazines (the cheese edition!) so I decided to base my recipe off of it. You can see the original recipe (American Mac and Cheese) here.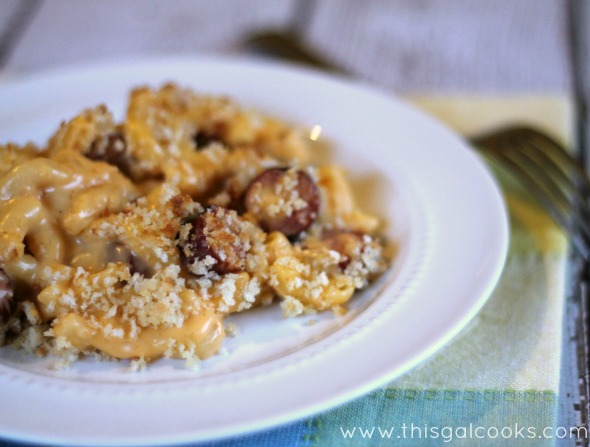 I know. Hot dogs and macaroni and cheese. It sounds like a child's meal. But this is the adult version of the meal. Chipotle pepper adobo sauce gives this recipe a kick. And the recipe is made from scratch. No prepackaged mac n cheese here! Ken liked this so  much that he got seconds. I can always tell when he really likes something that I make. He will get seconds. Or maybe he is just really hungry. I hope you enjoy this super creamy, delicious macaroni & cheese dish!
Creamy Hot Dog Macaroni & Cheese
Recipe: Creamy Hot Dog Macaroni & Cheese
Adapted from Food Network Magazine
Recipe type:
Pasta, Casseroles
Ingredients
5 grilled all beef hot dogs, sliced
8 oz elbow macaroni
2 tbsp butter
1 tbsp all-purpose flour
1 tsp mustard powder
1½ tsp chipotle pepper adobo sauce (just use the sauce from the can of chipotle peppers in adobo sauce)
1 12 oz can evaporated milk
¼ C diced onion
1¾ C shredded cheddar cheese
4 slices American Cheese
½ C panko
⅛ tsp mustard powder
1 tbsp butter
Instructions
Bring a large pot of water to a boil. Cook the pasta until tender. Reserve 1 C of the pasta water.
In another pot, melt 2 tbsp butter and saute the onion until tender.
Whisk in the flour, 1 tsp mustard powder, and the adobo sauce. Stir in the evaporated milk and simmer for about 5 minutes.
Stir in the cheese until melted and then gradually add the pasta water until your desired sauce thickness is reached. I think I used about ½ C.
Add the pasta and hot dogs to the cheese sauce. Mix well.
Pour the mixture into an 8x8 baking dish.
Prepare the topping by melting 1 tbsp butter and then combining the panko and ⅛ tsp mustard powder with it. Sprinkle on top of the macaroni & cheese mixture.
Broil on high until the panko is slightly browned.