I'm a lover of beer, bread and cheese. I like to drink beer (some of my favs are UFO White Beer, UFO Pumpkin Ale, Yuengling, Leinenkugels Berry Weiss and Shock Top) and I like to add it to some of my recipes. Beer really does make some foods taste delicious! And bread? Well this gal is bread's number one fan. Bread would have to be one of my biggest food weaknesses. The other would be cheese. Especially cheddar, brie, Havarti and pepper cheese.  Combine beer, bread and cheese together and you have put this gal into foodie heaven.
What are some of your favorite beers, cheese and breads?
What I will be sharing with you today is a recipe that I came across in my Better Homes and Gardens New Cookbook. It's a recipe for Cheddar Beer Bread. WIN! I hope you enjoy this tasty recipe.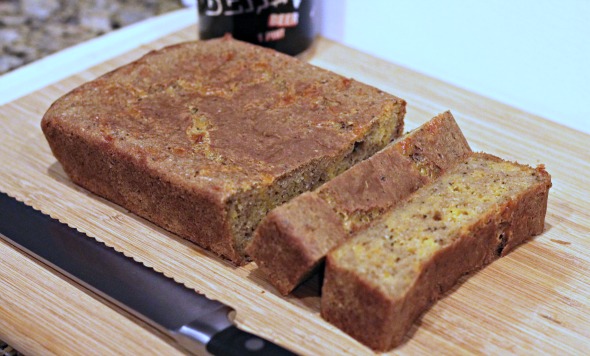 Ingredients 
2 1/2 C all purpose flour
2 tbsp sugar
2 1/2 tsp baking powder
1 tsp crushed dried oregano
1/2 tsp crushed dried basil
1/2 tsp baking soda
1/2 tsp salt
1 12oz bottle or can of beer
1 C shredded cheddar
Directions
Grease a 9x5x3 loaf pan on the bottom and 1/2 inch up the sides.
In a mixing bowl, combine the flour, sugar, baking soda, baking powder, oregano, basil and salt.
Add the beer and cheddar cheese and stir until just combined. The mixture should be lumpy.
Spoon the mixture into the prepared pan. Bake at 375 for 35-40 minutes or until golden.
Cool on a wire rack for 10 minutes before serving. Best served warm.