What's better than a plain ole cookie? These Pumpkin Cookie Bars with Butterscotch Chip Streusel! A sugar cookie crust is topped with moist pumpkin filling and topped with butterscotch chip streusel. Trust me, they're as good as they sound!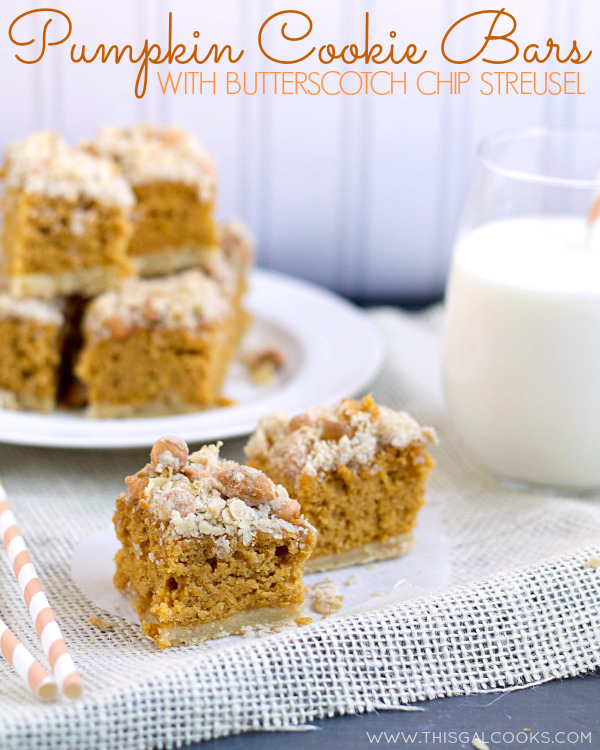 Follow This Gal Cooks via RSS and never miss a fantastic recipe!
It isn't exactly fall yet. In fact, it's still pretty darn hot here in sunny South Florida. But that doesn't stop me from indulging in pumpkin treats. Or pumpkin spice flavored lattes. Did you know that Target sells sugar free pumpkin spice flavored coffee syrup? Well now ya do. I know you're going to run right out to get some of that goodness. One of our local coffee shops also stocks pumpkin spice syrup pretty much year round. The owner loves the flavor so she chooses to stock it year round. Now that's my kind of coffee shop!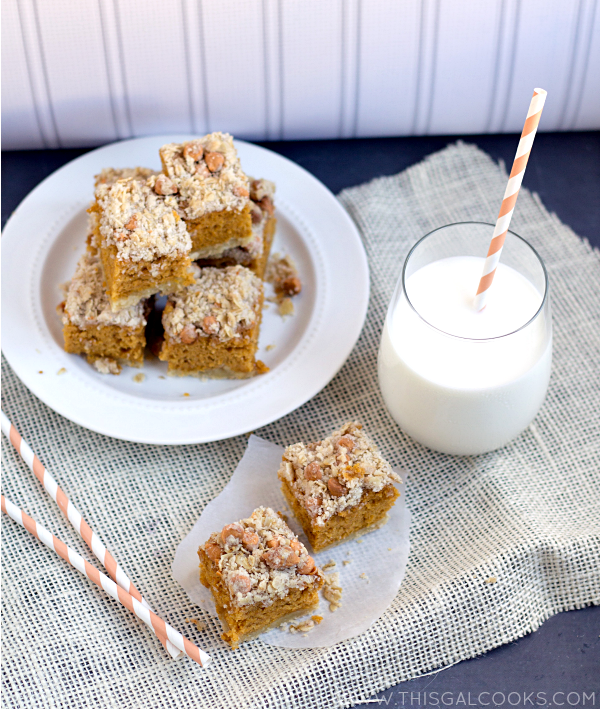 Did I mention that it's hot as the dickens here in Florida? I thought so. But I just wanted to reiterate so you would understand just how hot it is! August is brutal in Florida. Every year I eagerly await the return of fall. It's by far my favorite time of the year. The weather cools off. The holidays start to roll in, including my favorite, Halloween. The colors of fall are lovely. And the flavors of fall are wonderful.
Now here I am talking about fall and we have over a month until it begins! Ah, but what can I say, I love it!
In order to celebrate the coming of fall, I decided to make some pumpkin treats over the weekend. You just can't go wrong with them. Seriously, I can live off of anything pumpkin year round. After you try these, I think you'll feel the same way I do. Enjoy the recipe!

Pumpkin Cookie Bars with Butterscotch Chip Streusel
Ingredients
1 package of sugar cookie mix (15.5 oz) prepared according to package directions (I used Krusteaz brand)
3 C all purpose flour
1¾ C white granulated sugar
2 tsp baking powder
1 tsp baking soda
3 tsp pumpkin pie spice
4 eggs
1 15oz can pumpkin
½ C canola oil
½ C apple sauce
½ tsp salt
¾ C butterscotch chips
1 C quick cooking oats
6 tbsp cold butter, cubed
Instructions
In the bowl of a stand mixer, whisk together the flour, pumpkin spice, sugar and salt. Remove one cup of the mixture and set aside. Add the baking powder and baking soda to the larger portion of the mixture and mix well.
Using the flat attachment of the stand mixer (if you don't have a stand mixer, just use an electric hand mixer) beat the eggs, pumpkin, apple sauce and oil into the larger portion on speed 4 (or medium) until the mixture is smooth, about 3 minutes.
Meanwhile, prepare the streusel topping. Mix together the one cup of reserved flour mixture, the oats and the butterscotch chips. Cut in the butter with a pastry blender or two knives until the mixture is crumbly.
Press the prepared cookie dough into the bottom of a 15x10x2 baking pan. Pour the pumpkin mixture over it and even it out with a spoon. Top evenly with the streusel mix.
Bake at 350 for 25-35 minutes.
Allow to cool for 30 minutes to one hour before serving.
Notes
This recipe actually took more time than I thought it would to prepare. It took 25 minutes, which to me, is a lot of time but it is oh so worth it! You still come out better than making batches of cookies!
Nutrition Information
Serving size:
2 one inch squares
Want to know a secret? I'm eating one of these bars right now as I type this sentence. You're jealous, aren't you? ;)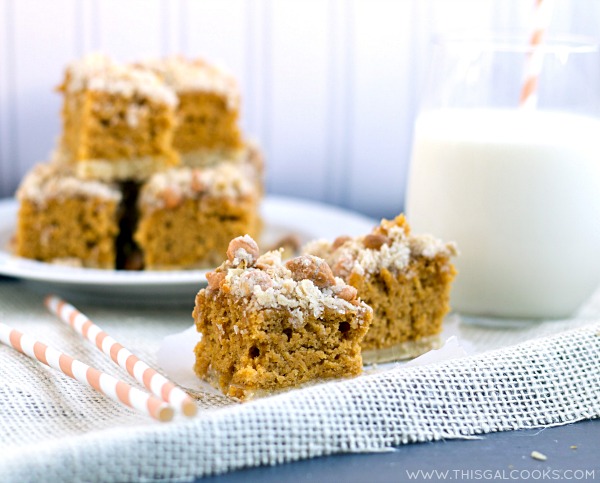 More recipes from This Gal Cooks
{click the images to get the recipes}