I am a member of the Collective Bias®  Social Fabric® Community.  This shop has been compensated as part of a social shopper amplification for #CollectiveBias and its advertiser.
Portobello Burgers with Chipotle Avocado Slaw. Better-for-you grilled portobellos are topped with a creamy chipotle avocado slaw , swiss cheese and topped upon a whole wheat bun.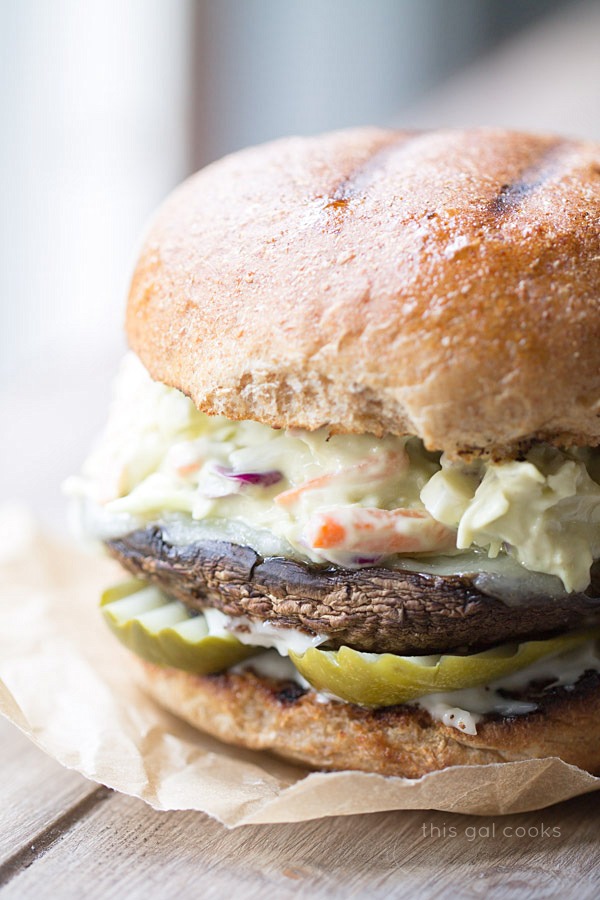 For most people, summertime means grilling time. Here in Florida, grilling time is an all year event. But the holidays of late spring and summer always give everyone a reason to grill. While we usually grill something every weekend and sometimes even during the week, when a holiday rolls around, we always make sure we have something to grill. I'm not really sure why a holiday makes it feel like a special day to grill, but it does.
Some of our favorite things to grill are seafood, veggies, chicken and burgers. I quit eating pork and beef a while back but it doesn't mean I can't enjoy a hearty burger. I've had a lot of great veggie burgers at restaurants and I've even made a few of my own but none of them work as great on a grill as a plane ole portobello mushroom does. I can #SayCheeseburger all the time when I use a hearty portobello in place of meat!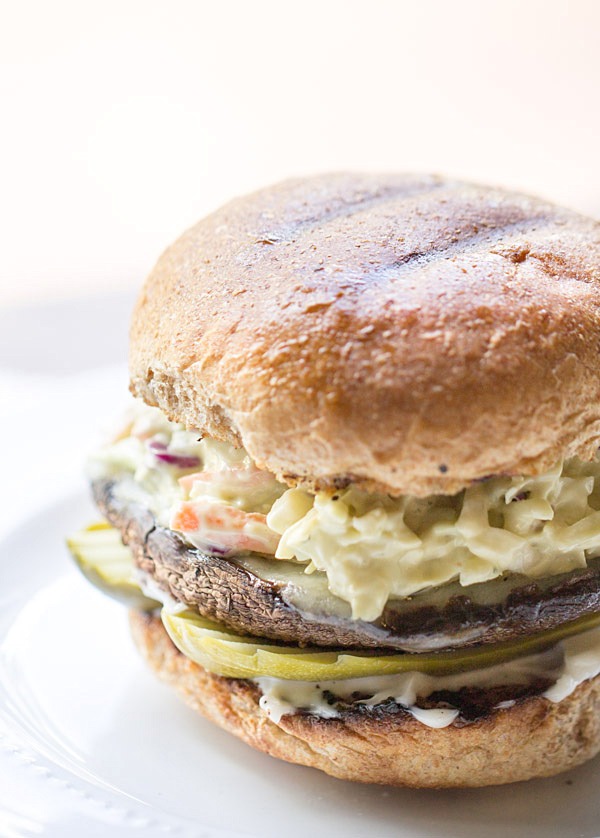 A portobello doesn't fall apart on a grill. You can place it right on top of the grill grates to cook it. You don't have to place it on aluminum foil or a grill plate like you would with a black bean burger or some other type of veggie burger. You get the good made on the grill flavor with a portobello, just like you would with a meat burger.
Another cool feature of portobello burgers, you can top them with all of the same fun toppings that you top a meat burger with.  Last weekend while shopping at WalMart, I picked up some Kraft Philadelphia Cream Cheese in plain and chipotle flavors. Did you know that while shopping at WalMart, you can use the Blipper App to take photos of your favorite Kraft products? After snapping a photo, you will be taken to a list of tasty recipes that you can make with that particular product. How cool is that? Download the Blipper App for free on your Apple, Windows, Android or Blackberry Device.
Anywho, back to that Kraft Philadelphia Cream Cheese.  I had an idea for it that would work well with the Kraft Mayonnaise that I already had in my fridge at home, some avocado and some other select ingredients. I thought that an avocado slaw would go perfectly on a juicy portobello burger. And boy was I right!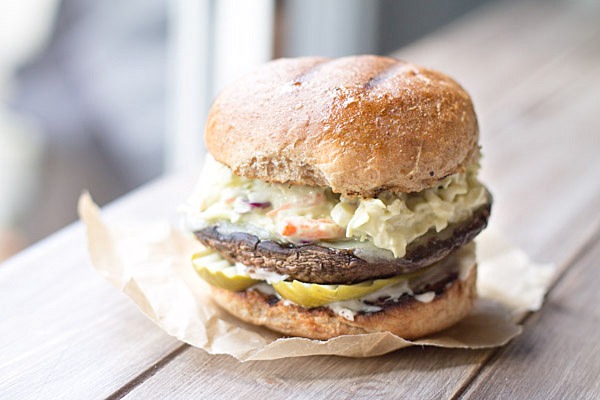 I had a little too much fun with the toppings on my burger. I melted some swiss cheese on my portobello while it was still on the grill. Before topping my burger bun, I brushed a little Kraft mayo on it and had Ken place it on the grill for me. A crispy, great tasting bun always makes any burger 10 times better. I'm serious! Ok, now the fun part. I put a little more mayo on the bun, two kosher dill sandwich slice pickles, the portobello, the chipotle avocado slaw and then I put on the top part of the bun. And then I went to foodie heaven and dined on one of the best portobello burgers I've ever had. Enjoy the recipe!

Portobello Burgers with Chipotle Avocado Slaw
Ingredients
For the Chipotle Avocado Slaw
½ C mayonnaise
¼ C Kraft Philadelphia Cream Cheese in Chipotle flavor
¼ C sour cream
1 hass avocado, peeled, seed removed and cut into chunks
2 tbsp fresh lime juice
1 clove of garlic
2 tbsp bunch of fresh cilantro
⅛ - ¼ tsp salt, if desired and to taste
1 package of shredded coleslaw cabbage
For the portobello burgers
4 large portobello caps
1 tbsp olive oil
A pinch of sea salt and ground pepper for each cap
4 whole wheat buns
Your favorite condiments
Instructions
To make the Chipotle Avocado Slaw:
Whisk together the mayo and sour cream in a large mixing bowl. Place the avocado, cream cheese, garlic clove, lime juice and cilantro into a food processor and process until smooth. Pour into the mayo mixture and whisk together. Mix in the salt and pepper to your desired taste. Add the shredded cabbage and mix well.
To make the portobello burgers:
Brush each cap with olive oil, top side and bottom side. Sprinkle the top sides with sea salt and ground pepper. Heat your grill to medium high heat. Place the portobellos on the grill approximately right between two of the burners. Place cap down and grill for 3-5 minutes. If desired, place cheese on the bottom part of the portobellos (just flip over so the bottom "gill" part is facing up) and heat until the cheese is melted. Remove from the grill and set aside.
If desired, toast the buns. Brush the inside of the buns with mayo and place on the grill for about 1 minute per side.
Assemble the burgers with your favorite toppings. TIP: Place the portobellos top side down and put the chipotle avocado slaw inside the cap.