What is one of your favorite soups from Panera Bread? Mine is their Broccoli Cheddar Soup. Creamy cheese broth with bits of broccoli. What's better than that? Ah, the crusty baguette dipped in the soup makes for a fantastic lunch or dinner. I have a little confession to make. I dine at Panera Bread just a little too much. There is one next to my job. And when I say next to my job I don't mean down the road a bit. I mean next to it. I don't have to go on the main road to get there. In fact, I could walk there. I can even see the plaza it's in from my window at work. But we all know that it gets pretty expensive to dine out every day. I had to find a solution to enjoy Panera's great soup without spending too much money. I headed to my trusty pal the internet and went to searching. I found a copycat recipe on Food.com (you can see the recipe
here
) and decided to try it. I doubled the recipe so we could have leftovers for a couple of days. It turned out pretty well although I feel that it had too strong of a carrot flavor to it. I will try it again but next time I will reduce the amount of carrot from 2 cups to 1 cup. I hope you enjoy this recipe.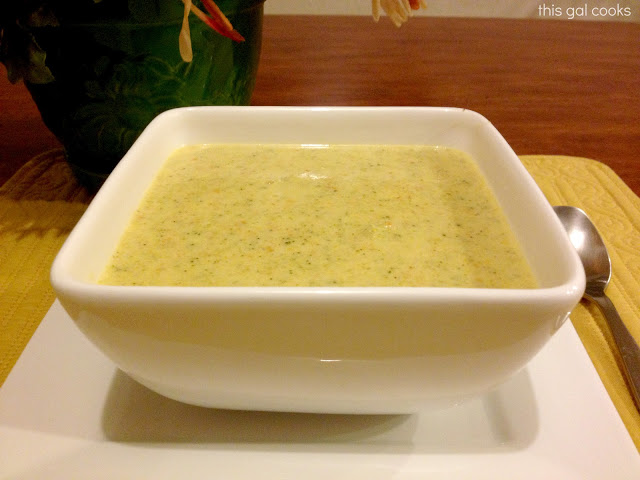 Copycat Panera Bread Cheddar Broccoli Soup
makes about 8 servings
2 tbsp butter – for sauteing onion
1 medium onion, chopped
1/2 C butter
2 C milk
2 C half and half
1/2 C flour
4 C chicken broth
1 lb fresh broccoli, florets only
2 C baby carrots, chopped
1/2 tsp nutmeg
4 C grated cheddar cheese
salt and pepper to taste
Saute the onion in the 2 tbsp of butter. Set aside.
In a sauce pan, melt the 1/2 C butter and and whisk in the flour
Gradually add the half and half and milk to the butter/flour mixture. Whisk together until thickened.
Add the milk/butter/flour mixture to the onions and then add the chicken broth.
Add the broccoli and carrots and simmer over medium low heat for 20-25 minutes or until the broccoli is tender.
Puree the mixture with an immersion blender or a stand up blender. I used an immersion blender but use whatever you have or whatever works best for you.
Stir in the cheese and nutmeg.
Add salt and pepper to taste.
Enjoy
I'd love to hear what you think about this recipe. Leave a comment to share your thoughts!
Often linking up to 
these
 great parties.