The wonderful flavors of the traditional caprese salad come together to give you this Caprese Chicken Orzo Salad. Enjoy as a main dish or paired with your favorite entree.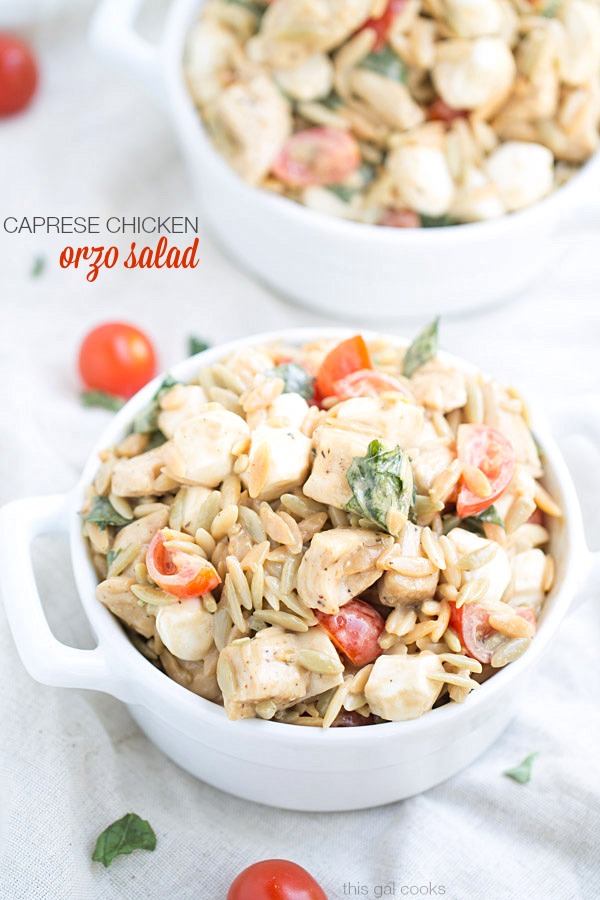 Remember my quest to eat meat free?  That quest has ended. I ate meat last week. And I ate this salad yesterday. It has chicken in it. And fresh basil, tomatoes, balsamic, olive oil and a little mayo. And it's pretty darn good. I think I would actually prefer this salad without the chicken but it was still good with the chicken.
I went back to eating meat because eating meat free was difficult for me. I rarely felt that my hunger was satisfied. I started eating more sweets. I think I was replacing meat with sweets. In the back of my mind, I was telling myself that it was okay to eat more sweets because I wasn't eating meat. That sort of mentality is never good and often causes problems in the long run. So one Friday evening, I decided to eat meat again. I broiled some chicken and made a southwest style salad. It was delicious and I do not regret topping the salad with that delicious broiled chicken.
Fast forward a few days and I may or may not have had a slice of pepperoni and sausage topped pizza. I'm a sucka for supreme pizzas and those pepperoni and sausage slices were topped on one crazy good supreme pizza.
But enough about pizza and meat. Let's move onto salads. In this case, orzo salad.
Caprese Chicken Orzo Salad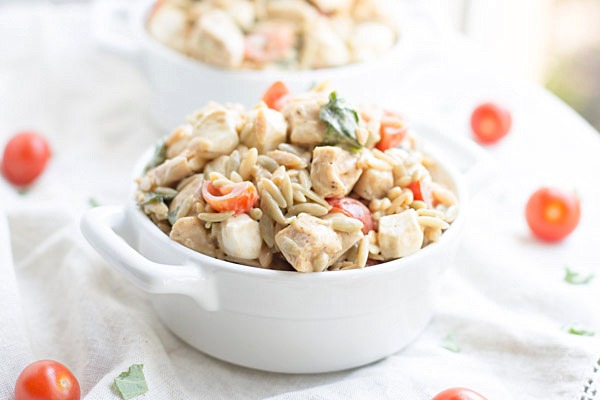 Whenever I make pasta, quinoa or cucumber salads, I always use Pompeian Extra Virgin Olive Oil. If I'm not using fresh lime or lemon juice in the salad, I use one of Pompeian's vinegars. They give my salads a boost of tartness that I love so much. For this Caprese Chicken Orzo Salad, I opted for the balsamic vinegar. Most of you know that a caprese salad is all about the balsamic. While a traditional caprese salad calls for a balsamic reduction, my salad uses balsamic straight from the bottle.
To make this salad extra creamy, I threw in about a tablespoon of mayo. If you're not a fan of mayo, you can leave it out. The mayo mellows the tartness of the balsamic. If you leave it out, you may want to adjust the olive oil and balsamic quantities to align to your taste preferences. If you're feeling like seafood, replace the chicken with shrimp or scallops. If you don't want meat, leave out the chicken and replace with extra tomatoes or your favorite vegetarian protein.

Caprese Chicken Orzo Salad
The wonderful flavors of the traditional caprese salad come together to give you this Caprese Chicken Orzo Salad. Enjoy as a main dish or paired with your favorite entree.
Ingredients
2 C cooked orzo, cooled
8 oz cooked chicken, diced (you can use leftovers or cook 1-2 chicken breasts)
½ C fresh basil, torn into pieces
¾ C cherry tomatoes, quartered
2 tbsp Pompeian balsamic vinegar
1½ tbsp Pompeian Extra Virgin Olive Oil
1-2 tbsp mayonnaise
⅛ tsp ground black pepper
⅕ tsp seasoned salt
1 C pearl mozzarella
Instructions
In a large mixing bowl, mix together the orzo, chicken, tomatoes and basil.
In a smaller bowl, whisk together the balsamic vinegar, mayo and extra virgin olive oil. Pour over the chicken/orzo mixture and mix well. Add the seasoned salt and pepper and mix well. Taste and add more salt and pepper, if desired. Mix in the pearl mozzarella.
Notes
Store leftovers in an air tight container in your refrigerator for up to 5 days.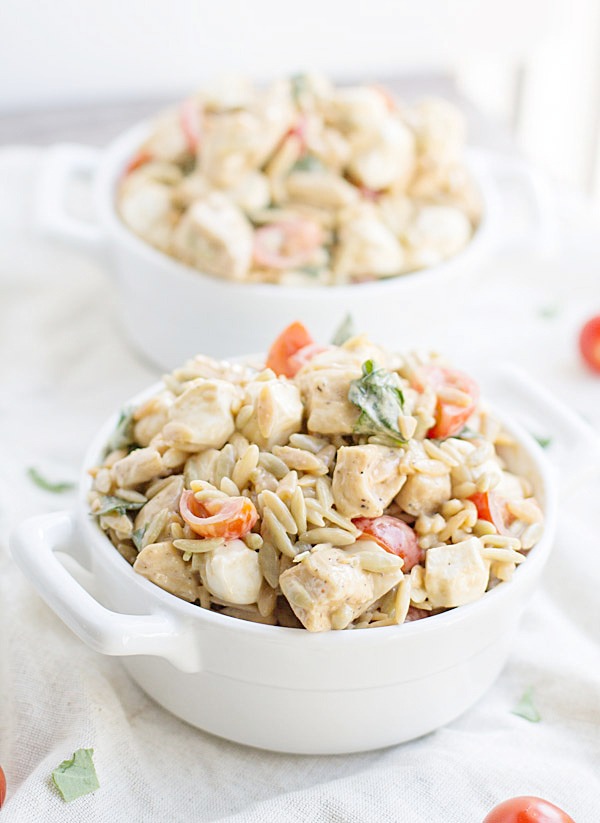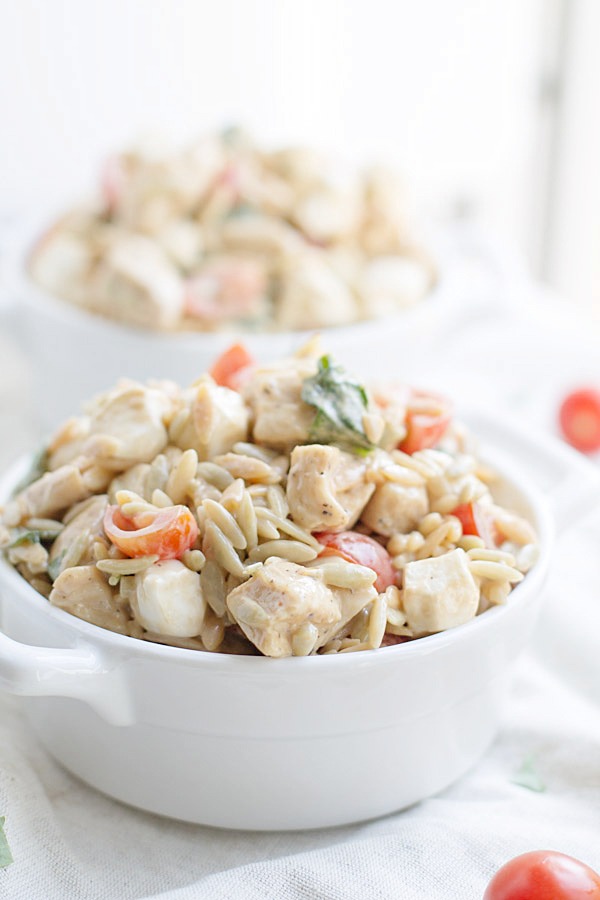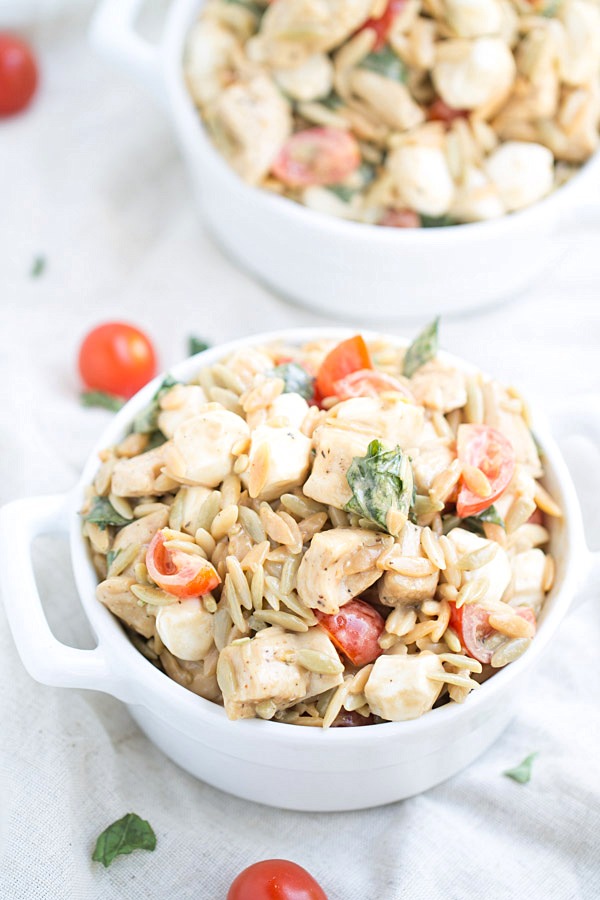 I'm participating in the #PantryInsiders program on behalf of Pompeian and Hunter PR. While I have been compensated for my participation in this program, please note that all opinions are my own. And I really do love Pompeian products!
HUNGRY FOR MORE?
Try this Grilled Salmon and Vegetable Orzo Salad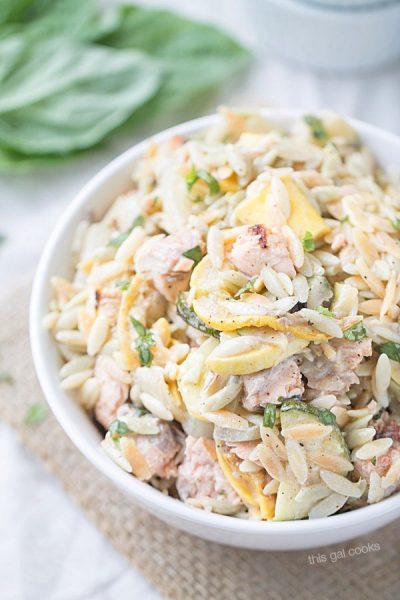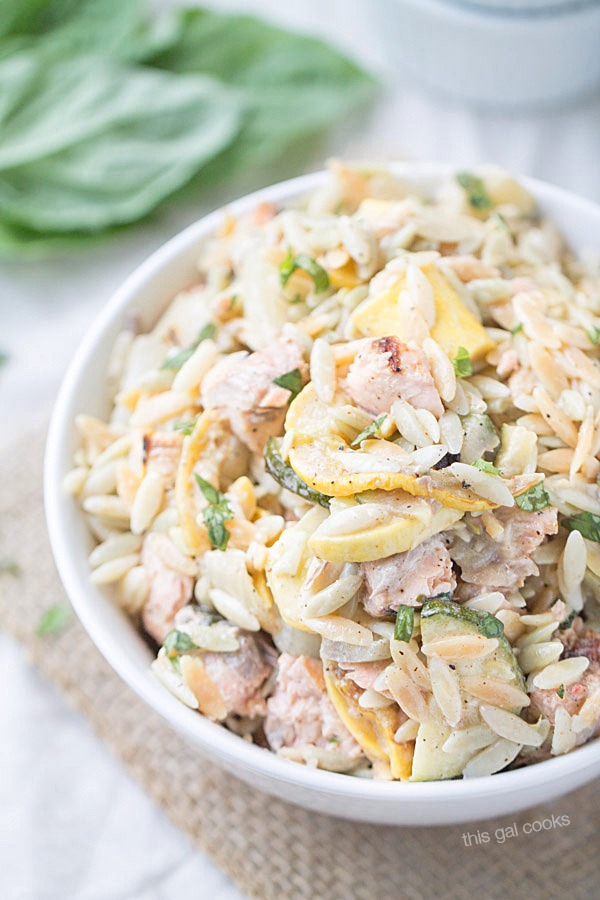 For a low carb option, try this Greek Cucumber and Tomato Salad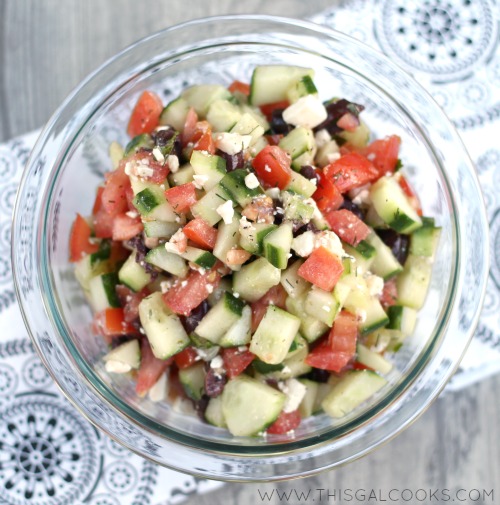 Another great cucumber option: Cucumber Noodles with Spicy Sesame Soy Dressing