Welcome to This Gal Cooks!
This Gal Cooks is a cooking and recipe blog that I started in 2012.  Here you will find a variety of tasty recipes for any occasion that I created on my own or that I found in cookbooks, magazines, blogs or other places on the web. I like to keep it simple so many of the recipes on this blog can be on the table in less than an hour. However, you'll also find a few that take a little more time to make, but the extra time is usually downtime.
I like to eat healthy but I also like to indulge. My motto is all in moderation. I don't think indulging in a big ole slice of cake or a juicy cheeseburger is going to hurt you – as long as it isn't on a daily basis.  The recipes on this blog range from healthy to dairy free to full blown indulgent – and they're perfect for any occasion.
About Julie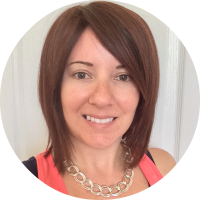 I'm a thirty something year old who lives in Stuart, FL (a small town on South Florida's East Coast.) I began my life journey in Gainesville, FL, in the wee hours of the morning on a late September day. I was adopted at the age of 5 weeks old,  grew up in Lakeland, FL and moved to South Florida in 2009 with my boyfriend Ken. When I'm not busy making and eating good food,  I enjoy reading, traveling and outdoor activities. You can almost always win me over with a good craft beer and a big ole plate of Mexican food.
My Love for Food: I love food and at around the age of 8 or 9, I fell in love with cooking. My mom taught my brother and I how to cook when we were kids. My brother and I used to pick out recipes from her cookbooks, make grocery lists of the items we needed in order to make our respective masterpieces and then head to the store to pick up the ingredients. I would pick a night to prepare dinner for the family and my brother would pick another night.
Baking Scares Me: Despite my love for cooking, I was never really into baking. In fact, I only started to get into baking after I started this blog. I've learned some amazing things about baking but I still have a lot to learn. I'm much more comfortable creating savory dishes than I am creating baked goods. But I love a good challenge so despite my lack of comfort for creating baked goods, I still work at perfecting it.
Moderation is my Philosophy: I believe in the concept of all things in moderation. I don't believe that eating one donut a week, a slice of cake for holiday dessert, or a big ole fat slice of cake just because is bad for you. However, eating one sweet can cause a ripple effect and make you want to eat all of the sweets. Trust me, I find that out whenever I eat a cookie. I almost always want another cookie but I control myself and limit myself to one. Most of the time.
I Love Dogs: Not kids. Well, I don't dislike kids. They just aren't for me. But cool little dogs, like this little gremlin dog of mine Kahlua, are totally for me.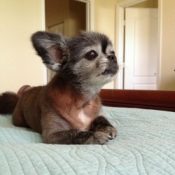 My taste tester: I have a boyfriend. His name is Ken. He has a pretty sweet deal in our relationship – he gets to eat all of the food I make. He'll never be a starvin' guy. I get a pretty sweet deal too because he's an IT guy. Which means no headaches for me if something goes wrong with my computer.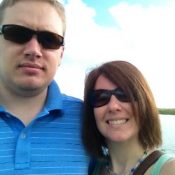 Connect with Me
Facebook // Pinterest // Google Plus // RSS // Twitter
Contact Me
thisgalcooks[at]gmail[dot]com
I hope you enjoy my blog. Thanks for stopping by.