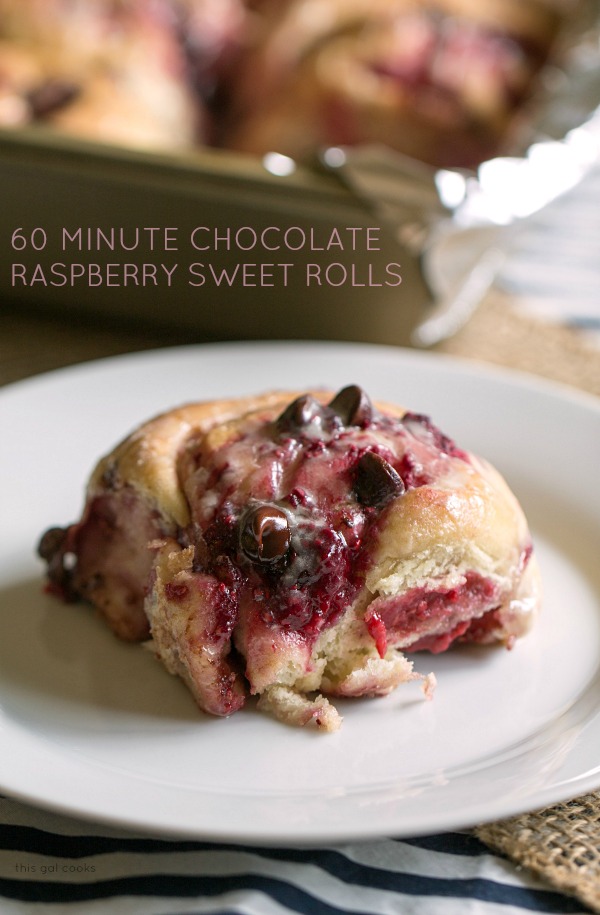 60 Minute Chocolate Raspberry Sweet Rolls
Start your morning with these tasty 60 minute Chocolate Raspberry Sweet Rolls. Made with chocolate liquor, frozen raspberries and dough that requires no rise time!
It's that time again..time for the Spiked Recipe Challenge recipes to start rolling out. This month's booze of choice: chocolate liquor. I opted for Godiva Chocolate Liquor. I typically don't purchase liquors so I bought a small bottle of the Godiva liquor. After tasting it, I think I would have been fine opting for the large bottle. That stuff is darn good!
I battled with myself on what I was going to make with the chocolate liquor. Cupcakes, cookie bars, french toast, oh my. I settled on neither of those but instead on 60 Minute Chocolate Raspberry Sweet Rolls. Wanna know a secret? This was my first attempt at making any type of sweet roll. I've never made cinnamon rolls from scratch. Never made sweet rolls. It just seems like so much work…for such a simple treat. But alas, I found a sweet dough recipe from my friend Gloria from Simply Gloria. You can see it here. I made a few changes because I did not have all of the ingredients required for the dough. But it still worked out well. The entire process took less than 2 hours.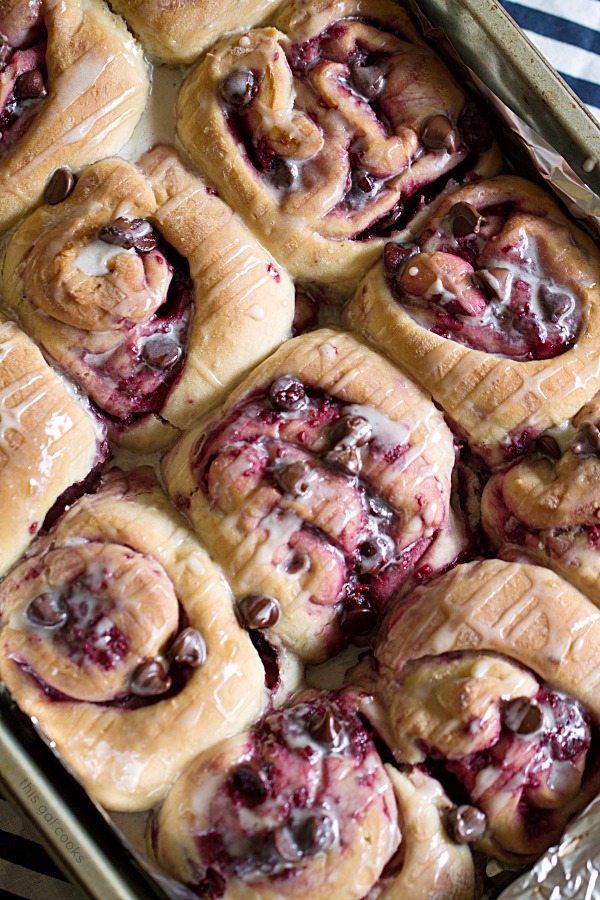 I started out by prepping the dough, which basically consisted of mixing milk, water, sugar and yeast and letting it sit for 15 minutes. While that action was going on, I made the raspberry filling, which consists of frozen raspberries, chocolate liquor, cornstarch and sugar. By then, the water/milk/yeast mixture was ready. I prepared the dough, rolled it out, slathered some butter, the raspberry mixture and some chocolate chips on it.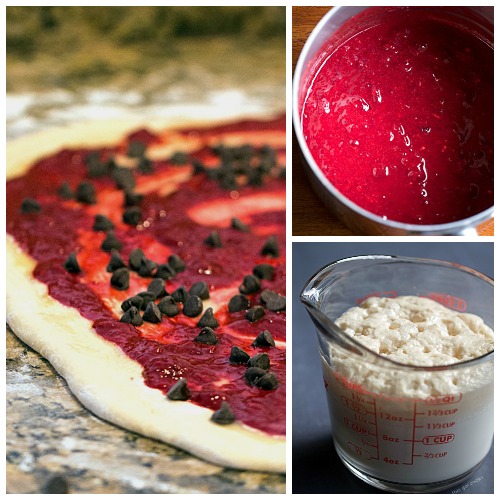 Here's where the messy part comes in. Rolling it up. I don't know if I rolled my dough too thin or if I put too much topping on it. Whatever the case, it was a huge mess after rolling it up. I had to sort of reassemble the little rolls after slicing each one. It wasn't too hard to do but it sure was messy. There was raspberry filling all over my counter! Seriously, it looked like I had just butchered meat on my counter. Red raspberries. Yeah, you get it.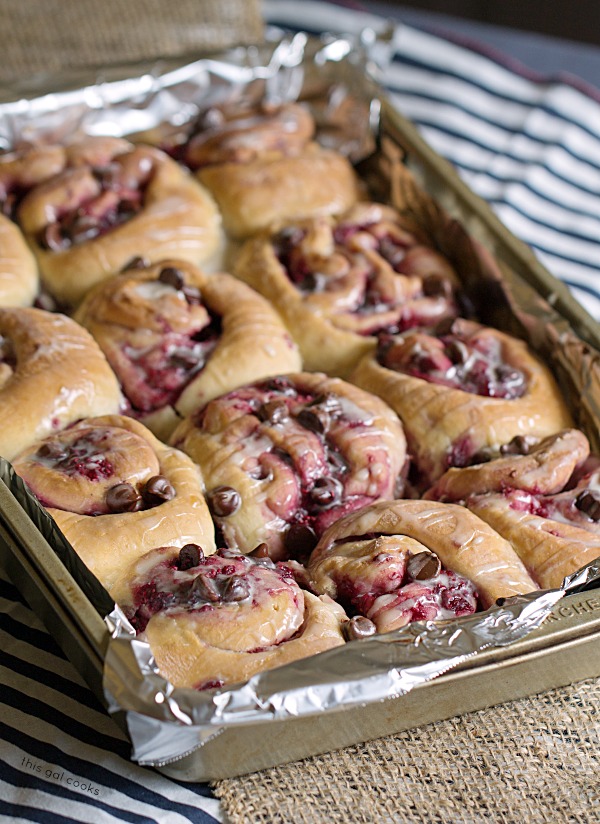 I placed the little rolls in a 13×9 foil lined pan and then baked for about 35 minutes. Towards the end of the baking process, I covered the rolls with foil because they were starting to brown. OH, and I while these little sweet rolls were baking, I made a delicious glaze with confectioners sugar, half and half and chocolate liquor. YUM! Eat your heart out, baby.

60 Minute Chocolate Raspberry Sweet Rolls
Ingredients
For the dough
1 packet of dry active yeast
1 tbsp granulated sugar
¼ C milk
1¼ C water
1 tbsp honey
¼ tsp salt
¼ C granulated sugar
2 large eggs, beaten
4 - 4½ C all purpose flour
For the filling
1 10oz package of frozen raspberries
2 tsp cornstarch
3 tbsp Godiva chocolate liquor
¾ C semi-sweet chocolate chips, plus for for topping
2 tbsp granulated sugar
¼ C melted butter
For the glaze
1 C confectioners sugar
2 tbsp half and half
1 tbsp Godiva chocolate liquor
Instructions
Mix together the milk and water. Heat to 115 degrees. Add the sugar and yeast and set aside for 15 minutes. Once the yeast has foamed up, mix in the honey. Add the mixture to the bowl of a stand mixer.
Add 3 C of all purpose flour, ¼ C granulated sugar, the beaten eggs and the salt. Mix on low the using the dough hook. Add the rest of the flour, mixing for another 5 minutes. Gradually add more flour, if needed, until the dough is elastic and does not stay stuck to the mixing bowl.
Remove the dough from the bowl and place on a floured surface. Allow to rest for 5 - 10 minutes.
While the dough is resting, prepare the raspberry filling. Mix together the raspberries, chocolate liquor, 2 tbsp granulated sugar and cornstarch in a sauce pan. Heat over medium low and cook until thickened, about 5 -10 minutes. Remove from heat and set aside.
Roll out the dough into a 10x12 rectangle. Brush with the melted butter and then top with the raspberry filling and semi sweet chocolate chips. Roll into a jelly roll shape.
Slice into 12 slices. Place in a foil lined 13x9 baking pan.
Bake at 350 for 30-35 minutes. Cover with foil if the tops start to brown before baking is done.
While the rolls are baking, prepare the glaze. In a mixing bowl, whisk together the confectioners sugar, half and half and 1 tbsp of chocolate liquor. Place in a zip lock bag.
After the rolls are done baking, remove from the oven and cool for 5 minutes on a wire rack. After cooling, cut the corner off of the zip lock bag and drizzle the glaze over the rolls.
Notes
Dough recipe adapted from Simply Gloria