If you're a pumpkin and a cookie fan like me, you're gonna love these Pumpkin Pie Cookie Cups. Sugar cookie cups are filled with homemade pumpkin pie filling!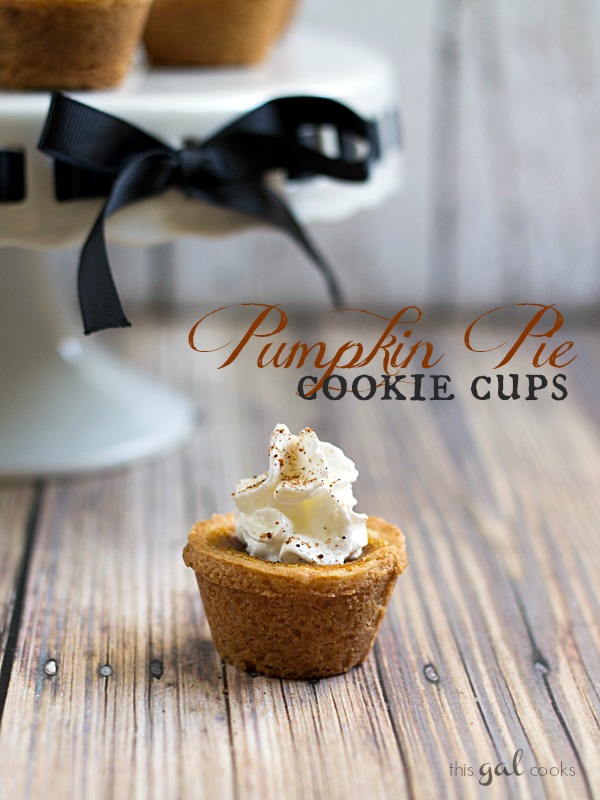 What's better than a house that smells like baked cookies? A house that smells like baked cookies and pumpkin pie. And that's exactly what my house smelled like when I made these Pumpkin Pie Cookie Cups. This recipe kind of just came to me on a whim. I was trying to decide on what to bake this past weekend and for some reason, something like this popped into my head. Pumpkin Pie and cookies, I guess it was just meant to be!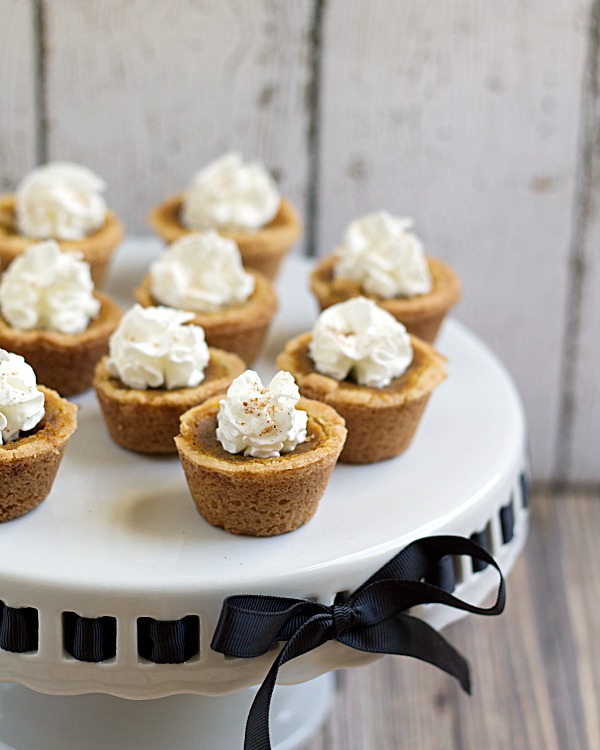 Pumpkin Pie Cookie Cups
These little gems were pretty much a hit with everyone. Ken liked them. The people at work liked them. I liked them. Trust me. If you make these for your family/friends/co-workers, they won't be able to thank you enough. They may volunteer for you to be the resident baker but hey, there's nothing wrong with that, right?!
These were pretty simple to make. I had a box of Krusteaz Bakery Style Sugar Cookie Mix that I used for the base and for the pumpkin pie filling, I just used the recipe on the back of a can of Libby's canned pumpkin. However, I used heavy cream rather than evaporated milk in my pie filling. Here's a little secret: use heavy cream rather than evaporated milk if you don't have any evaporated milk on hand. Or, like in my case, use it if you only have one can of evaporated milk left and you need that can for the macaroni and cheese you are making later! So let's get to that recipe now, shall we? Enjoy!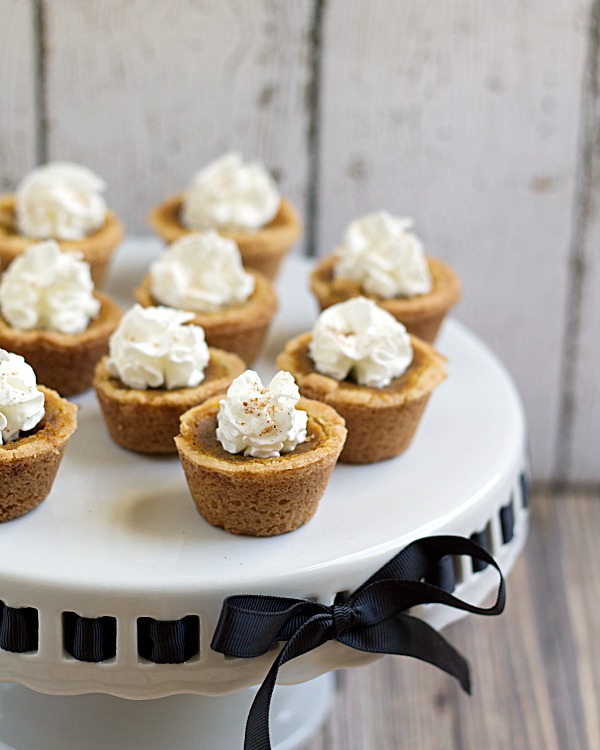 Ingredients
1 box Krusteaz Bakery Style Sugar Cookie Mix plus ingredients listed on the package
1/4C + 2tbsp granulated white sugar
1/4 tsp salt
1/2 tsp ground cinnamon
1/4 tsp ground ginger
1/8 tsp ground cloves
1 large egg
3/4 C heavy cream
1/2 of a 15oz can pumpkin puree (NOT pumpkin pie filling)
Whipped cream and ground nutmeg for topping
Instructions
Preheat oven to 375.
Prepare the cookie dough according to package instructions. Press into the cups of a mini muffin pan.
Prepare the Pumpkin Pie Filling. Mix the sugar, salt, cinnamon, ginger and cloves in a small bowl. In another bowl, beat the eggs. Mix the pumpkin puree and the sugar mixture into the eggs and then stir in the heavy cream.
Gently pour the pumpkin pie filling into the cookie cups. I put mine in a small glass measuring jar with a lip and used that to pour in the filling.
Bake at 375 for 20-25 minutes. If the cookie crust starts to brown too much, loosly cover the mini muffin pan with aluminum foil. After baking for about 20 minutes, use the toothpick method to see if the pie filling is fully cooked.
Allow to cool completely before serving.
Serve with whipped cream and a sprinkle of nutmeg
http://www.thisgalcooks.com/2013/10/23/pumpkin-pie-cookie-cups/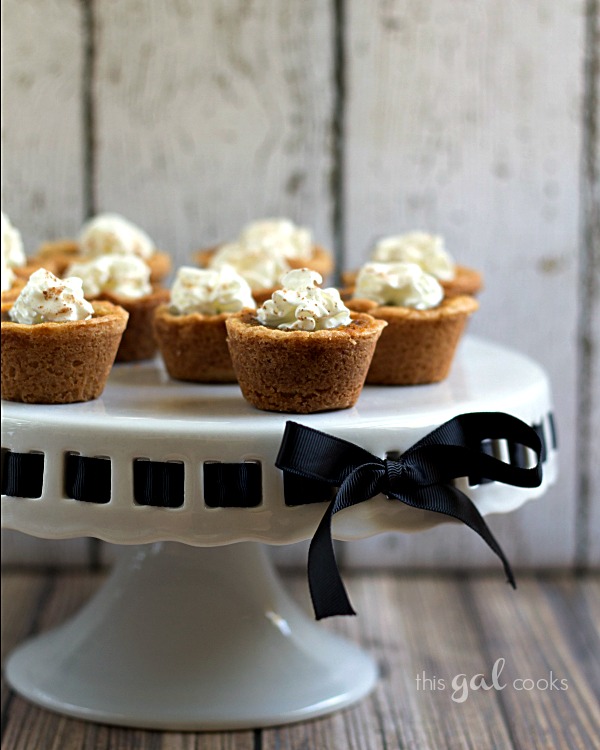 What is your favorite Thanksgiving dessert?
Do you like pumpkin pie?
What is your favorite type of pie?
What is your favorite type of cookie?
More from This Gal Cooks