Get your chocolate fix and your coffee cravings satisfied with these Mini Chocolate Bundt Cakes with Coffee Glaze! The mini size means you don't have to feel guilty about eating one!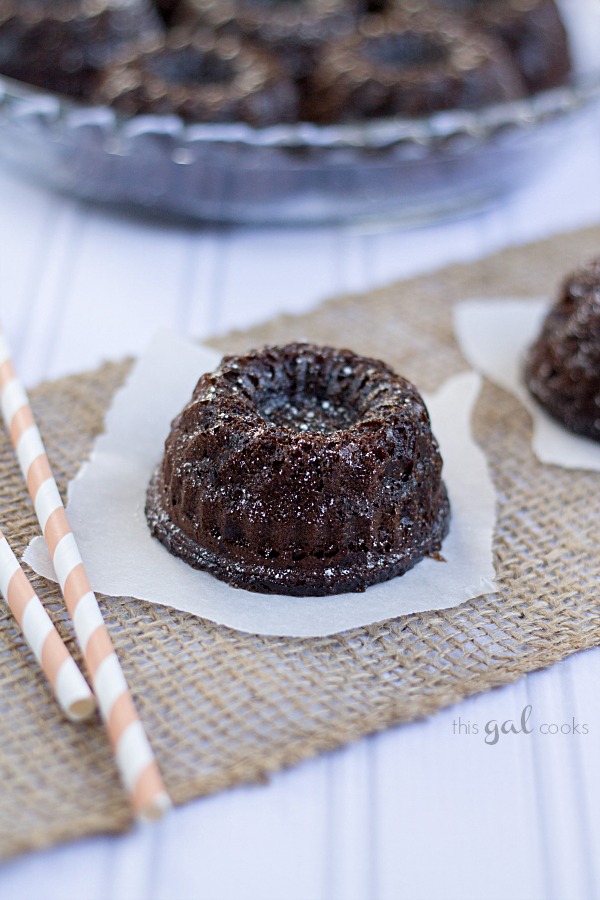 Coffee and chocolate. A combination that I'm not too fond of when in drink form but give me a slice of chocolate cake infused with coffee and I'm one happy gal!
Speaking of coffee, I finally found the Coffeemate Pumpkin Spice coffee creamer at a store over the weekend. Seriously, since the first week of September, I have been checking the dairy section of every store I go to to see if they have it in stock. Ah sigh, but not one store did. I decided to suck it up and go to Wal-Mart on Saturday and lo and behold they had it. I bought three bottles of it. I guess you could say I'm a little obsessed but I love that stuff! It's too bad that it hasn't been made one of the year round flavors. I'd buy it all year!
Do you want to know something crazy? People are actually paying over $1,000 dollars for the new iPhone 5s' on eBay. Say what?! Yep, I'm serious. They can't wait a month to get one so they fork out a ton of dough in order to get one now. A little insane, eh?
Ok, so after that little act of randomness, let's get to this recipe. I used boxed cake mix (OMG Gasp) and originally I was going to make the glaze with a coffee porter but I used some of the coffee porter in the cake mix and it was pretty weak. I ended up brewing some coffee and using that in the glaze. I really wanted the coffee flavor to stand out. Oh and something I found out tonight – a little dollop of Biscoff Spread on the top of this cake is ah-mazing! Enjoy!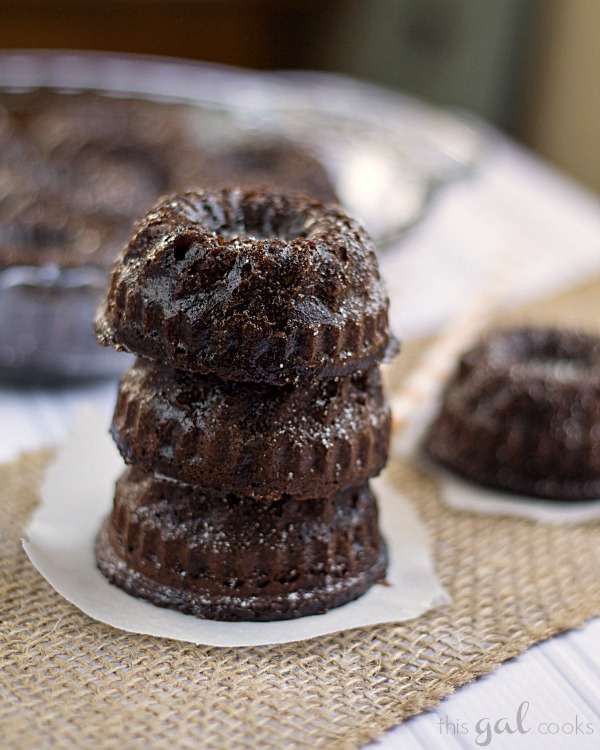 Mini Chocolate Bundt Cakes with Coffee Glaze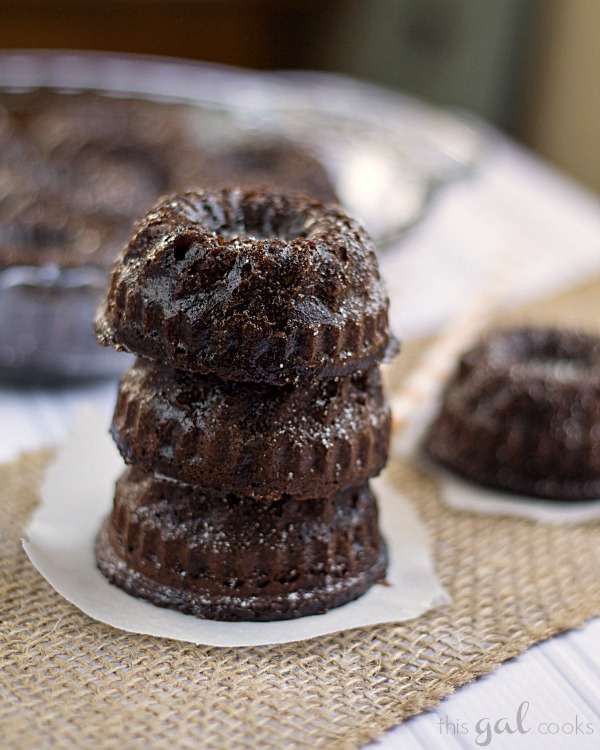 Ingredients
1 box of dark chocolate cake mix.
1 3.4oz package of instant chocolate pudding
4 eggs
1/2 C water
1/2 C canola oil
1/2 C coffee porter (I used Kona Pipeline)

For the Glaze:

1/2 C butter
1/4 C water
3/4 C granulated sugar
1/2 C brewed coffee
Powdered sugar for dusting (as you can see, mine isn't visible due to the cake being so moist!)
Instructions
Whisk together the cake mix and pudding. beat in the eggs, water, oil and beer.
Pour into greased mini bundt pans (I used the type that looks like a cupcake pan - 12 mini bundts to a pan) Fill until about half full.
Bake at 350 for 19 minutes. If the tops rise a lot while baking, carefully cut them off while still in the pans. Just lay your knife flat on the pan and then slice so the cakes are level with the pan.
Allow the cakes to cool.
Meanwhile, prepare the glaze. Melt the butter in a sauce pan. Add the sugar, water and coffee and mix well. Cook until the sugar is dissolved, about 5-10 minutes.
Remove the cakes from the bundt pans and spoon the glaze over them.The cakes taste even better if they stay in the container that they are in when you pour the glaze over them. The bottoms of the cakes get nice and moist with yummy coffee flavor!
Notes
http://www.thisgalcooks.com/2013/10/02/mini-chocolate-bundt-cakes-coffee-glaze/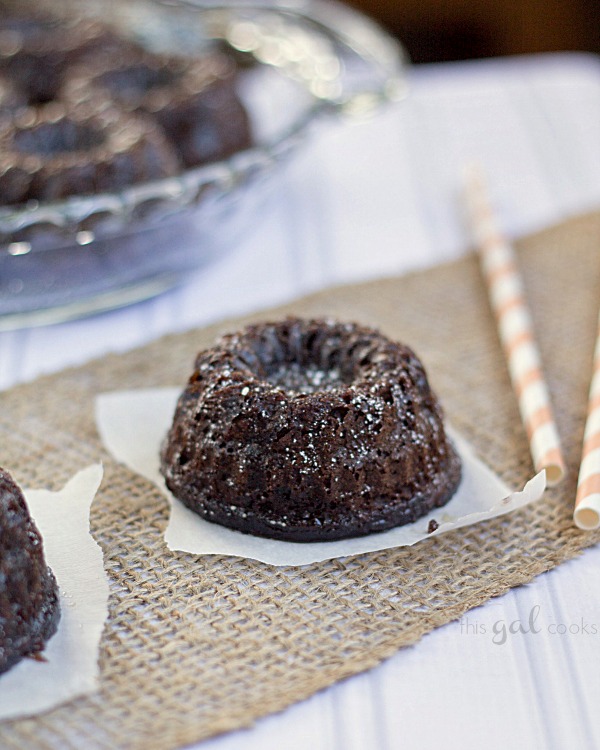 More from This Gal Cooks