Kick up your next enchilada dish a notch with these Green Sauce Chicken Enchiladas. Gourmet green tomatillo salsa cuts back on prep time giving you a quick, delicious meal for dinner!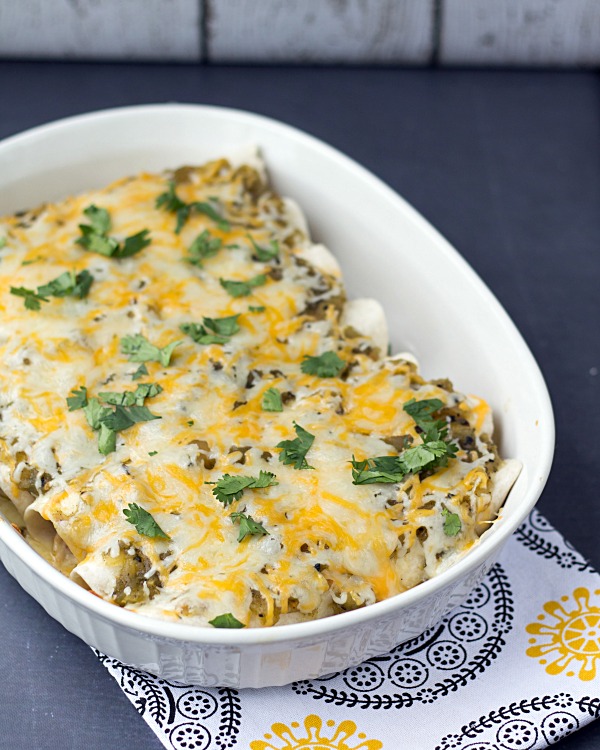 For those of you who have a Total Wine within a reasonable distance of your home, have you ever been to a Total Wine Beer Class? If you love beer you should definitely check out one or a few of the classes. The classes are a great way to try out beers and find some new ones to enjoy. Ken and I have been to a few of them and last night, we attended the Autumn Beers Class. We tasted some amazing Oktoberfest, Pumpkin, and Harvest beers as well as a couple of ciders. Some were new to us, some weren't. One that wasn't so new to us that just happened to be sampled at the class was Southern Tier Pumking Ale. It's an Imperial Pumpkin Ale which means it's stronger in both flavor and alcohol content than your normal pumpkin ale. The smell and taste of this beer is amazing. The only thing I can compare both smell and taste to is warm fall baked goodies. No joke, I wouldn't mind if my house smelled like this beer year round. It's truly one of the best pumpkin ales I've ever had. The numbers point to it being one of the best as well. Beer Advocate rates it at 91/100. That's some darn good beer!
What are some of your favorite fall beers? Need to get more fix for your fall beer kick? Check out these amazing fall beer recipes!
A while back I made these simple Green Sauce Chicken Enchiladas for dinner. It was a weeknight. I was lazy after work so I didn't feel like fussing around much in the kitchen. I had bought a jar of gourmet green tomatillo salsa earlier in the week so I decided to make some enchiladas with it. After all, I had always wanted to try enchiladas with green sauce. I always get them with red sauce or cream sauce.
All you need are a few easy to grab ingredients for this dish. Use already diced bacon (found in the salad condiment isle of your grocery store but don't get those Bacos, get real bacon pieces) and cooked chicken to cut back on time. A rotisserie chicken, leftover chicken, grilled chicken. Any type will work. You'll find the rest of the list below. Enjoy!
Green Sauce Chicken Enchiladas
Ingredients
3 C cooked chicken
1 can of chopped green chilis
3 tbsp chopped red onion
1/4 C sour cream
2 tbsp chopped bacon (use the real bacon bits, they're easier)
1/8 tsp ground cayenne pepper
1/2 tsp garlic powder
1/4 tsp seasoned salt
7 6 inch flour tortillas (on a GF diet? Use corn tortillas instead)
Green tomatillo salsa (no measurements here - use what you want)
Monterey jack cheese (no measurements here either)
Fresh cilantro for garnish
Instructions
In a mixing bowl, mix together the chicken, bacon, chilis, onion, sour cream cayenne pepper, garlic powder and seasoned salt.
Place about 3 tbsp of the mixture into each tortilla. Roll each tortilla up and place into a lightly greased (cooking spray) 1 1/2qt baking dish. Top with desired amount of green tomatillo salsa and monterey jack cheese.
Bake at 350 for 10-15 minutes or until the cheese is melted.
Garnish with fresh cilantro
Notes
Adapted from the Better Homes and Gardens New Cookbook
http://www.thisgalcooks.com/2013/09/27/green-sauce-chicken-enchiladas/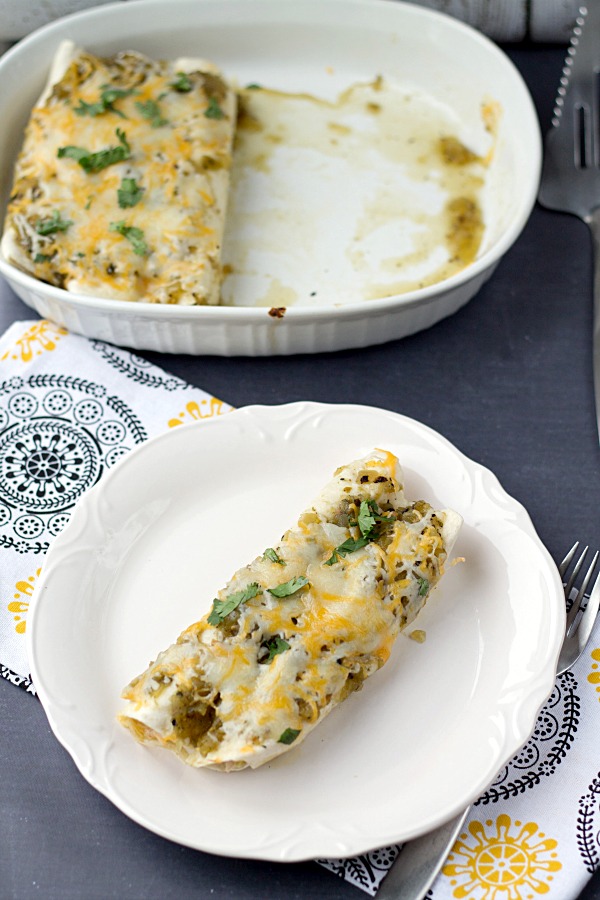 More from This Gal Cooks