Make a meal that your family and friends will love: Grilled Tequila Lime Chicken Fajita Tacos! It's easy to make and it's delicious!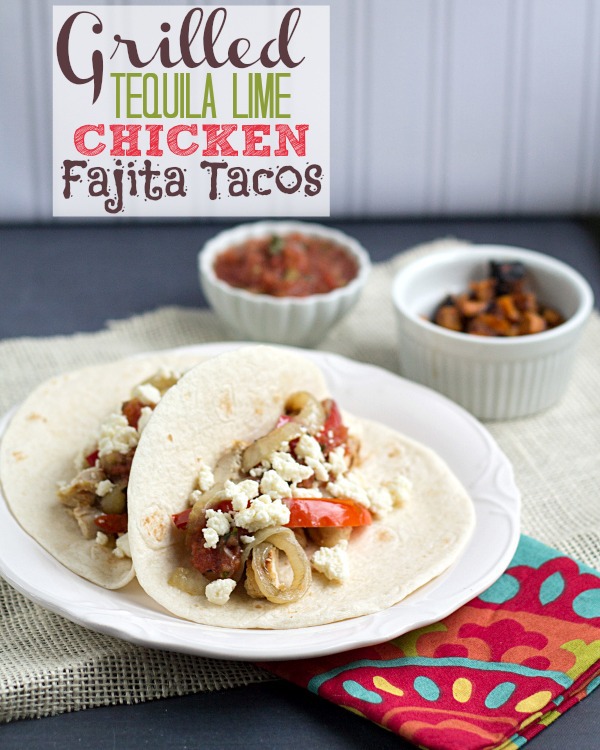 Have you ever noticed that men LOVE pizza? I mean LOVE it. My boyfriend loves pizza. Seriously, I think he could live off of it. If he were stranded on a deserted island full of pizza, I think he would be perfectly content. The same could be said about cheeseburgers. He loves cheeseburgers. Heck, I love cheeseburgers. But I couldn't live off of them. Nor could I live off of pizza. Two to three times per month of either pizza or cheeseburgers is enough for me. But what I could live off of is Mexican food.
Simply put, I have a love affair with Mexican food. Enchiladas. Tacos. Chili Rellanos. Nachos. Quesadillas. Fajitas. You name it, I probably love it.
What is your favorite type of Mexican food?
Mexican food isn't known for being the healthiest of food genres. It's usually loaded with gobs of cheese, loads of sour cream and served with huge sides of rice and beans. Not that I'm complaining. I love that stuff. But not all of the time. So when my mom was visiting over the weekend (and she's sort of a health nut) and I was craving Mexican food, I decided to make healthy grilled chicken tacos. Well, I prepped everything. Ken did the grilling. Then of course, we all ate the food. It was oh so delish!
The chicken is marinated in a homemade tequila lime marinade and then grilled to perfection. Onions and red pepper are also grilled then placed on these tacos. Top 'em off with fresh salsa and queso fresco and your set to have a fine dinner. Or lunch! Enjoy!
Grilled Tequila Lime Chicken Fajita Tacos
Ingredients
4 boneless, skinless chicken breasts
1 large onion, sliced
1 red bell pepper, sliced
2 tbsp tequila
juice from one lime
2 cloves of garlic, minced
Dash of chipotle powder
2 tbsp fresh cilantro, torn
1/4 C olive oil
Dash of salt and ground pepper
2 tbsp olive oil
Tortilla shells

Various toppings:

Queso fresco
Salsa
Chipotle ranch dressing
Sour Cream
Instructions
Whisk together the tequila, lime juice, salt, pepper, ground pepper, 1/4 C olive oil, chipotle pepper powder, and garlic.
Pound the chicken breast to tenderize them and then place them in a large container. Pour the marinade over top. Cover, refrigerate and marinade for at least 1-2 hours.
When the chicken is done marinating, heat up your grill to medium heat. Place the chicken directly over the heat and grill for 15-20 minutes or until an internal temp of 165 is reached.
While the chicken is grilling, mix together the olive oil and sliced peppers and onions. Grill on a grill wok over direct high heat for about 5-10 minutes.
Once the chicken is done grilling, slice it about 1/4 inch thick. Place on top of soft tortillas and top with peppers & onions, salsa, queso fresco and any other toppings you wish to top it with.
http://www.thisgalcooks.com/2013/08/26/grilled-tequila-lime-chicken-fajita-tacos/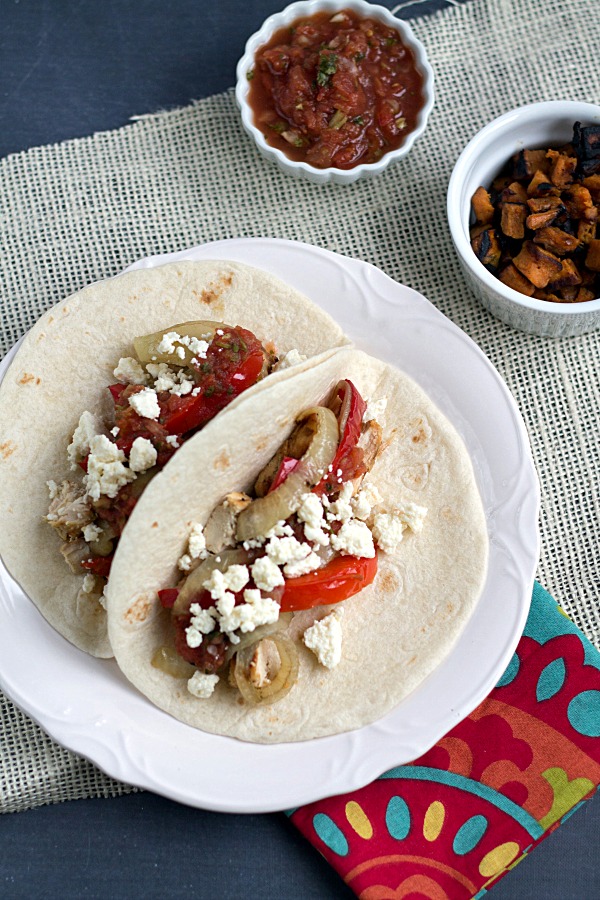 More recipes from This Gal Cooks
{Click images to view recipes}