I've made a healthier version of the typical cherry cobbler. This Skillet Cherry Cobbler is vegan and it is lower in sugar!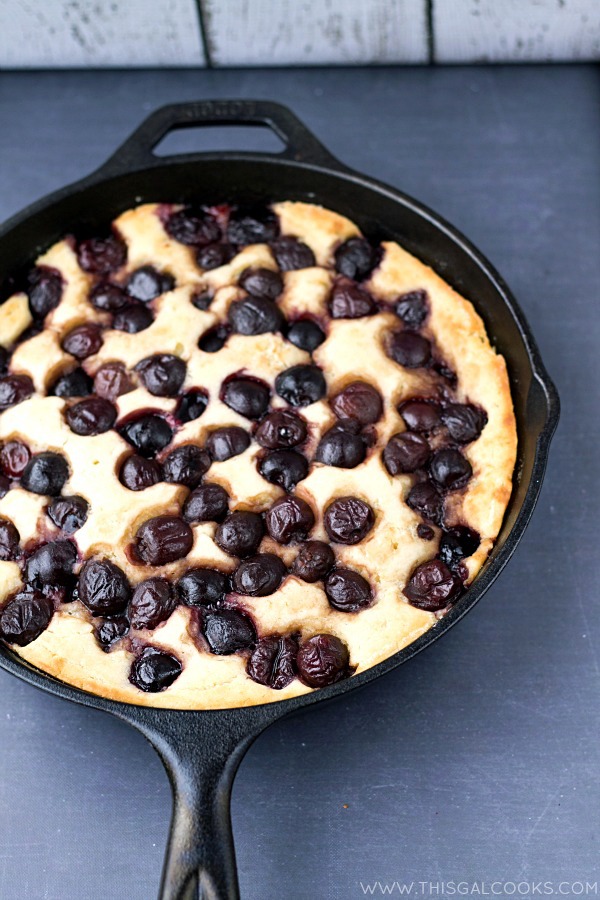 When I still lived at home, my dad used to make a killer peach cobbler in his cast iron skillet. He started the cobbler out on the stove top, cooking the peaches (they were usually canned but they still tasted SO good!) and then adding the batter. He then transferred the cobbler into the oven and baked it until it was nice and bubbly. It was so delicious!
I wish dad was still around to make his cobbler. And to share the fun moments that happen in life. To see how far I've come. To see my brother and his kids. Unfortunately, dad passed away in 2005, when I was 23 and my brother 21, due to cancer. Yea, I'll say it. Cancer's a bitch. It was a pretty crappy thing to watch someone go through. I am sure I will do another post on this and go into it in more detail one day soon. But for now, I will just end the cancer tidbit with this: I remember the good times with dad and refrain from dwelling on the cancer. Yes, I still remember the cancer and I don't deny it happening. It happened. But why dwell on the bad things? You can only move forward, right?
So back to happy things, like cobbler. I plan on making something similar to dad's peach cobbler one day. I don't have and exact recipe for what he did but I am sure I can come up with something good!
About this cherry cobbler…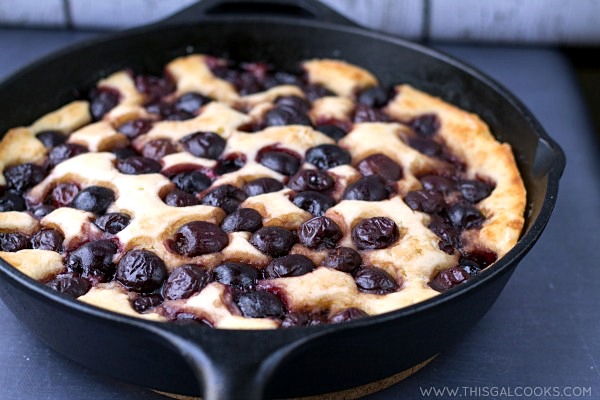 It does look good, doesn't it? Sadly, it didn't taste too good. And it's not due to the overall recipe. The batter, the cherries, they all tasted good. They tasted delicious. In fact, I was tempted to just eat the batter right out of the bowl, along with the cherries. Cause you know, I'm a sucker for batters and cookie dough.
The problem with this cobbler was my cast iron skillet. Apparently, it needed to be seasoned. Desperately seasoned. Unfortunately, I didn't realize that until AFTER I baked my cobbler. Lesson learned: always make sure my cast iron skillet is seasoned. My bloggy friend Julie from White Lights on Wednesday created a tutorial for seasoning cast iron skillets. You can find it here.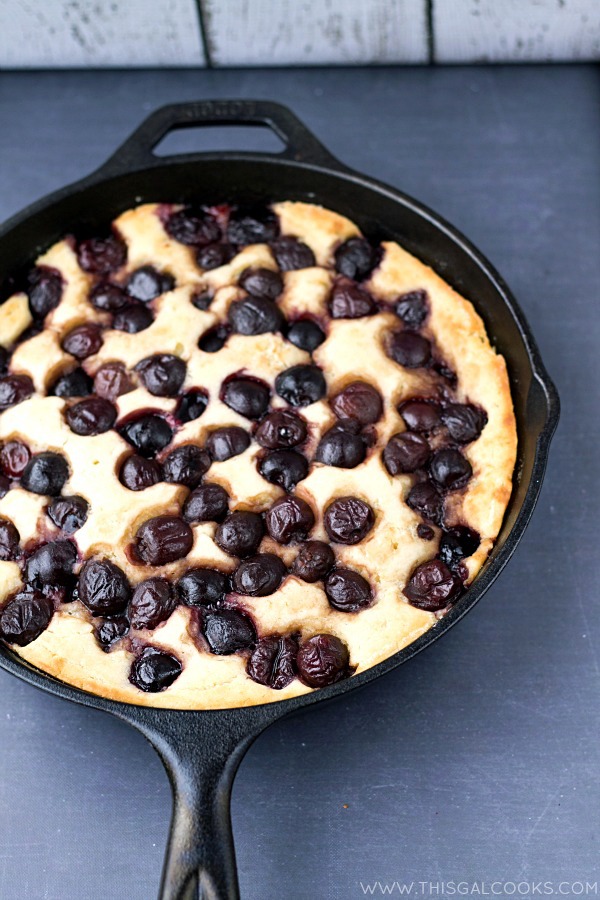 Ingredients
2 C fresh cherries, pitted (I used some fresh cherries that I put in my freezer a couple weeks prior to making this.)
1 tbsp sherry
1 tbsp all purpose flour
2 tbsp sugar
1 1/4 C all purpose flour
1/4 C sugar
1 C soy milk
1/4 C vegan butter, such as Earth Balance, cubed and cold
1 tbsp vegan butter
2 tsp baking powder
pinch of salt
1/2 tsp vanilla extract
Instructions
In a medium glass bowl, combine cherries, 1 tbsp all purpose flour, 2 tbsp sugar and sherry. Set aside.
In a mixing bowl, whisk together the 1 1/4 C flour, 1/4 C sugar, baking powder and salt. Cut in the butter.
Whisk together the soy milk and vanilla extract. Pour over the flour mixture and mix with a spoon.
Place 1 tbsp vegan butter into a 10 inch cast iron skillet/ Place in a 375 degree oven until the butter is melted. Swirl the pan to coat it. Be sure to use a pot holder so you don't burn yourself!
Pour the batter into the skillet. Spoon the cherries over the batter (if they contain a lot of liquid, drain off some of the liquid before adding to the batter)
Bake at 375 for 20-25 minutes or until a toothpick entered into a thick part of batter comes out clean.
Turn on the broiler to high. Broil until the top is just slightly browned.
Allow to cool before serving.
http://www.thisgalcooks.com/2013/08/02/skillet-cherry-cobbler/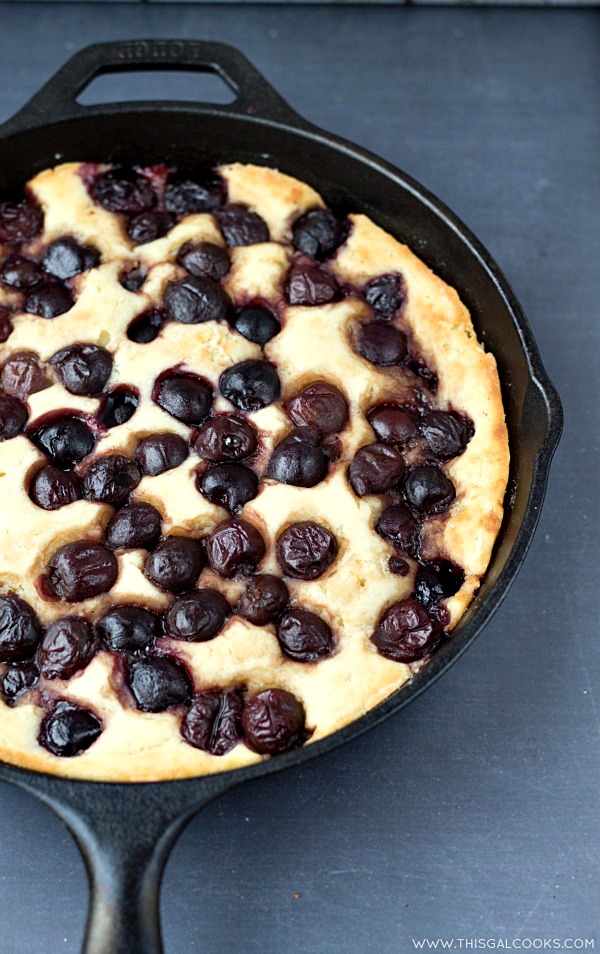 More recipes from This Gal Cooks