If you're in a rush but still want to make a delicious dinner, this Easy Chipotle Ravioli Bake is perfect for you!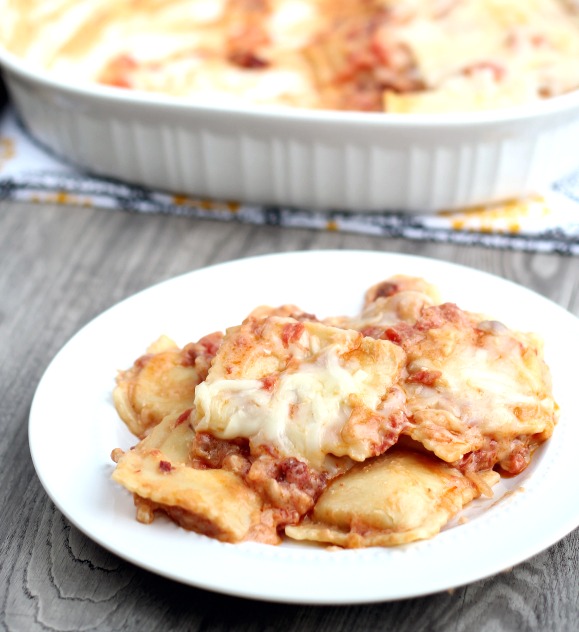 Well, even if you aren't in a rush, this dish is perfect for you if you love pasta, spicy dishes and/or cheese!
I have a confession to make. Remember how I said I was going to try to cut dairy out of my diet? Well, I've been eating small amounts of it. I've also been taking Lactaid pills religiously. Seriously, I could be their number one endorser.
There are just some foods that taste so good with cheese. Or cream. Or cheese. Did I mention cheese? I'm sort of a cheesaholic. I love cheese. I put it on chili, sandwiches, macaroni and cheese, and of course, I love it in Italian type pasta dishes. And cream? Don't get me started on cream. Sour Cream. Ice Cream. Whipping Cream. It's all good. But despite my relapse back into dairy, I've only eaten small amounts. And I plan to keep it that way. I don't want to overdo it. And I don't want to become a Lactaid pill junkie. Teehee!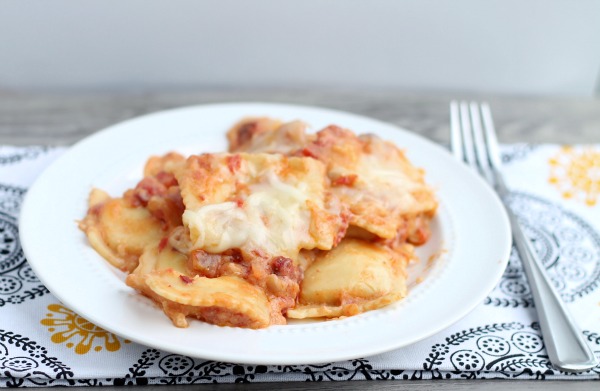 A while back, I wanted to make a dinner using up some miscellaneous items I had on hand. I had about 1/3 bag of frozen 5 cheese ravioli sitting in my freezer. I had some chipotle peppers. I had a bag of shredded mozzarella. And I had a can of diced tomatoes. This would be easy. And it was. I threw together a little casserole of sorts using those ingredients, along with some basics that I had on hand. I hope you enjoy this Easy Chipotle Ravioli Bake recipe!
Easy Chipotle Ravioli Bake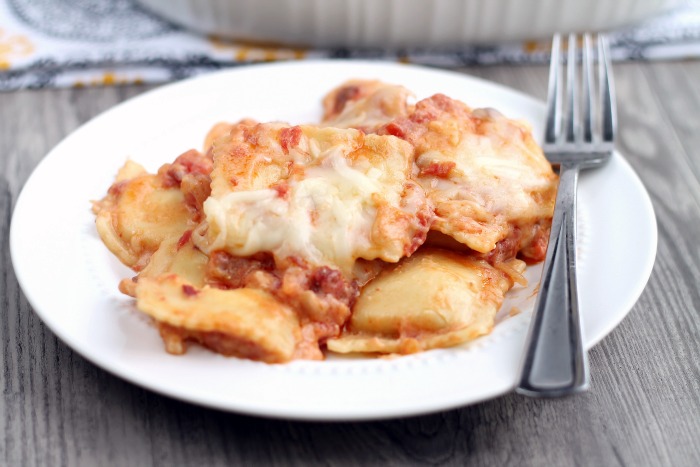 Ingredients
4 C frozen cheese filled ravioli
1 egg
3 cloves of garlic, minced
1 shallot, chopped
2 tbsp all purpose flour
3 tbsp olive oil
1 tbsp whipping cream
1 C canned diced tomatoes, drained
1 C of the water from the pasta
2 chipotle peppers in adobo sauce, chopped and seeds removed(use about 2 tsp of the adobo sauce as well)
1 tbsp red wine
1 C shredded mozzarella
1/4 tsp salt plus more, if desired
Instructions
In a large pot, saute the shallot and garlic in the olive oil. Add the salt, chipotle peppers in adobo sauce, diced tomatoes and red wine. Let simmer for a few minutes.
Meanwhile, cook the ravioli according to package directions. Reserve 1 C of the water before draining.
Whisk the egg into the reserved water and then add to the veggie mixture. Sprinkle with flour and mix well. Simmer until the sauce thickens, stirring periodically.
Add the whipping cream and mix well. Stir often until the sauce is thick and creamy, about 1-2 minutes.
Combine the sauce and cooked ravioli. Place in a greased 1 1/2 qt baking dish. Sprinkle with the mozzarella cheese.
Bake at 350 for 10-15 minutes or until the mozzarella cheese is melted.
http://www.thisgalcooks.com/2013/07/16/easy-chipotle-ravioli-bake/
Have you followed me via Pinterest yet?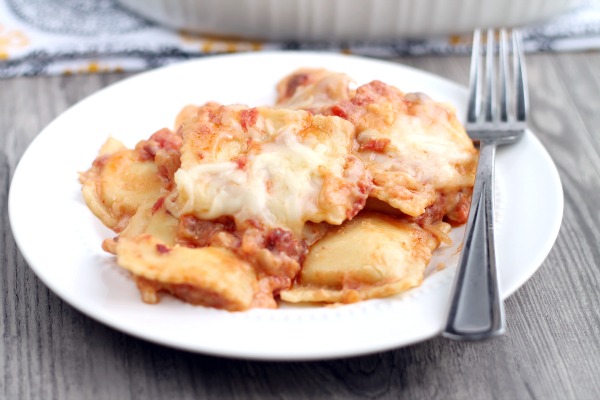 What are some of your favorite types of pasta dishes?
More recipes from This Gal Cooks: