Good morning and Happy Saturday! Welcome to my Favorite Finds post. It's been a while since I did a Favorite Finds post but now they are back and I plan to post one each Saturday morning. What can you expect from my Favorite Finds post? I will share five of my favorite finds from bloggers around the internet. You can expect to see a lot of food since I am quite the foodie. Want more awesome posts in addition to my Favorite Finds posts? Be sure to stop by my Facebook page and follow along. I post great finds throughout the week.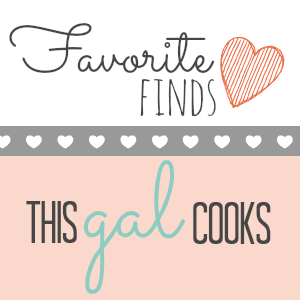 Super Bowl is tomorrow. What will you be doing? We plan on enjoying the game at home with some appetizers and some grilling. This year, I am going to try to make mostly healthy appetizers. And on the grill we'll make some sliders and grilled veggies.
Now, let's take a look at my favorite finds of this week!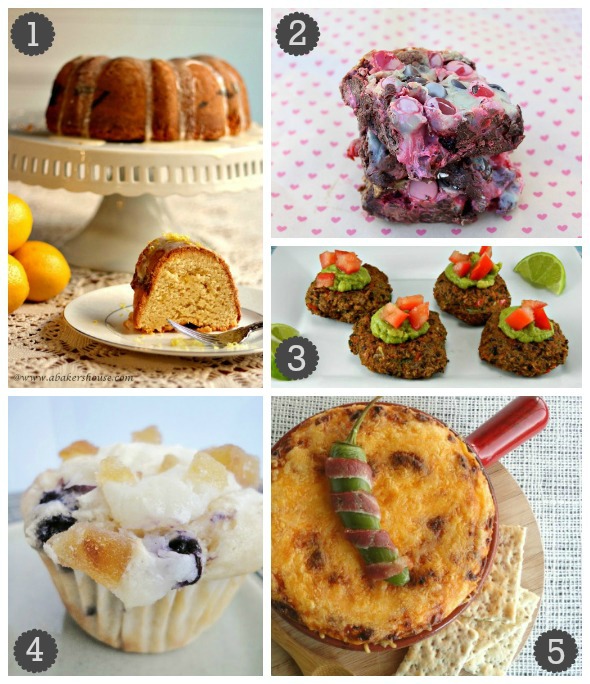 I fell in love with Holly's Blog A Bakers House a while back. Holly bakes some fantastic breads and sweet treats such as this Lemon Bundt Cake with Lemon Curd Filling. Lemon cake is on my favorites list so when I saw this, I immediately tried to reach through the screen to grab a slice. Needless to say, that didn't work.
I know I can always get my sweets fix by visiting Alyssa's blog What's Cooking Love? She always posts some sort of mouth watering sweet treat on her blog. Did you know that Cherry M&M's exist? Yep, they do. I saw them at the store the other day. Then I stumbled upon this recipe, Chocolate Cherry Magic Bars. They have Cherry M&M's in them!
I came across Meghan's blog, The Tasty Fork, after she linked up some of her great recipes to my Marvelous Mondays party. What I love about Meghan's blog is well for one, she posts amazing recipes (and she even went to culinary school!) and she devotes certain days of the week to specific types of posts. I about fell out of my chair when I saw the little gems that she posted the other day: Zesty Chipotle Black Bean Cakes. A Healthy appetizer just in time for the Super Bowl!
Carrie and I became good bloggy friends a while back. I came across her awesome food blog, Frugal Foodie Mama, one day while browsing through a link party ( I even remember the recipe that introduced us: Framboise Raspberry Cupcakes with Dark Chocolate Buttercream Frosting.) See what I mean, she makes awesome food! Earlier this week I stumbled across one of her recipes that I must of somehow missed: Blueberry Lemon Cream Cheese Muffins. Not only do these muffins have LEMON in them, they are also topped with candied ginger!
I've been following Nicole's blog, Wonky Wonderful, since I first started blogging back in June. She posts some great recipes as well as some great tips for making your own household products. Her Natural Lemon Vinegar Cleaner (LEMONS again!) was a winner in my book. But what I really love about Nicole (besides her recipes) is her utilization of Facebook. I have found some fantastic recipes via her Facebook shares. In fact, that's how I stumbled across her Jalapeno Popper Dip. This amazing dip has Greek yogurt in it!
Thank you for stopping by and visiting this week's installment of Favorite Finds. Which Favorite Find is your favorite?