Fall is my favorite time of the year. Not only to the emergence of great Fall recipes occur, the emergence of great Fall beers occurs as well. Who can resist the Oktoberfest and Pumpkin beers? This gal sure can't. Which brings me to my latest sweet treats recipe: Pumpkin Ale Cupcakes. Ever had Shipyard Pumpkinhead Ale? If not, you must try it. I used this beer to make delicious cupcakes and I topped them with a cream cheese icing. I hope you enjoy this recipe.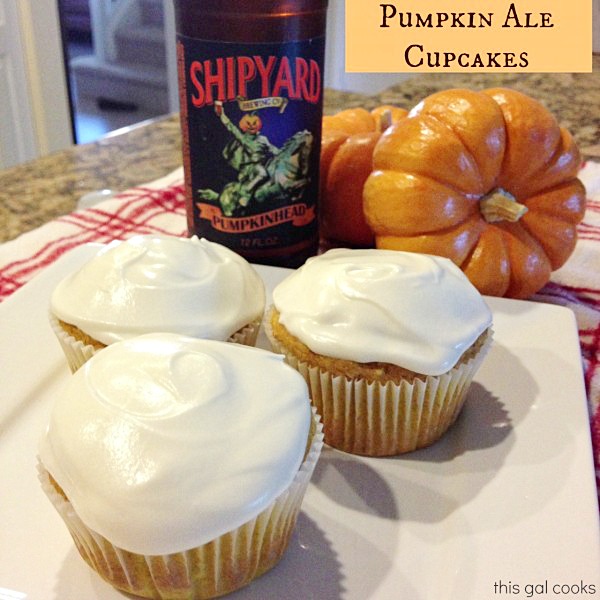 1 box (15.25oz) of white cake mix (I used Pillsbury Moist Supreme)

2 tsp of pumpkin pie spice

3 eggs

1 C canned pumpkin puree

3/4 C pumpkin ale

1/4 C oil
For the cream cheese icing
4oz cream cheese, room temp

1/4 C butter, room temp

1/2 tsp vanilla

1 tbsp milk

2 C confectioners sugar
1. In a mixing bowl, mix together cake mix, pumpkin puree, pumpkin ale, eggs, pumpkin spice and oil
2. Line a cupcake pan with cupcake papers
3. Fill each cup with 1/4 C of cupcake batter
4. Bake at 350 for 19 minutes
5. Allow to cool before icing
For the icing
1. Mix together butter and cream cheese. Add vanilla. Gradually mix in the confectioners sugar. Mix in the milk. If you want a thinner icing, add more milk.