Meatloaf. The versatile meal that can be prepared in many different ways. I've tasted many delicious meatloaves and I've tasted some pretty bland ones. I've made some pretty rad ones but I don't recall ever making any bad ones. Heh Heh, I just made a rhyme. 
Recently I decided to make a BBQ meatloaf with some homemade BBQ sauce that my boyfriend had made. This meatloaf turned out pretty darn good. If you're looking to experiment with meatloaf and you love BBQ sauce, you should definitely try BBQ meatloaf. I would advise not using Kraft BBQ sauce, though. Use something good like a local BBQ sauce or something like Sweet Baby Rays. Or use your own if you make it. It's actually pretty simple to make. Please enjoy the recipe.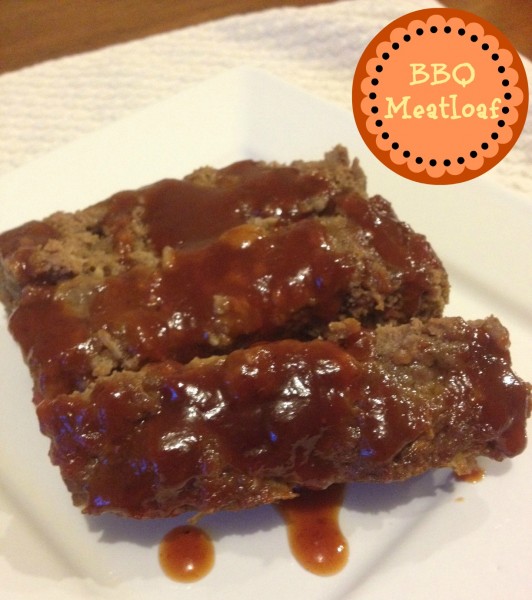 1.25lb of ground beef (I recommend Ground Chuck, you can go leaner but chuck will turn out tender)

1 clove of garlic

1/4 cup of brown rice bread crumbs

1/2 small onion, chopped

1 shallot, chopped

1/2 tsp ground pepper

1/2 tsp ground sea salt

1/2 cup shredded cheese

1/2 C BBQ sauce (I used homemade sauce)

BBQ sauce for spreading on top of the meatloaf
1. Mix all ingredients together, minus the reserved sauce for the top of the meatloaf.
2. Press the meat into a loaf pan (here's a tip – use a loaf pan that has the draining insert or place bread in the bottom of the pan then place the meatloaf on top of it. It will absorb the excess grease!)
3. Spoon the reserved BBQ sauce on top of the meatloaf.
4. Bake at 350 for 35-45 minutes.